Rule #115: When your team is out, it's all about the food and the commercials.
I haven't had any real care for who wins the Super Bowl in a looooong time. In fact, I'm pretty sure my only memories about the Big Game revolve around food and the commercials. I know I'm not the only one who remembers JT and Janet's big faux pas either. Basically, the Super Bowl isn't just about the football, right? I've rounded up some of my favorite Super Bowl Food Ideas to serve (and hello, eat) during the Big Game. There are all kinds of recipes here, so have fun with it! Make it a themed food day (Mexican?) or a biggo pot luck situation!
---
Appetizers
I can't talk about appetizers without beginning with my favorite one: A Good Ole Charcuterie Board. Assortments of meats, cheeses, fruits, nuts, a few crackers, and some olives. Maybe even some pickled okra or asparagus if you're feeling the football spirits move you that way. It's easy to assemble, can be left out the whole game, and it's always a hit!
Seven Layer Dip is a classic for every game time get together. Assemble this one the day before, pull it out just before game time, and you're golden!
Whipped Feta and Marinated Cucumbers is my go-to "I'm Going to Bring this to the Party" appetizer. You can make both the whipped feta and the cucumbers the day before, throw them on a platter with some pita chips, and you're golden. It's always a hit with wine lovers, and it's much lighter than most appetizers at the old football watching parties.
Spinach and Artichoke Dip is another major hit at our get togethers. It's another make ahead appetizer that's a crowd pleaser. Assemble the dip in a Pyrex or other cold-to-hot safe dish, leave it in the fridge overnight, then bake it before game time! We love ours with veggies, pita chips, and Wheat Thins!
Frank's RedHot Buffalo Chicken Dip | I skip the blue cheese crumbles because not everyone is a fan. I just sprinkle shredded cheddar over top instead! Serve it with tortilla chips.
If you've got the time, A Potato Skins Bar would be an awesome idea for a big party! I know it's one of my favorite apps to order when we go to a Sports Bar to catch a game.
Cocktails
If you're looking for a fun, new cocktail, check out The Back Porch Swing. It's just 5 ingredients, doesn't require simple syrup, and will definitely make you feel like you've got that Team Spirit.
The Best Margaritas | You can't go wrong with a good marg. Especially when it's the best one!
Main Dishes
Slow Cooker Pulled Pork | Probably the quintessential football food. The best part is you can let the slow cooker do all the work for you! Just keep the meat warm throughout the day so folks can graze and grab when they want it.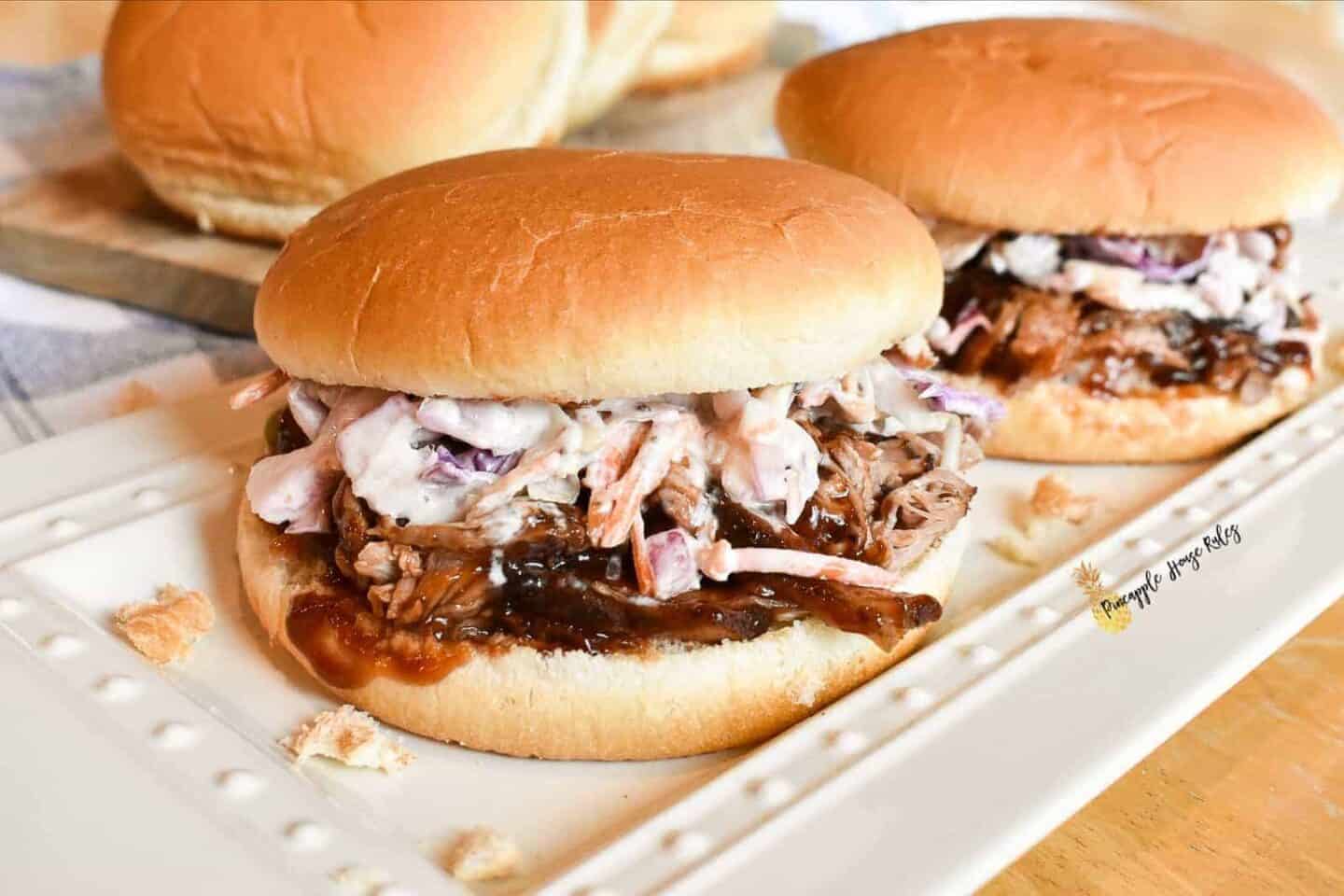 Halloween Chili | It's always fun to have a chili bar! This is another dish that can keep warm in the slow cooker throughout the game.
Cheesy Tuna Noodle Casserole | Gahhhh this casserole is so good! It's always a great crowd pleaser!
Red Beans and Rice | This makes a huge batch (leftovers freeze perfectly), and keeps hungry football bellies very happy.
Chicken and Sausage Gumbo | Another great Creole fave that keeps well in the freezer (if there's any left).
Shrimp Creole | Keepin' it Creole again with these super easy, delicious number.
Buffalo Chicken Meatballs | These light, zippy little meatballs are perfect football fare.
Chicken Tetrazzini | This is another major crowd pleaser! You can even prep it a day ahead of time and bake on game day.
Creamy Green Chile Chicken Enchiladas | This was my Daddy-O's recipe and is oh-so-muy-delish! This would be a great little Mexican-themed main dish.
Garlic Parmesan Roasted Shrimp | If you want a lighter option, this is your ticket. So full of flavor, too!
Crispy Dijon Chicken | This recipe would be great as a kid-friendly option or a good finger food.
Lemony Boiled Shrimp with Homemade Honey Mustard Dipping Sauce | This would be another great light meal (or appetizer) for those seafood lovers out there. It's super easy to whip up, too! Make the dip ahead of time then boil the shrimp minutes before you want to eat.
Chicken Sausage Pasta | This is another kid friendly dish that everyone will love!
Side Dishes
Cheesy Cornbread | Perfect to serve up with some chili or gumbo!
Easy Pasta Salad | This is a great make ahead dish that can be served with Pulled Pork or burgers!
Corrales Casserole | This is a family recipe from my folks out in New Mexico. It's basically a mixture of rice, cheeses, and green chiles. So, so yummy!
Five Bean Bake | This is a great side for all kinds of things off the grill. Kids love it, too!
Slow Cooker Pinto Beans | This is a super versatile recipe that goes with so many main dishes. The best part is that you don't have to soak the beans beforehand!
Twice Baked Potatoes | Bake your potatoes ahead of time in the air fryer or oven, then mix up the insides later and finish them off in the oven for just a few minutes.
Taco Bell Beans | This satisfies those TB cravings and makes a delish side with Mexican food!
Desserts
Oreo Fluff Dip | Make this dessert ahead of time and pull it out in the 4th quarter. See what I did there? Ha!
Raspberry Ricotta Cake | This is a delicious dessert that's not super, super sweet. The berries baked into the ricotta cake are a perfect end to a yummy football meal.
Whiskey Cake | Whiskey and cake combined. I mean what screams, "Football Dessert" more than that?!
---
Cheers to Game Day, y'all! I'd love to know your favorite Super Bowl Food Ideas from party appetizers, drinks, sides, to main dishes!