Corey's first birthday party [Mama still can't believe he's one…] was this past weekend. We went for a nautical theme to match his nursery since it was easy to just pull from the deco in his sweet room! We had such a great time celebrating with family and friends. We are very, very lucky that Mr. C has so many folks who love him. He was showered with some pretty awesome gifts and love!I took these pictures for his invitation… I can't even with the cheeks and the thighs. Please let them stay that way forever. Or maybe we'll just have to have more babies.
This guy.
Nautical T-Shirt >> Nautical hat, bowtie, suspenders, and bloomersHe'll definitely hate me one day for dressing him up like this, but hey, I have no regrets.On the actual day of the party, it was pretty chilly. We just had him wear the shirt, bowtie, suspenders, and a good ole pair of jeans.Here are some pictures of the nautical-themed food. I had wayyyy too much fun thinking of all the names. I used good ole Pinterest for some, but had to get creative with others. I used this font for the addresses on the invitations and for the food cards.
This friggin dip. We had it on our trip [twice] to Alaska this summer, and we just had to get the recipe! Here's a link to the recipe in case you want to give it a try. It's soooo worth the extra effort. I mixed everything the day before and threw it in the fridge so all I had to do the day of the party was pop her in the oven.
Pasta salad [again]. An easy fave.
I made some super easy meatballs – 1 jar grape jelly + 1 bottle BBQ sauce (Stubb's… always Stubb's) + one large back of frozen homestyle meatballs — threw them all in, gave it a stir, and let it go on low for 2 hours then switched it to warm.
Easy Peasy White Sangria (I doubled the recipe)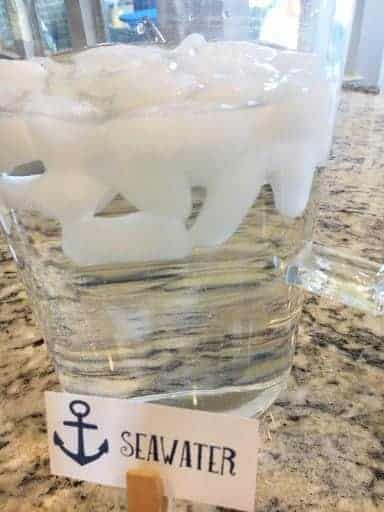 The Oreo Fluff Dip was a big hit!
Oreo Fluff Dip
1 box white chocolate instant pudding mix
2 cups milk
8 oz. Cool Whip
24 Oreo cookies, crushed
2 cups mini marshmallows
Whisk together pudding mix and milk for 2 minutes. Add Cool Whip, Oreos, and marshmallows; stir well. Refrigerate for at least 1 hour before serving.
My mother-in-law made the 4 layer cake for us! I made the icing, but it didn't turn out quite like I'd planned… one layer was supposed to be darker than the other, but eh… it tasted great [thanks to Nana]!
Cake Topper >> Yellow Cake Recipe >> Chocolate Cake Recipe
My brother and sister-in-law were nice enough to let us borrow some of their toys to keep the kiddos happy!
I found this little "craft" on Pinterest and thought it was just the sweetest idea! My sweet sister-in-law was the supervisor. The kids make their own homemade "aquariums" and then get to take them home as their party favor. We also gave out some fun sailor hats and pirate hats, too.
I thought it would be fun for the kiddos to have some hats to color. We also had play dough [hey, hey Dollar Tree] to keep the kids happy.
I heard of a friend doing this for their kiddo, and I thought it was just the sweetest idea! We had our friends and family write messages to Corey. He'll get to read them [along with us – they're still a secret!] when he turns 18. It should be fun to read what everyone wrote! I only hope I can remember that we did this!
It was so fun celebrating this chubby bunny. He is the sweetest little sailor!