Rule #128: Having a tough day? Add more cheese.
There's nothing like a cold winter's night by a fire with a big bowl of hearty chili. Unless of course you add a big side of Cheesy Cornbread to the mixture. Then, you're on your way to a good time. I've tweaked and played with this recipe for a while now, and I feel like she's finally ready for her Biggo Blog Debut!
I adapted this recipe from the always amazing Pioneer Woman. I just figured… more cheese is always a good idea. And when I'm having a bad day, Cheesy Cornbread sure does make it all better.
First, sift together some yellow cornmeal, flour, salt, and baking powder into a large bowl.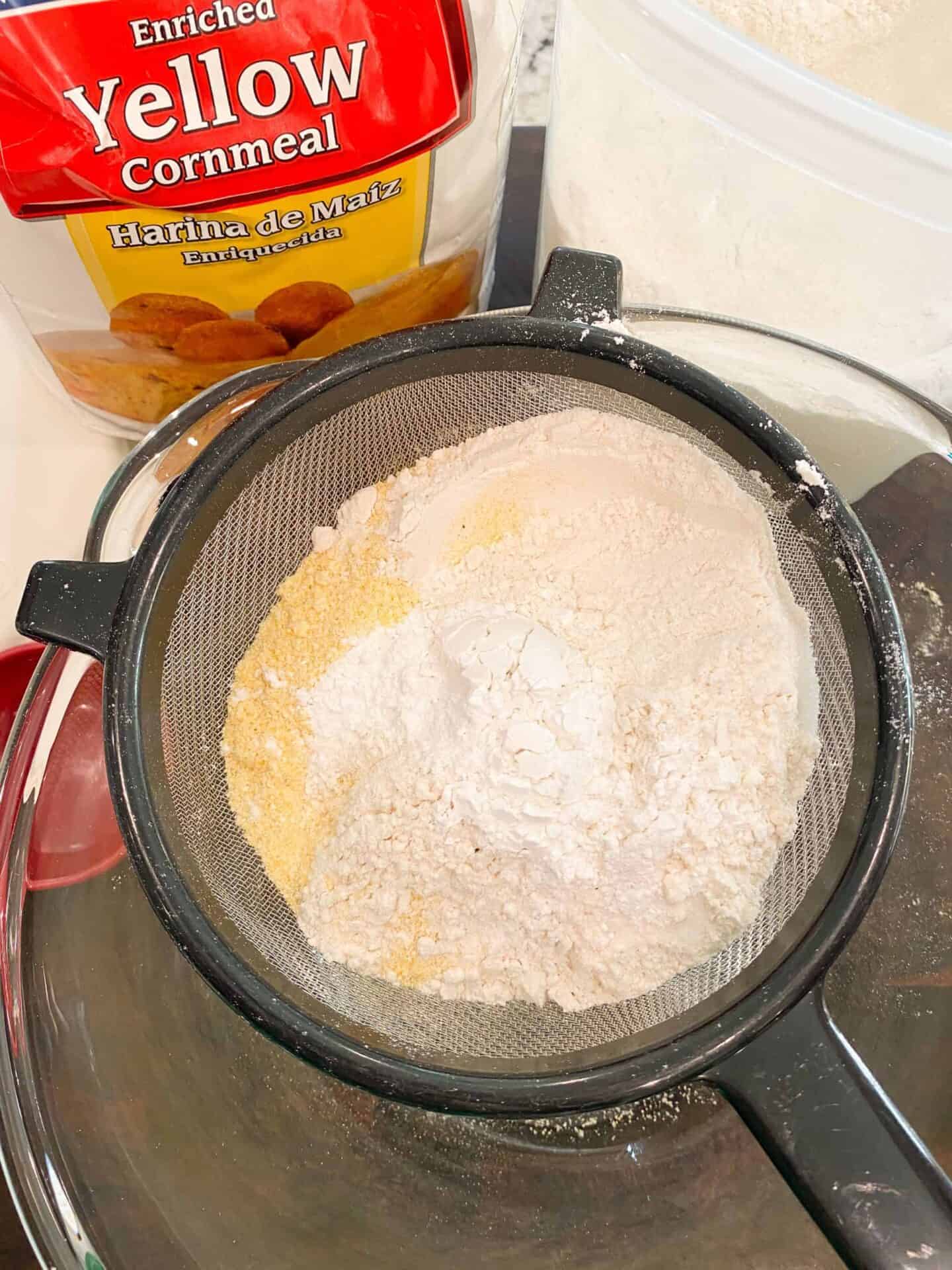 In a large measuring cup, measure out 1 cup of buttermilk and 1/2 cup of milk.
Then whisk in 1 egg and some baking soda.
Add the buttermilk mixture to the dry ingredients and stir to combine.
Then, add in some melted butter that's been slightly cooled.
And finally, for the glorious ending to this Cornbread Saga, add in a cup of your favorite shredded cheese. We love the Mexican type blend with Monterey Jack, cheddar, asadero, and queso quesadilla cheeses. Mild or sharp cheddar would both work great, too.
Pour everything into a greased baking dish. I use this little ole 8″x8″ pan.
Bake at 450 for 20-25 minutes until the cornbread is golden brown on top!
Smother it with some buttah and serve it alongside your favorite chili. Ours is this little version right here.
Cheers to this Make-Any-Day-Better Cheesy Cornbread, y'all!
---
Cheesy Cornbread
1 cup yellow cornmeal
½ cup all-purpose flour
1 tsp. Morton table salt
1 tbs. baking powder
1 cup buttermilk
½ cup whole milk
1 whole egg
½ tsp. baking soda
¼ cup (4 tbs.) unsalted butter, melted and slightly cooled
1 cup shredded cheese (Mexican blend is our favorite, but cheddar is great, too)
Preheat oven to 450.
In a large bowl, sift together cornmeal, flour, salt, and baking powder.
Measure the buttermilk and milk in a large measuring cup and add in the egg. Stir together with a whisk. Add in the baking soda and butter; stir.
Pour the wet mixture into the dry ingredients. Stir until combined, then fold in the shredded cheese.
Pour the batter into an 8"x8" baking dish coated with cooking spray.
Bake at 450 for 20-25 minutes until golden brown.