Rule #30: Let Willie do the dirty work.
Okay, I know I'm angering the BBQ Gods with this number. The right way to make pulled pork, as any good ole gal from Texas knows, is to smoke it low-and-slow for hours using all kinds of fancy wood chips and spices. And of course, you have the obligatory cold beer to drink while you're doing all of that smokin'. BUT. This lady ain't got time for dat.
Instead, I'm using some spices, onion + garlic, beef stock, and my Crock Pot I've lovingly named Willie Nelson to get the job done for me.
BBQ is truly a religious experience. There are all kinds of heated debates we could get into about the amount of dry rub and sauce, the proper temperature, the right wood chips, and I'm sure even the kind of beer you're drinking comes into play. But for now, BBQ Gods, just give this tired Mama a pass, mm kay?
Now, I've tested this recipe so many times that I've made approximately 50 lbs. of pulled pork, used every slow cooker we have, and have made Jon Boy want to swear off BBQ for the next 3 years.
Okay, maybe not. He actually really loves this recipe. He was mad the last batch that I made went straight to the freezer instead of his tummy. Sorry, Jon Boy. (Also – this Crock Watcher was actually Jon's Grandma's. I love the name so much that I'll pull this bad boy out just so I can say I'm enlisting "The Crock Watcher." Makes me feel cool. Man, I need to get out more.)
Also, this recipe can also be made in the oven if you're up for having the oven on all day for 10-12 hours. I know some folks actually prefer that over a slow cooker, so, you do you. Just make sure your roasting pan has a roasting rack set on the inside so your pork butt stays elevated.
Here's my trusty ole Willie Nelson slow cooker. He's my favorite. If you're wondering why on earth I tried this recipe in 4 different slow cookers and the oven (all at the same time)… the answer is that we served this Slow Cooker Pulled Pork at Brooke's Baptism after party. It was quite the show the day before with all this pork butt cookin' going on in the kitchen.
Here's how we get this lil' piggy going down the path of BBQ Bliss.
First, get yourself a nice bone-in pork butt (also called a Boston butt roast). Bone-in is the way to go, in my opinion, because it yields more meat with less fat than boneless. If you can't find bone-in, just get the boneless. It still gets the job done, you'll just have a little more fat to discard.
Next, rub that lil' porky hiney all over with the dry rub. It's a mixture of dark brown sugar + chili powder + cumin + cinnamon + Kosher salt.
Then, make a nice little bed for the piggy in your slow cooker by peeling and quartering 2 yellow onions + peeling and smashing 6 garlic cloves.
Next, lay the seasoned pork butt on top of its nice little bed, fat side up. Pour some beef stock AROUND the pork, but not over top. You want the rub to stay where it is on the pork.
Then, cover and cook on low for 10-12 hours, or until the meat shreds easily with a fork. If you're cooking it in the oven, roast it at 275 for the same amount of time. You see that nice brown color on the pork? That's the reason you don't pour the stock over top. It gives it a great crispy texture and even more flavor.
Finally, shred all of the meat with a fork or your hands (or these handy little tools), discarding the fat and the bone.
Now here's where the religious debates come back in to play. Mix the shredded pork with your favorite BBQ sauce. In this house, we use Stubb's Original, but you do you, my friend. Start with just 1 bottle of sauce and add a bit more at a time as you need. We usually don't use more than 1 bottle, but we always have an extra just in case we want it a little saucier.
That's it! Serve it up with some jalapeños, red onion, coleslaw, pickle slices, on a bun, over roasted sweet potatoes, or just grab a fork and dig in right then and there like Jon Boy does.
If you're wanting to make it ahead of time, cook the pork and shred it the day before. The next day, mix the sauce in and place it all in a slow cooker on warm or low, depending on how hot yours gets and how long you want it to hang out in there.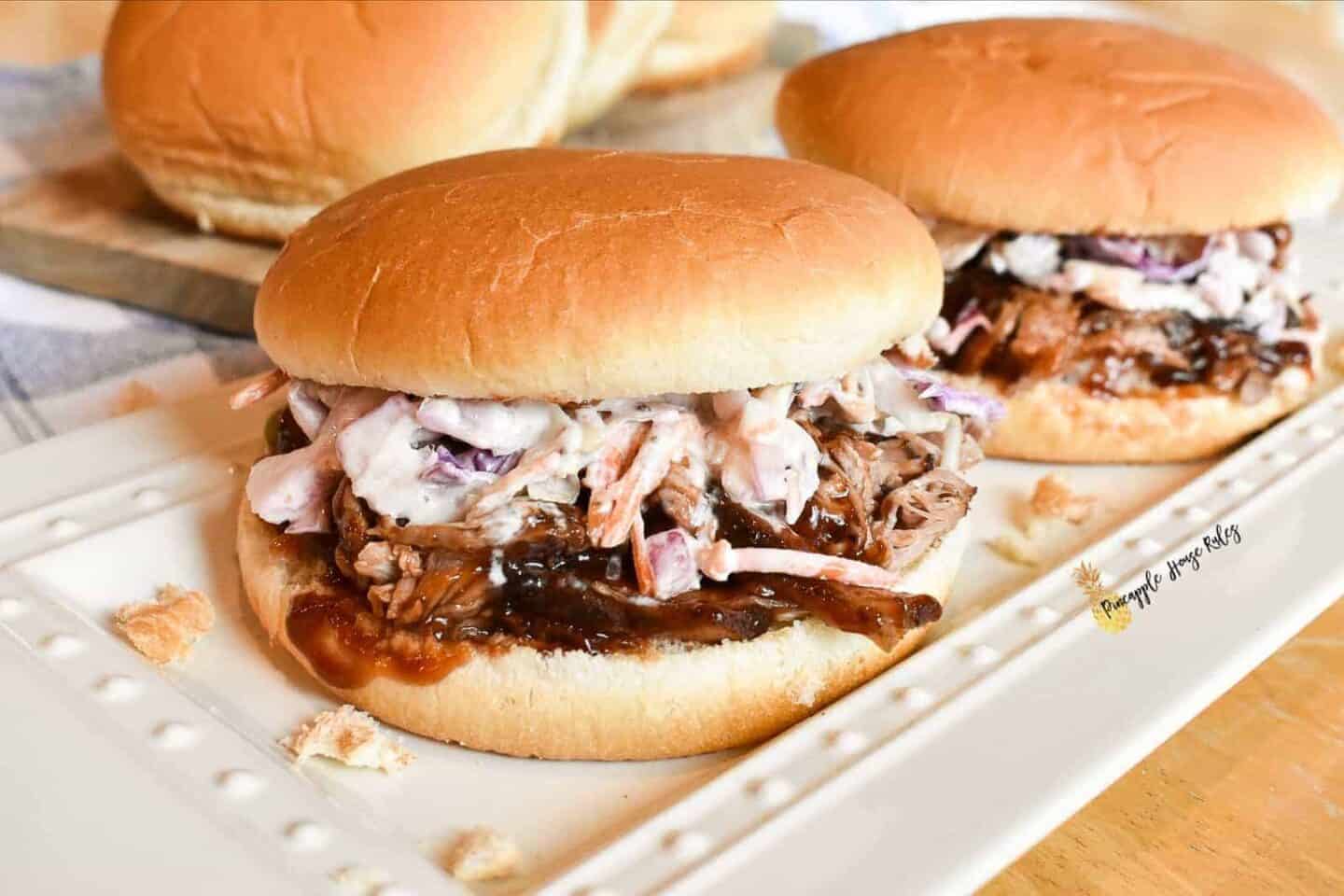 And don't tell the BBQ Gods I said that. Pretty sure that's against the rules, too.
Side Dish Recommendations:
Grilled Corn and Asparagus Salad
---
Slow Cooker Pulled Pork
This Slow Cooker Pulled Pork couldn't be any easier or delicious! Just rub the seasoning all over, place it on top of onions and garlic, drizzle in some beef stock, and cook for about 12 hours. It's the perfect Texas barbecue staple that's great for a crowd! 
Ingredients
2

tbs.

dark brown sugar

2

tbs.

chili powder

1

tbs.

Kosher salt

1

tsp.

ground cumin

¼

tsp.

ground cinnamon

1

(5 lb.) pork butt (Boston butt roast) | (bone-in if possible, but boneless works, too)

2

medium yellow onions

peeled and quartered

6

garlic cloves

peeled and smashed

1

cup

beef stock

2

bottles of your favorite BBQ sauce

Stubb's Original Recipe rules in our house
Instructions
Turn your slow cooker on low (or preheat your oven to 275).

Mix first 5 ingredients (through cinnamon) together in a small bowl. Spread rub evenly over the roast, using all of the rub.

Place the onions and garlic in the bottom of the slow cooker or roasting pan. Place the pork on top, sprinkling on any extra rub that didn't make its way onto the pork butt. Pour the beef stock all around the roast (but not over it).

Cover and cook on low for 10-12 hours (or in the oven at 275), until the meat shreds easily with a fork.

Remove the meat to a cutting board and shred, discarding the fat and bone. Combine with 1 bottle of your favorite BBQ sauce. Add more sauce, ½ a bottle at a time, until you are satisfied with how saucy and moist your pork is.
Notes
Garnishes:
Coleslaw
Dill pickle slices
Pickled jalapeño slices
Red onion
Nutrition
Calories:
412
kcal
Carbohydrates:
8
g
Protein:
55
g
Fat:
17
g
Saturated Fat:
6
g
Polyunsaturated Fat:
2
g
Monounsaturated Fat:
7
g
Trans Fat:
1
g
Cholesterol:
170
mg
Sodium:
1152
mg
Potassium:
1121
mg
Fiber:
1
g
Sugar:
4
g
Vitamin A:
602
IU
Vitamin C:
3
mg
Calcium:
69
mg
Iron:
4
mg
Nutritional information is provided as a courtesy only and should be construed as an estimate rather than a guarantee. Ingredients can vary, and Pineapple House Rules makes no guarantees to the accuracy of this information.