Rule #345: We have the meats!
A (very) long while back, I had a very sweet friend request this post all about different Types of Meat and How to Cook Them, and I'm so sorry it's taken me so long to fulfill that wish! I loved the idea for this post from the beginning because it can be daunting to walk into the meat market, see all different types of meat, and feel intimidated by it all. So, my lovelies, be at ease! I've got you covered with these different meats and 35 recipes you can make with them today!
Beef
Beef Chuck (Stew Meat)
Beef Chuck is a pretty inexpensive meat that's perfect for slow cookin' kinda days. I love to make these recipes in the fall and winter when things are all about takin' it easy and keepin' it hearty.
Beef Bourguignon (Beef Bourguignon Pot Pie)
Beef Bourguignon (also known as Beef Burgundy) is a French beef stew that's flavored with red wine and yummy veggies. It's a one pot number, building on the flavors with each step. I love making this on a Sunday in the fall and enjoying a delish family dinner (even if it's just me and Jon Boy) before the busy week begins.
Beef Stroganoff (or leftover steak)
You can make Beef Stroganoff with pieces of beef chuck, ground beef chuck, or even leftover steak. It seems crazy, but honestly leftover steak is delicious in this easy weeknight meal. It's all about browning the meat and building the sauce.
Ground Beef
Ground beef (we typically use ground sirloin which is 90/10) is another inexpensive (usually) type of meat that's versatile and soaks up flavor of whatever dish you're making. I'd say ground beef is my second favorite topic in Types of Meat and How to Cook Them.
Don't let the name scare you! Curry isn't as daunting as so many folks thing it to be. It's basically just a bunch of different spices that have been ground up and used to add major flavor to so many dishes. We like to have this hearty dinner in the fall and winter. Beef and Potato Curry is kind of a spin on American Hamburger Helper but with about 28 times the flavor. Our kids love it, too!
Cheeseburger Quiche is definitely Corey's most requested dinner. He's a cheeseburger fiend, so as a substitute, I'm happy to whip this up and serve it instead. The leftovers keep well in the fridge for a few days or in the freezer for a few months, making it easy to whip out and reheat on busy nights.
Low Carb Cheesy Beef and Vegetable Bake
One of my favorite dinners, Low Carb Cheesy Beef and Vegetable Bake is a healthy and tasty dinner our whole family loves. It's a spin on the traditional stuffed cabbage. It makes for wonderful lunch leftovers as well.
Lighter Shepherd's Pie (can also use ground lamb)
I traditionally prefer ground lamb in this recipe, but ground sirloin works great, too! I know not everyone is a fan of the lamb flavor, and honestly the ground beef is cheaper anyways. Either route you go, you can't go wrong with this traditional Irish dish.
Italian Meatballs (combined with ground turkey)
I love me a good meatball. They're easy to throw together and serve. These Italian Meatballs pair wonderfully with ground turkey and ground sirloin. The turkey lightens them up a bit, so they're not as heavy as traditional Italian Meatballs.
Like I mentioned, I love me a good meatball. These Greek Meatballs are in my top 3 favorites to make! They're easy to throw together and the flavors are unreal. You can serve them on a salad, alongside veggies, or over some cooked Orzo pasta.
There's a theme here. This Egg Roll in a Bowl is another low carb, delicious dinner that comes together in minutes on busy weeknights. This is one of Jon Boy's top favorite dinners (and leftovers make for great lunches, too).
Pork
Pork Tenderloin
Pork in general is a pretty cheap cut of meat and typically freezes well. It's also fairly light on the calories and full of protein. I typically buy in bulk from Costco, cover each individual cut in foil, then throw them in a Ziploc and freeze them for later. Makes for a better grocery budget and easy menu planning!
Again with the "C" word… but, again… delicious! Curry is full of flavor, and this Green Curry Pork Tenderloin will leave every single one of your taste buds as happy as can be. This is a quick meal for a busy weeknight, too.
Grilled Pork Tenderloin in Citrus and Balsamic Marinade
We absolutely love this marinade on both chicken breast and pork tenderloin alike. I just whisk it up in the morning, marinate throughout the day, then Jon Boy grills them up later. It makes for a delicious, healthy, protein-packed dinner!
Pork Chops
Pork chops are a great cut of meat for their price and their ability to soak up great flavor!
Garlic and Mushroom Pork Chops in Creamy White Wine Sauce
This recipe is one of those babies I worked on for YEARS before finally posting it. It's packed with tons of comforting flavors and comes together in a short amount of time.
Pork Butt (Boston Butt Roast)
A Pork Butt is a typically fatty, tough cut of pork that needs to be slow cooked for hours. It's great at soaking up flavors while it slowly cooks away.
This is far-and-above the most popular recipe on my site! Just whip up your spices, rub on your pork butt, and throw in the slow cooker. It's a great dinner to have when you're feeding a crowd.
Poultry
Now for the bird portion of our post.
Chicken Breast
I cook with chicken breast probably more than any other kind of meat. It's just so versatile and light on the calories. When it comes to Types of Meat and How to Cook Them, Chicken Breast takes the Gold.
A solid Air Fryer recipe is always a go-to for a busy weeknight. This Air Fryer Chicken Dijon is an easy, marinate-and-run kinda situation that is both healthy and delicious.
Adobo Chicken is a traditional Filipino dish that has flavor on flavor on flavor. It's an equal balance of heat and sweet that makes for a surprisingly easy dinner.
Chicken in Mustard Cream Sauce
This easy lil' Winnah Winnah Chicken Dinnah has a ton of delicious flavor in every bite with surprisingly minimal effort. It's one of those comfort food classics that becomes a quick staple on your weekly rotation.
Chicken in Mushroom and Wine Sauce
Another go-to weeknight "Mama Just Can't" kinda dinner is this Chicken in Mushroom and Wine Sauce. She's a beauty of a dish with all the flavors you want and the minimal cooking you need.
Chicken Marsala is an Italian-American recipe that has layers of flavor that build on one another just beautifully. It's another (shocker, here) go-to weeknight dinner that the whole family will love!
I think every family has their own delicious version of Chicken and Dumplings, and this one is ours! Chicken breast works perfectly in this recipe as the base for a ton of hearty fall and winter flavors. It's the ultimate comfort food, in my humble lil' opinion!
Chicken Pot Pie is one of my favorite things to make for guests when the weather is cool. It's one of those comfort foods that leaves everyones tummies full and happy in that way that only Chicken Pot Pie can. Chicken breast serves as yet another delicious base for a savory dinner.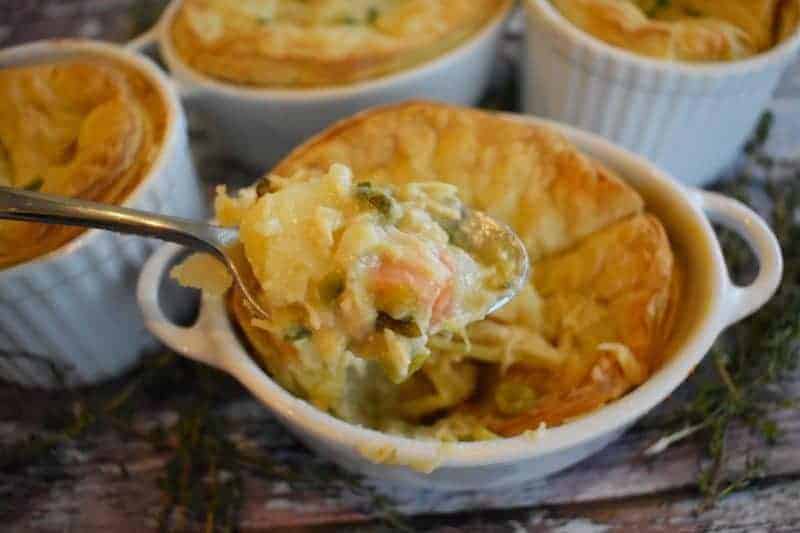 Chicken with Cream of Mushroom and Worcestershire
This was a Big Daddy (my Big Daddy to be precise) Staple growing up. It was served once a week over rice and next to a vegetable. It's a cheap, satisfying dinner that requires the least amount of effort and is very family-friendly.
Chicken Piccata is a super easy dinner that is perfect for a busy night. It's full of lemony, salty flavors that pair perfectly with side dishes like Cauiflower Mash, Parmesan Orzo, or cooked egg noodles.
This Chicken in Wine Sauce is a great dinner that you throw together, toss in the oven, and serve! We love it with steamed rice and roasted green beans.
Jalapeño Popper Chicken is a Keto-friendly dinner that's low carb and super easy. Just build the ingredients up and bake!
Italian Pesto Chicken with Creamy Marinara
I love me an easy pasta recipe, and this one is no exception. The fresh, creamy flavors of this dinner are hard to beat!
A Sheet Pan Supper is truly a thing of gorgeous beauty. Marinate the chicken breast in Greek or Italian dressing, toss it on a baking sheet with some veggies, and bake until done. Easy, peasy, baby.
Chicken Piquante or Chicken Sauce Piquante is typically made with either chicken thighs or a whole chicken, cut into parts. I like to use chicken breast in this Creole dish to lighten it up just a bit. It's a truly special dish that will really WOW your guests.
This is another crowd WOW-er that is oh-so-delicious and creamy. It's a pasta bake that can be assembled ahead of time then baked when you're ready to serve.
This is a family favorite in our house! Bread the chicken, bake, and make your sauce, then dinner is done!
These Creamy Green Chile Chicken Enchiladas were another Big Daddy staple. He actually wrote the recipe over 15 years ago, and I still have it with me to this day. It's a delicious, hearty dinner that will be a hit with the whole crew.
Ground Chicken
Ground Chicken is a cheap and lighter alternative to ground beef. It's very versatile and can be used in all variety of dishes.
Buffalo Chicken Meatballs (Air Fryer Buffalo Chicken Meatballs)
If you love a good buffalo wing, you'll LOVE these meatballs. You can either bake them in the oven or the air fryer. If you're not big on heat, just cover them in BBQ sauce instead of Buffalo sauce.
This is my second most popular recipe on the site. These Asian Chicken Meatballs are easy to roll together and bake for a delicious, simple dinner.
These meatballs have all the flavor of Chicken Piccata but in an even easier format. Meatballs make for a quick, light dinner. Our kids gobble these up!
Ground Turkey
Just like ground chicken, ground turkey is a relatively cheap type of meat that takes on flavor beautifully.
These burgers are actually a go-to lunch for us. I make a huge batch, cover each burger in foil, then throw in a Ziploc in the freezer. They're light and super flavorful.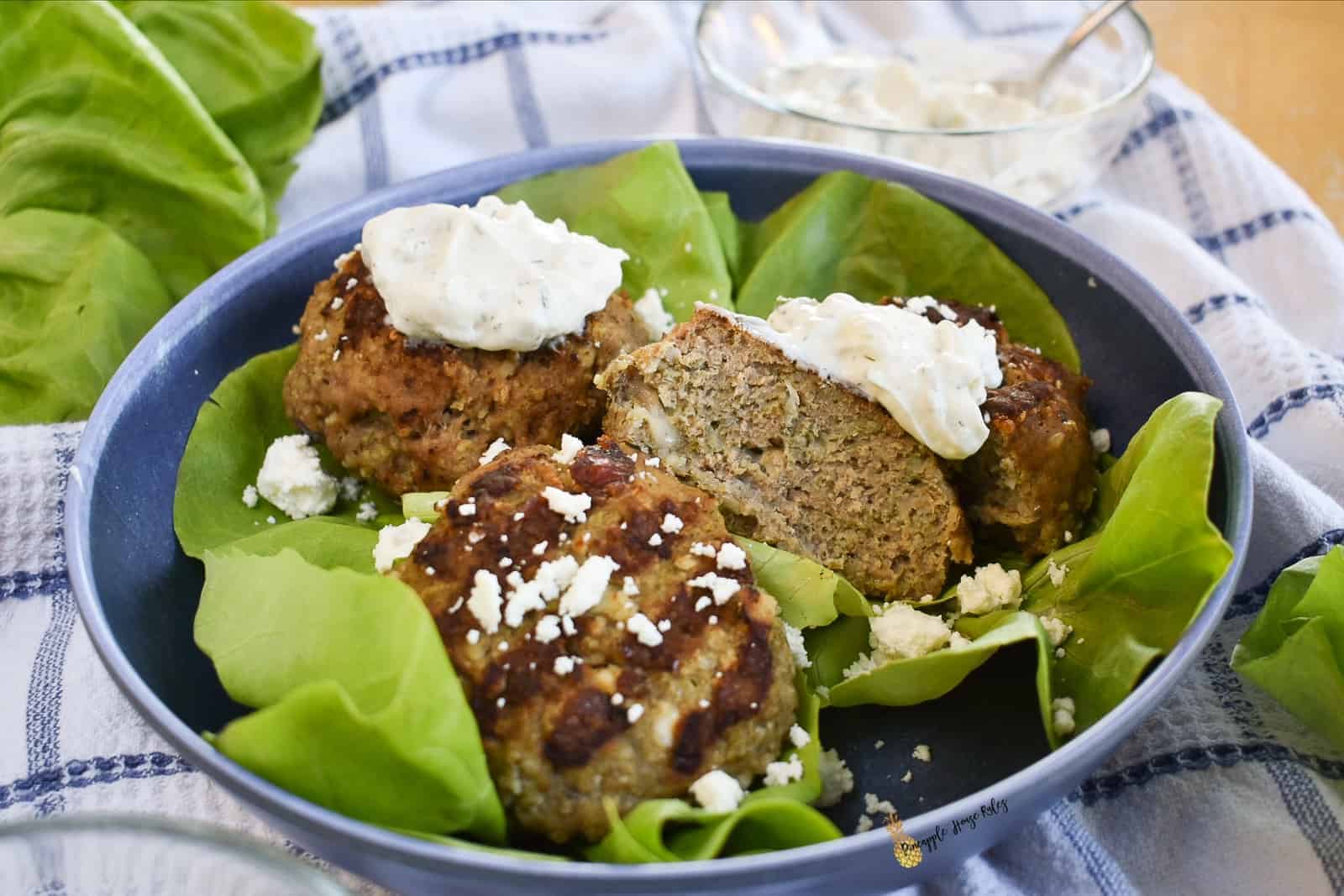 This Creamy Ground Turkey Soup is an easy and comforting lunch or dinner that's light and delicious!
I hope this round up of Types of Meat and How to Cook Them helps solve some of your Meaty Mysteries. I love doing a round up of recipes because it can really get those cooking juices flowing (pun very much intended).