Rule #126: Wine and cheese make great friends and great dinners.
Chicken in Wine Sauce has to be our family's numero uno go-to meal. Jon Boy can even make it without my help. Okay, okay, maybe with a little bit of my help. This recipe calls for ingredients that you can have/keep on hand and whip together at the last minute. We've been cooking it for years, and it's one of my favorite recipes to share with my favorite people (and now, that includes YOU)!
Meet your new favorite dinner's All Star Line Up:
chicken breast, herb seasoned stuffing mix, dry white wine, cream of chicken soup, Swiss cheese, unsalted butter, Kosher salt, and black pepper
Make sure you're using a dry (instead of a sweet) white wine, and always, ALWAYS cook with something you'd drink. Don't go cheap because then that's what it'll taste like. Chardonnay (pronounced CHAR-dun-YAY in our house) usually works best in this dish.
Pepperidge Farm's Herb Seasoned Stuffing has worked the best in this recipe, too. It already comes pretty crumbled, so I don't feel the need to get out the ole rolling pin and bop away at it until it's crushed. If you get a different brand, just put about a cup of stuffing in a Ziploc and bang away on it with a cup or rolling pin until it's crushed to your liking.
Now then, let's make our dinner, shall we?
First, spray a large oven proof dish with cooking spray. You can use a 13×9 Pyrex like we do, but a Dutch oven or other oven proof dish is great, too. Liberally season both sides of your chicken with Kosher salt and black pepper.
Place the little chicks in your dish. Now, I know the recipe calls for 4 chicken breasts, but it's the end of the month so our budget only allows for 2. That's just life, 'm I right?
Mix together the white wine and 2 boxes/cans of cream of chicken soup.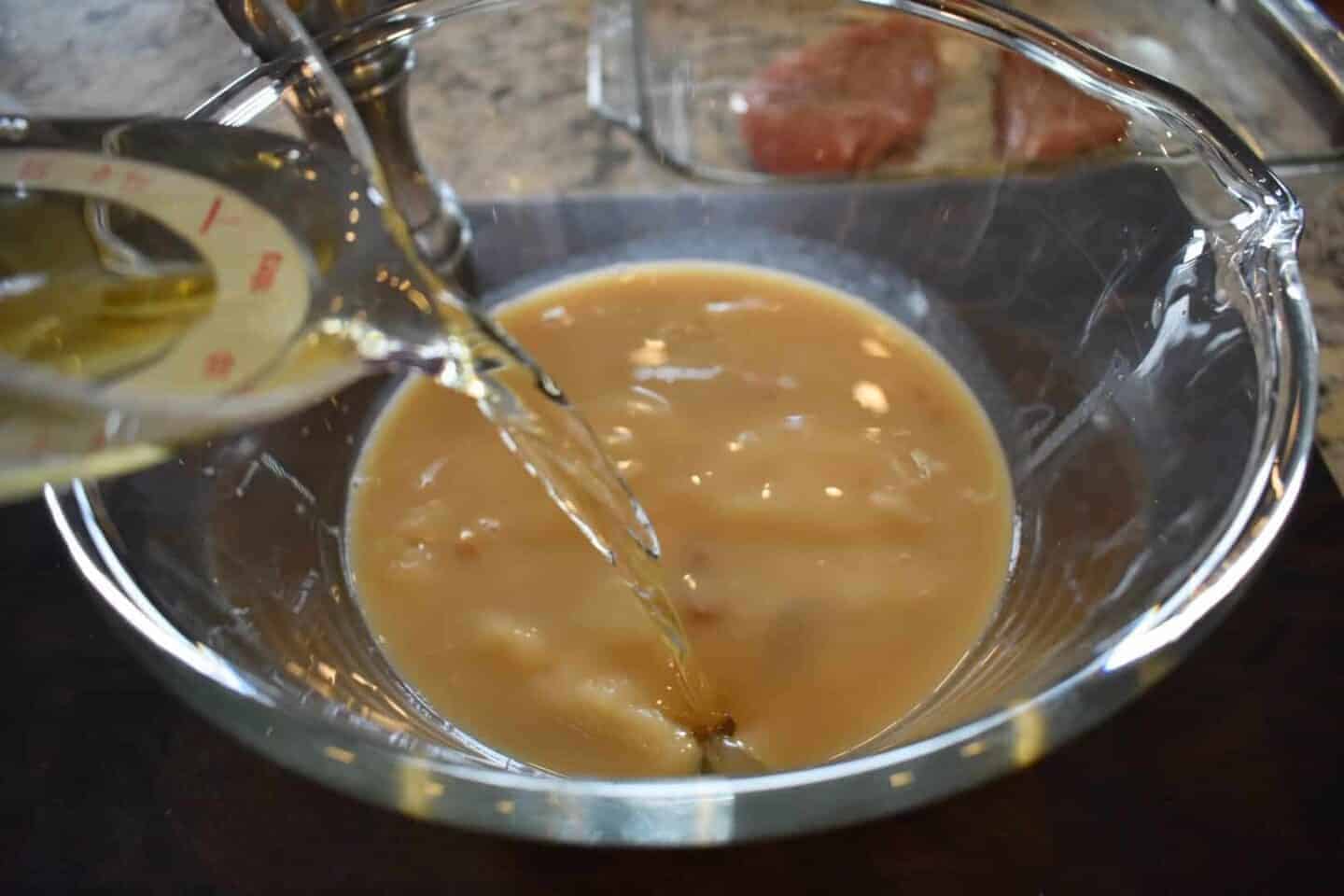 Layer some Swiss cheese on top of your seasoned chicken. (Again, the recipe calls for 8 slices, but we only had half the chicken therefore half the cheese.)
Pour the wine mixture over the chicken and cheese. Yuuuuuuuuuuuum.
Sprinkle on the stuffing mix and pour on the melted butter as evenly as you can.
Bake away at 350 for 45 minute to an hour, until the chicken is cooked through.
Winner, winner, chicken dinner. Literally.
We serve ours with a little rice on the side and a roasted veggie. This rice maker
has been the bomb.com since we've had it. It works like a charm, and it's easy to clean up.
I hope your family enjoys this one as much as ours!
---
Chicken in Wine Sauce
4 large boneless, skinless chicken breasts
Kosher salt
Freshly ground black pepper
8 slices Swiss cheese
2 (10 3/4-ounce) cans cream of chicken soup
1/2 cup dry white wine
1 cup herb-flavored stuffing mix, crushed
3 tbs. unsalted butter, melted
Preheat the oven to 350 degrees.
Place the chicken breasts in a 13×9 Pyrex dish (or other oven proof dish) coated with cooking spray. Season liberally on both sides with salt and pepper. Layer the cheese on top.
In a medium bowl, mix soup and the wine. Pour the mixture over the chicken and cheese. Sprinkle the stuffing mix on top and drizzle with the melted butter.
Bake for 45 minutes to 1 hour, until chicken is cooked through.
Click Here for Printable Recipe: Chicken in Wine Sauce