Chicken Pot Pie has to be the ultimate stick-to-your ribs, warm-your-heart-up, nobody-makes-it-like-mama dish. Everyone can tell you a story about their favorite Chicken Pot Pie (or where to find the best one). Every time that I make it, I think of fuzzy socks, warm sweaters, and the smell of wood burning in the fire.
There's nothing quite like a creamy, savory, flaky chicken pot pie.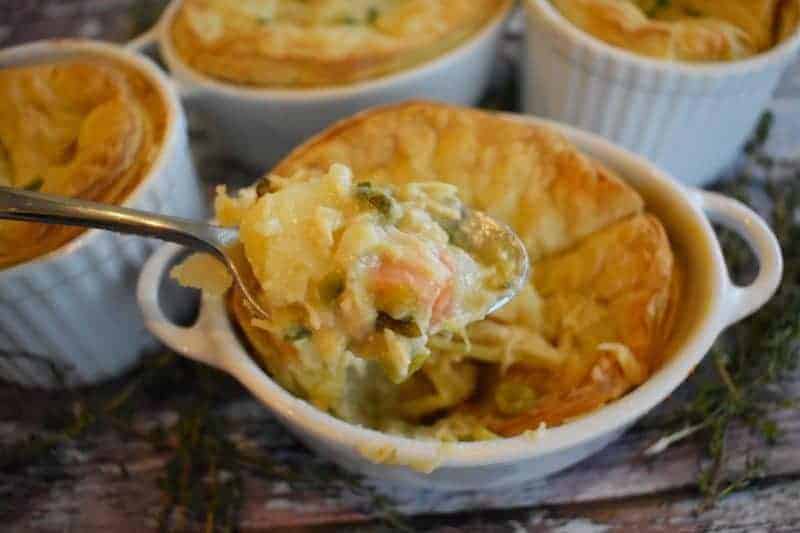 Unless it has wine in it. And shocking… mine does!
I recently asked one of my favorite bloggers to recommend a good wine for this recipe, and here's the very sage advice he gave me:
"You should never cook with a wine that you will not drink. Cheap 'cooking' wine is a NEVER buy because you have no idea what it really is and the flavors that it will impart. When wine is called for in a recipe it is to add a flavor and a richness so you should use a wine that has structure and is medium-bodied. I would recommend a French Chablis (which is Chardonnay) grown in the Chablis AOC in France. I know you have a Total Wine near by so I would tell them your want a 'true' French Chablis in the $20-$25 price range. One glass for your recipe and the rest to enjoy! Tell them that you are cooking and drinking with it.
"If you want to stick with a Chardonnay from the USA, I would look for an unoaked Chardonnay or one that is only lightly oaked."
Rick from Strong Coffee to Red Wine always has the BEST wine recs for all kinds of situations and occasions. He recently went to Napa for a Wine Bloggers' Conference (now that sounds like a good time to me!) and came back with even more great recommendations.
I completely agree with him that you should never cook with a wine that you wouldn't drink, and I kept his advice when making this dish. The Chablis we used was PHENOMENAL not only in the pot pies, but also as the wine we enjoyed with dinner. I'm not good at describing wines they way Rick does, but I can assure you that it paired perfectly. Major kudos to him for the rec!
So, I have to make a confession. I have a Chicken Pot Pie obsession. See what I did there? I wanted to make some for us, some for the freezer, and some to share with friends. I made a … duhn duhn DUHNNNN triple batch. So, all the pictures you're going to see are actually THREE TIMES bigger than they ought to be. So when you're making this scrumptious bit of absolute Comfort Heaven, just don't be alarmed if your pot looks a bit less full than mine. My arm is literally sore from sautéing, stirring, and ladle-ing.
But look how cute they turned out? [I froze about half of the actual pot pie mixture by the way.]
All righty then. Let's do this.
First, ya sauté your onions in a just a smidge* of butter.
*Smidge by definition can be determined by the user.
Once the onions are softened, throw in some peeled, diced potato + carrot. I use baby carrots because… well, I can.
Then ya throw in some frozen peas, fresh asparagus cut into pieces, and some bunches of thyme.
Let those cook just a bit then dust everything with flour.
Stir it around to coat everything and let it get nice + thick. Then, you pour in some white wine (it will cook off, so this is safe to eat even if you're not supposed to be consumin' tha booze). This will deglaze the pan, so stir to get up the good bits off the bottom.
Then you pour in some milk (and yes, it does have to be whole milk – this ain't the dish to be worried about calories). Stir everything together and make sure to scrape the bottom of your pot with a wooden or plastic spoon to get up the goodness (fond) at the bottom.
Toss in some chives, parsley, salt 'n' peppa. Give 'er a stir, then check the seasonings and adjust as needed.
I use chicken that's either been cooked in a Crock Pot [click here for more info] or I shred the chicken after I make homemade chicken stock [click here for that recipe – it's much easier than you think!].
I just cut it all up into bite-sized bits that I can toss into the mixture. You can also freeze cooked, shredded chicken until you're ready to use it. Just thaw it overnight in the fridge the day before you need it.
Okay – back to our star of the show: Chicken Pot Pie. Then, you fold in the cooked chicken breast. Get a good spoon in there and taste everything for seasoning + to make sure the pesky potatoes are cooked. If they're not, cover the pot and throw it in the oven at 300 for 20 minutes. Check again and cook a little longer if needed.**
Once everything is all married together and delicious, spray some individual ramekins with cooking spray. Ladle in some of the pot pie mixture, then cover with puff pastry that's cut to the shape of your dish. You can also use one big oven-proof dish; just do the same steps as above. I make individual pot pies because 1) they're easier to serve 2) they're adorable and 3) because then everyone gets a good amount of puff pastry. Let's be real, carbs are delicious.
You can also get these disposable chicken pot pie dishes at your grocery store. They come in big time handy when you're handing them out to folks or don't feel like doing all them dishes!
Once the puff pastry is on, cut a few slits in the tops to vent. Bake at 400 for 15 minutes or until puff pastry is golden on the top.
**If you're making the filling to then bake later, store the filling in an airtight container in the fridge for up to 3 days or the freezer for up to 3 months. Allow the thaw in the fridge the night before you cook the pies. Then, remove from the fridge about 15 minutes before baking. Preheat to 400, top the filling with puff pastry, and cook as above.
---
Chicken Pot Pie
5 tbs. unsalted butter
1 yellow onion, diced
2 carrots, peeled and cut into bite-sized pieces (or about 10 baby carrots, sliced)
2 large russet potatoes, peeled and diced into bite-sized pieces (about 1 lb.)
1/2 bunch fresh asparagus, tough ends removed, cut into bite-sized pieces
1 cup frozen peas
3 sprigs fresh thyme leaves
1/2 cup all-purpose flour
1 cup dry white wine (Chardonnay works great)
2 cups whole milk
1-2 cups cooked chicken breast, cut into bite-sized pieces
Chives and flat-leaf parsley, chopped, to taste (I use about 1/2 tbs. each)
2 tsp. Kosher salt
1 tsp. freshly ground black pepper
Puff pastry, for topping (thawed)
In a Dutch oven, melt the butter over medium-high heat. Add onions and sauté until softened (about 5 minutes). Add carrots and potatoes; stir and cook until the carrots are tender (about 10 minutes). Finally, add the asparagus, peas, and thyme sprigs. Cook one more minute.
Dust the vegetables with the flour; stir and toss to coat. Cook for 1 minute then add the white wine. Once the wine has deglazed the pan and started to create a sauce (about 2 minutes), add the milk. Cook until it becomes a thick, creamy sauce (about 5 minutes).
Finally, fold in the chicken, chopped chives and parsley. Season with salt and pepper. Taste and adjust seasons accordingly. If vegetables are still too crunchy, cover the pot and put in a 300 degree oven for 20 minutes (or until veggies get tender). Allow to cool, then taste for texture and seasonings.
Preheat oven to 400.
Spoon the filling into greased ramekins or one large oven-proof dish until 3/4 full.
Cut puff pastry into rounds to fit the ramekins or the oven-proof dish. Lay the puff pastry on top of the pie filling, cut small slits in the tops, and bake for 12 to 15 minutes, or until the puff pastry is golden brown and pie filling is cooked through.
Let cool 5 minutes and serve warm. Garnish with snipped chives.