Rule #261: The good stuff is built to last.
It's hard to find good help these days, 'm I right?! Between all the commercials and ads and new fangled things out there, it's easy to be overwhelmed by the various kinds of cookware. I rounded up the things we use in our kitchen most often (and have for years… sometimes decades…). Everything in this post is something we own and use regularly!
---
Favorite Cookware Set
Calphalon Premier Space Saving Cookware Set
I truly can't say enough good things about this cookware set. We had the older version for almost 10 years, and when I say we USED them, y'all… I mean they were ABused! They will probably last a non-food blogger longer than that. I love this set because it's DISHWASHER SAFE, NONSTICK, OVEN-SAFE, and very sturdy. Jon Boy and I love that this newer version is space saving, so they stack very nicely on top of one another. You can also purchase individual pieces of the set versus the entire collection at once.
This is one of the most used pieces in our Calphalon collection. We use it for everything from eggs to grilled cheese to frying up a couple pieces of bacon at a time (rare that we don't just cook the whole package, but that does happen).
---
Favorite Piece of Cooking Equipment: Le Dutch Oven
Le Creuset is the absolute KING of the Dutch Oven kingdom. They're sincerely an heirloom item… like my favorite kid will get the big one and the other kid will get the small one. Or maybe the favorite kid gets both. We'll see… anyways… I use these almost daily. I cook ALL kinds of things in them for a few reasons: the heat is distributed very evenly throughout the pan (almost like a wok), they're nonstick and VERY easy to clean, and they're sturdy yet kinda purdy.
We also have two of these Dutch Ovens that are much cheaper, but still get the job done. They won't last a lifetime like the Le Creuset, but they still cook wonderfully! They're definitely the way to go for beginner cooks.
Recipes to make in Dutch Ovens: Lighter Shepherd's Pie | Red Beans and Rice | Winey Lemon Chicken | Roasted Chicken with Goat Cheese and Lemon | Not Yo Mama's Hamburger Helper | Chicken Tetrazzini | Best Spinach Dip | Chicken Sausage Pasta | Mexican Pork | Beef Stroganoff | Mexican Quinoa Bowl | Beef and Potato Curry | Mozzarella Stuffed Chicken Meatballs (just to name a few…)
---
Large White Casserole Dish with Lid
I love this casserole dish because it not only bakes things perfectly, it looks purty, too. So, you can bake it in the oven, then throw it (gently) on the table! The lid also fits snuggly enough to where this will travel very well.
Oval Roaster with Insert and Lid | Insert
Our oval roaster just like this is probably older than me! I used to call it the Speckled Pan growing up… makes sense, right? Anywho… the point is this bad boy will last forever. We use the insert to elevate and roast things like our favorite Horseradish and Herb Crusted Beef Roast, Roasted Pork Tenderloin and Roasted Chicken. The insert makes it so that the meat stays tender and juice throughout roasting, but isn't sitting in the liquid.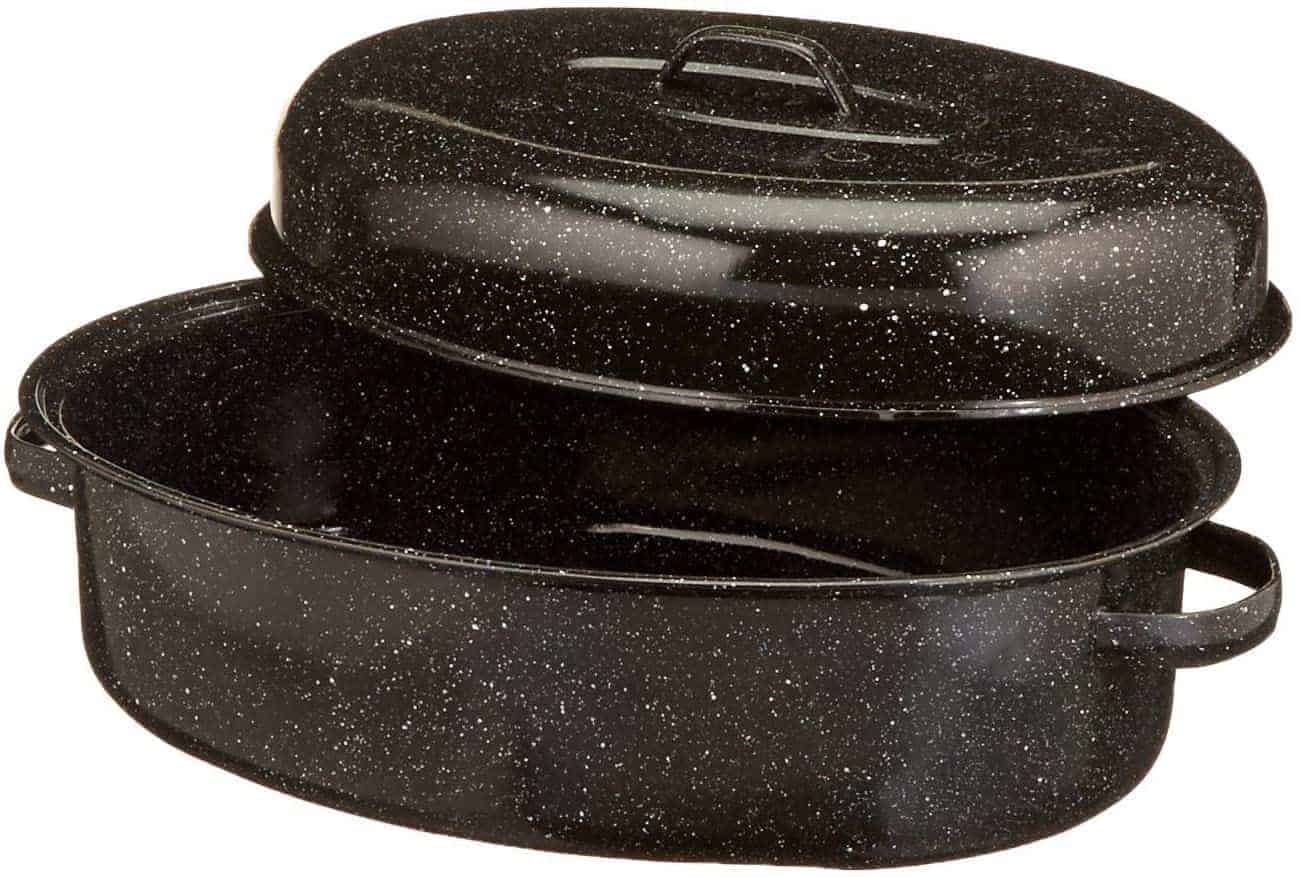 Baking Sheet Pan | Insert (Cooling Rack)
We use this setup with the cooling rack inside the baking sheet to evenly cook bacon in the oven (400 for 22-25 minutes). We also use the large baking sheet to make things like Greek Chicken Sheet Pan Bake or Roasted Veggies.
Calphalon Nonstick Cookware Set | Corningware Cassrole Dishes | Pyrex Pans | Large Glass Mixing Bowls
Here's a little peek into our collection of most-used cookware (besides the Dutch Ovens). We use the cookware set for the usual suspects: boiling pasta, cooking beans, frying eggs, sautéing vegetables, browning meat, etc. The Corningware Bakers are for things like Corrales Casserole or Not Yo Mama's Hamburger Helper. The Pyrex Pans are great for roasting vegetables or for Five Bean Bake (bonus: they're DISHWASHER SAFE). The large glass mixing bowls are used for so many things from mixing meatloaf to meatballs to tossing salads together to mixing quinoa bowls. The large size makes it perfect so that I don't make more of a mess than I need to!
Red Mixing Bowl Set | Large Glass Bowls | Set of Glass Mixing Bowls (similar)
I use mixing bowls like they're dish towels around here. We go through them super quick, so I like to have a few different kinds and sizes to work with! These are my favorites. Also: do you spy the puppy?
Vegetable Steamer (similar)
I have my dad's (most likely 20 years old now) vegetable steamer that I love to use for things like Cauliflower Mash or Lighter Shepherd's Pie. It's also great for making delicious, healthy veggies on a busy weeknight. They have all kinds of automatic settings, too, so you don't have to think twice about it.
---
Cooking Utensils
Wüsthof Knives | Favorite Chef's Knife
I have to admit I am very much a snob when it comes to my knives. It's either the best of the best or bye-bye. I use them way too much to go cheap! With that said, I will say these have held up unbelievably well to the abuse they've endured over the last 10 years. Each piece in the set is used for various occasions (bread knife, chef's knives, steak knives, pairing knife, etc.), but I use my two chef's knives at least 3 times a day for everything from cutting onions for dinner to carving an apple for the kids' snack.
I wish I had a cheaper alternative for those of you looking for one, but I don't I'm afraid. These are like my little babies, so I've never ventured into trying others out.
Knife | Wooden Spatula (similar $7) | Wooden Spoon (similar $7) | Whisks | Ladle
I'm old school: wooden utensils are far superior to metal or plastic ones! They don't scratch cookware, they are sturdy and durable, and they're easy to clean.
---
Cookware Accessories
Citrus Press | Oven Mitts | Onion Goggles | Garlic Press (similar) | Measuring Spoons (similar)
These are all pretty self-explanatory, but I wanted to include them because I use them allllll of the time! Especially those handy dandy onion goggles. No one needs their mascara running while they cook!
Food Scraper (similar – mine was a gift with the cutting board)
This is perfect for scraping chopped veggies and things and plopping them into your dish! It's a lot faster than doing the "get as much on the knife as you can and run across the room to the stove" dance. Diced onions are the most frequent visitor to my food scraper!
And that's all, folks! I hope that you found something useful to get for yourself or the foodie in your life! Got questions? Leave 'em in the comments below!
I hope you've found something to add to your kitchen in this Best Cookware Buys post!