Rule #92: Necessity breeds invention.
This easy Mexican Pork recipe came about one icy day in Dallas when Jon Boy and I were newly married. A huge snowstorm came in unexpectedly, shutting down the city midday. I didn't have time to run to the store, plus it was too dangerous, and everything as far as delivery was closed because of the ice. So, we were left with what was in the fridge: onion, bell peppers, salsa, and pork tenderloin. Thus was born: Mexican Pork.
Fun Fact: I used to call this The Sh*t Mexican Pork because that's exactly what Jon Boy named it when I made it that first night. "Babe! This is the sh*t!" But, since I'm trying to keep this blog PG rated, I'll cut the very supportive expletive.
First, season your pork tenderloin with Kosher salt and freshly ground pepper on all sides.
Make sure to chop your veggies before you start browning the pork. It goes fast, and you don't want to burn your pork, now do ya? I just use what I call the Fajita Veggie Mixture: Red bell pepper, green bell pepper, and white onion. Just slice them thinly-ish. Is that a technical term you ask? Yes. It is.
In a large Dutch oven or skillet, bring some olive oil a to a shimmer over medium-high heat. Brown the pork on all sides (about 3 minutes per side), then remove to a plate and set aside.
To the same pot, add in your fajita vegetables.
Now, you don't have to have Goya Adobo seasoning. You can use most any all-purpose seasoning you want. We just love this one on Mexican dishes. Sprinkle some of the seasoning all over the veggies, and sauté them until softened (about 8 minutes), stirring occasionally.
Next, and this is my favorite part, add in one 16-oz. container of fresh salsa (like the refrigerated kind). This will add SUCH a fresh kick of flavor to your dish!
Our favorite is this Cocina Fresca brand from H-E-B. We go for the cantina or restaurant style salsa that's more puréed. Just pick your favorite one, but I'd definitely recommend fresh over jarred.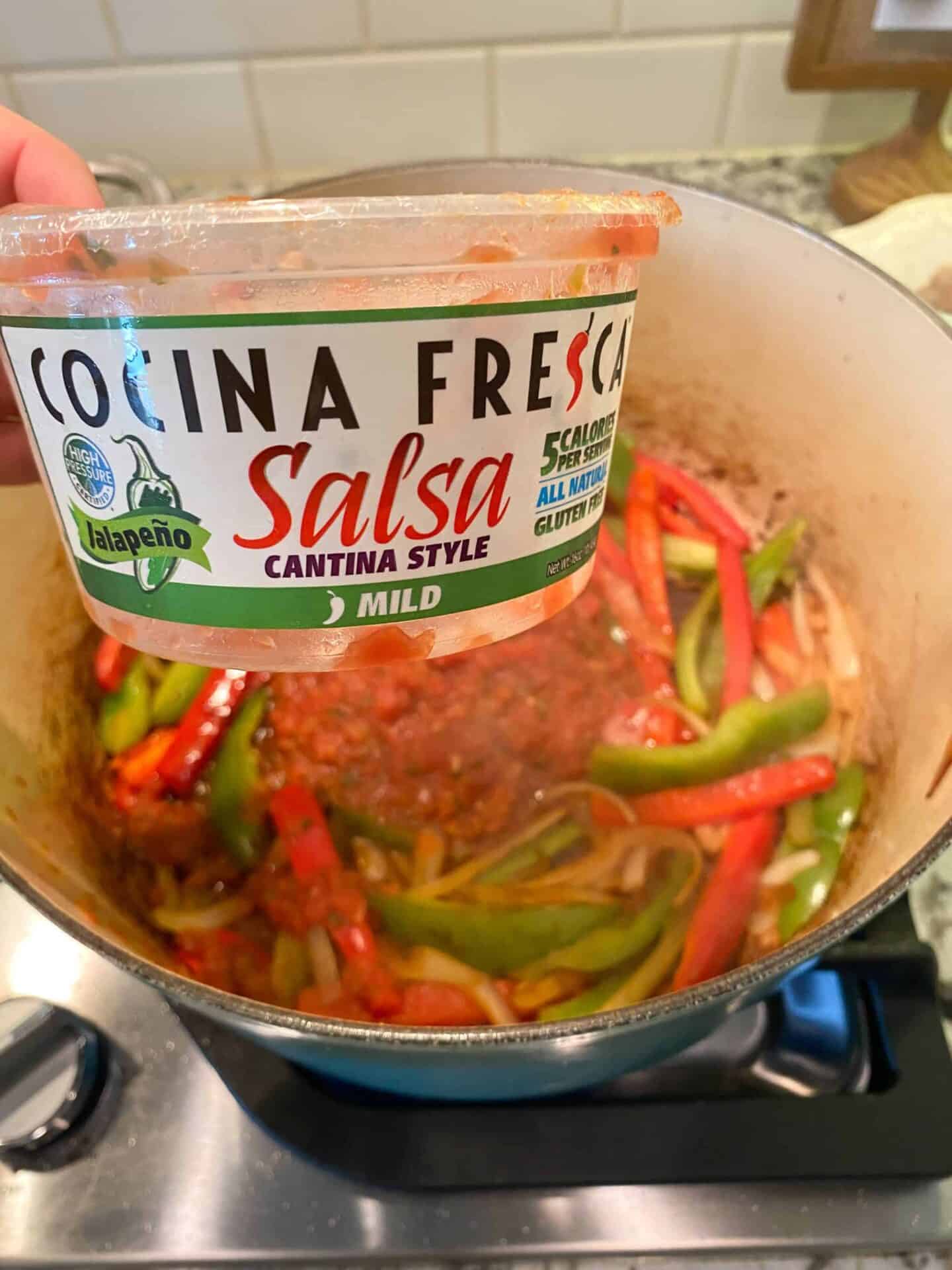 Now, add in some chicken stock and give everything a good stir. Lower the heat to low.
Then we add our browned pork buddies right back into the pot along with any juices that have accumulated.
Finally, partially cover the pot and simmer for about 5 minutes or until pork is cooked through. And that's it for this edition of: Necessity Breeds Delicious Invention.
Ohhhhhh the yummy, fresh flavors of this Mexican Pork! This recipes makes 4 good-sized servings coming in at only 170 calories each, 2g of fat, 15g of carbs, and 23g of protein!
We serve our Mexican Pork with Easy Peasy Mexican Rice, steamed white rice, or even sometimes Cauliflower Mash. The leftovers freeze like a charm, too! Garnish with your choice of toppings such as sour cream, diced avocado, cilantro, lime wedges, or your favorite taco sauce.
Make this for your next Taco Tuesday Night and really spice it up a bit!
---
Mexican Pork
1 1-lb. pork tenderloin, trimmed of silver skin, cut into 1/2" pieces
Kosher salt
Freshly ground black pepper
2 tbs. extra-virgin olive oil
1 small white onion, sliced
1 green bell pepper, sliced
1 red bell pepper, sliced
A few dashes of Adobo all-purpose seasoning
1 16-oz. container fresh salsa (heat level of your choice)
½ cup chicken stock
Liberally season pork with Kosher salt and black pepper.
In a large Dutch oven or skillet, bring oil to a shimmer over medium-high heat. Over medium-high heat, brown the pork on all sides (about 3 minutes per side). Remove pork to a plate and set aside.
In the same pot, add the onion and bell peppers. Sauté until veggies are tender (about 8 minutes). Sprinkle on some Adobo seasoning.
Once the veggies are cooked, make a hole in the center of the pan and add in the salsa and chicken stock. Lower the heat to low and add in the pork and any juices. Partially cover and simmer for about 5 minutes or until pork is cooked through.
Serve over steamed white rice, Easy Mexican Rice (on my blog), or on its own with your choice of garnish.
Garnishes
Diced avocado
Sour cream
Cilantro
Red onion
Radishes
Salsa
Shredded lettuce
Tortilla strips