Rule #291: Food, friends, and family are what life is all about.
It's been a hot minute since I did a little life update (and let's be real… most of my life revolves around food). This post is all about what we've been doing lately plus TWO WEEKLY MEAL PLANS! Bonus, baby! If you're just here for the Meal Plans, scroll down to the bottom, my friend.
Little Sassy here and I have been loving cheering for sweet Corey as he plays tball (and if you saw how intense he was, you'd know that he absolutely believes he's playing for his beloved Houston Astros). As long as she's got snacks, she's a happy little fan.
Little Man and I had a date earlier this week to the Houston Aquarium. It was absolutely wonderful! Very few people were there, so we got up-close-and-personal views of all the goodness. Corey's favorite was by far the white tiger! We even got to eat lunch next to the huge indoor aquarium upstairs. I'm going to miss these days when he starts kindergarten next year. I can't believe how fast time has flown.
If you follow our chaos on Instagram, you know what this is all about. Our magical Mommy and Corey Day ended in pee all over the inside of my Suburban (she's named Adele just FYI). Corey couldn't hold his lemonade any longer, so I pulled over for a parking lot pee session. It didn't end well.
When the kids aren't in Astros gear, they're acting like Hugh and Hilda Hefner in their robes with their fancy jewelry and snacks. I'd like to say that all I contributed to their outfits was tying the robes and pouring the Cheez Its. I work for them. I just hope Jon and I can keep up with their fancy lifestyle.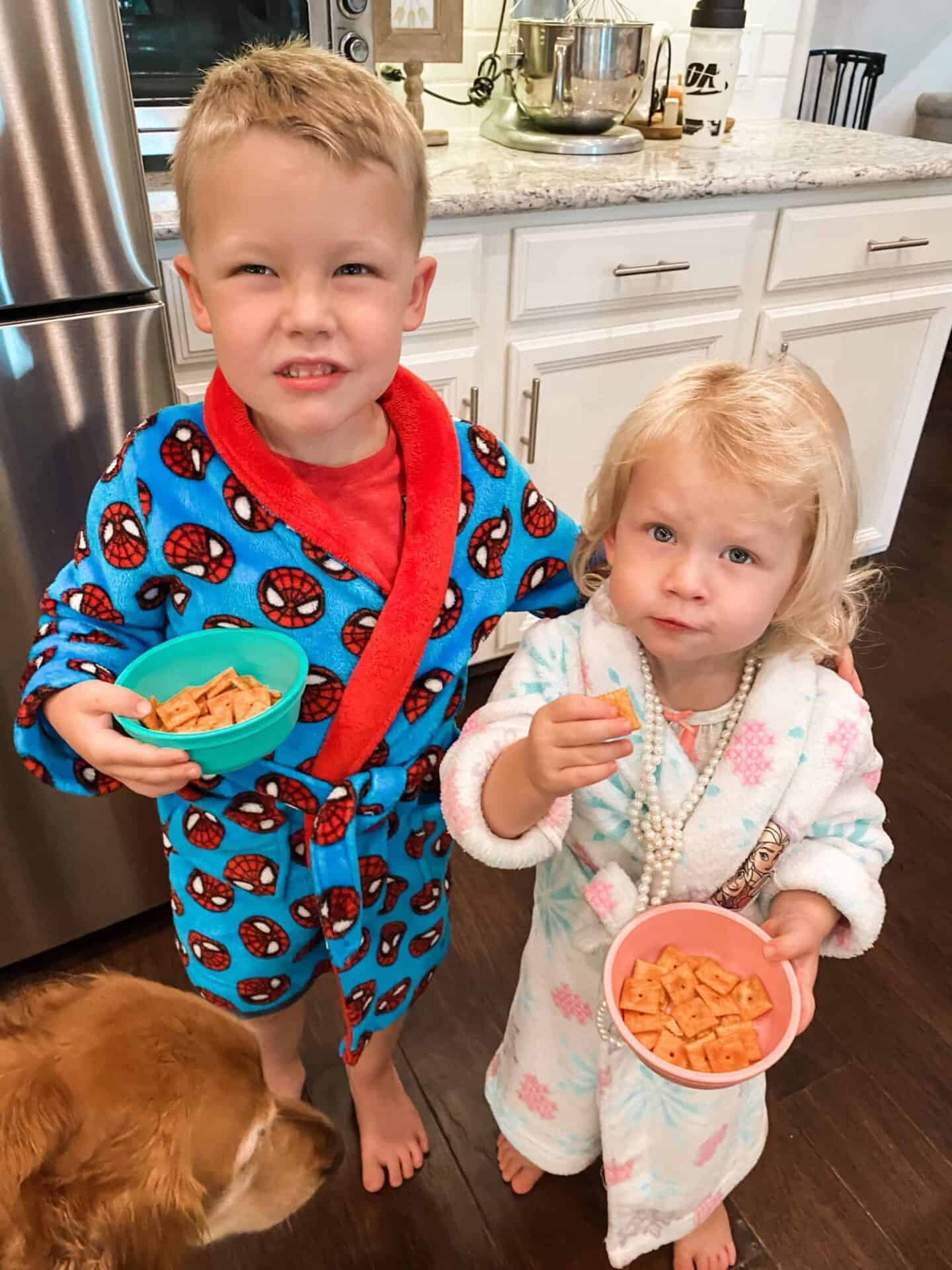 Speakin' of fancy… Jon Boy and I got all dolled up to celebrate our sweet sister's 30th birthday a while back. It felt good to get all purty and try on something other than workout clothes for a change. Jumpsuit is from Nordy.
I hate that this picture is so blurry because I absolutely love it! Jon Boy and I had the BEST time when we went out for my birthday dinner a while ago.
We went to my favorite Houston restaurant: Field & Tides. It's a casual vibe with the most amazing surf and turf food with a southern flair.
I'm a sucker for a good dirty martini (or as I call them… Martoonis).
What first drew me to Field & Tides was this little number here: Pimento Cheese Fritters. When I saw that on the menu, I knew this restaurant was made for me. It comes with a little sweet and sour sauce, and is worth every blooming calorie!
I started out with the beet salad. It was DIVINE!
Jon Boy had the gumbo. It was a perfect portion and had just the right amount of spice.
I always go for their Redfish. It's perfectly seasoned and the veggies on top send it over the edge.
We also can't pass up their Crab Fried Rice as a little extra side.
Of course, my man had to go for the steak and potatoes. It was delicious! We went home completely stuffed and completely happy!
My sweet girls celebrated a belated birthday with me this week! It was so nice to stay home, drink wine, and have some laughs. I hope you enjoy our Sorority Pose, here. Also, if you're looking to learn more about allergy friendly products, recipes, and stories from a Mama's Heart, check out my friend's amazing blog: AllerGeneFriendly.
I made the ultimate girls' night meal: Vodka Pasta! It's so easy and so delicious! I always use Banza Chickpea Pasta now because it's lower in carbs and doesn't leave you with that "stuffed from pasta" feel.
This easy appetizer has become a routine recipe for us: Whipped Feta and Marinated Cucumbers! It's light, delicious, and can be made ahead of time.
My favorite appetizer crackers are hands-down these Pita Bite Crackers from Trader Joe's! They're the perfect size and oh-so-light-and-airy!
Another Trader Joe's win: Cauliflower Thins! They're a perfect bread substitute, and they taste great! I make our sandwiches with a little mayo mixed with Dijon mustard, lettuce, turkey, and bacon. I usually have mine as an easy, healthy lunch with Trader Joe's Everything but the Bagel Greek Yogurt Dip and veggies.
Trader Joe's coming in clutch again! Their Onion Salt is a perfect seasoning for roasting veggies. My favorite right now are roasted sweet potatoes. The kids love the flavor, too!
That's all for now, y'all! I hope everyone has a great week! Only 20 more days until HALLOWEEN!
---
Weekly Meal Plan (Times Two!)
Monday: Caulipower Pizza (frozen), simple salad
Tuesday: Beef Stroganoff, salad
Wednesday: Trader Joe's Eggplant Cutlets, simple bolognese (brown ground beef and add a jar of marinara), frozen veggie
Thursday: Vodka Pasta, salad, charcuterie board (GIRLS' NIGHT, BABAY!)
Friday: Door Dash – Aguirre's Mexican has been our go to! Hello, margaritas AND queso delivered to my door? Yes, please!
Saturday: Red Beans and Rice
Sunday: Rib Roast with Cipollini Onion Sauce (recipe coming soon), Trader Joe's Squash Casserole, simple salad
Monday: Chicken with Cream of Mushroom, Cauliflower Mash (I make a big batch and freeze the leftovers), Roasted Brussels Sprouts
Tuesday: Mexican Pork, Roasted Sweet Potato, Leftover Roasted Brussels Sprouts
Wednesday: Easy Pork Chops in the Crock Pot, Cauliflower Mash (or steamed rice), Frozen Veggie
Thursday: Low Carb Cheesy Beef and Vegetable Bake
Friday: Most likely we'll Door Dash some Crust Pizza
Lunch for the Week: Loaded Mexican Veggie Quinoa, Cauliflower Thin Sandwiches (see above)
If you liked this Weekly Meal Plan + Life Lately post, check out these other similar ones!