Chicken with Cream of Mushroom + Worcestershire and Scenes from the Weekend
I've posted this recipe before, but I had to share it again because it's one of our go-to dinners when we're hungry but don't wanna cook (like last Saturday night). This was one of my Daddy's favorite things to throw together on a weeknight after work and school. I love how food memories are some of the strongest we've got, ya know? I can hear my Daddy's boots clodding around the kitchen as I type out this little post…
Anywho – all you'll need to whip up this comfort food dinner is whatchya see below…
and an oven… you'll need that, too.
Here's the breakdown:
1 box/can cream of mushroom on the bottom of an oven-proof dish (I always use our Dutch oven)
Throw on some chicken breast + freshly ground black pepper (lots of it)
Drizzle on some Worcestershire sauce (and seriously… does anyone ever pronounce it right?)
Throw on some more cream of mushroom (1 box/can), more pepper + Worcestershire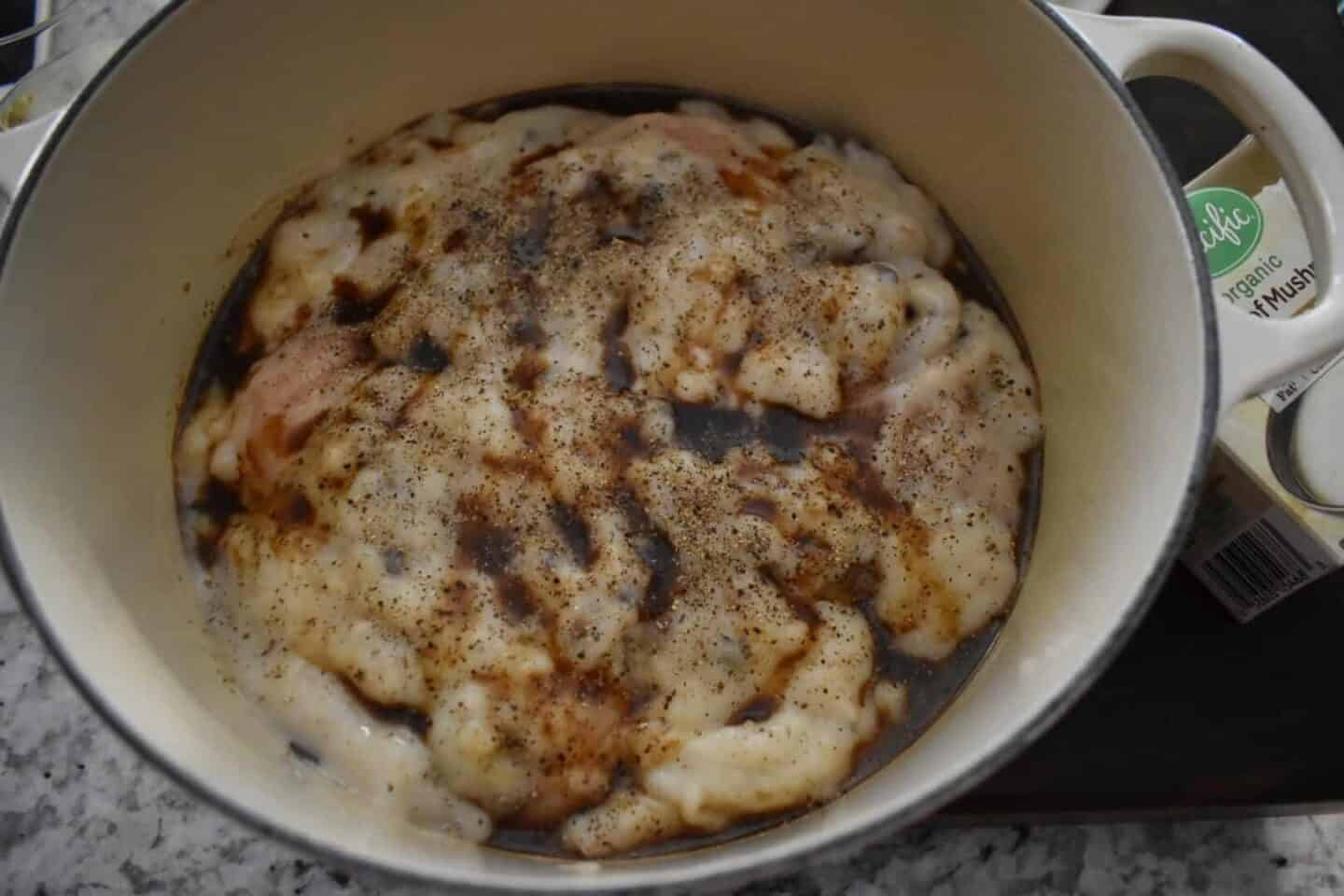 Cover and bake at 350 for an hour or until chicken is cooked through. We serve ours over plain old white rice with some roasted green beans on the side.
There aren't any measurements in this recipe because ya really can't screw it up. Just throw on lotsa pepper + Worcestershire and you're off to the races. Clearly, if you don't like a lot of pepper, just use less. If you need more meat, add more meat but also factor in more cream of mushroom and the seasonings. You really can't go wrong!
If ya don't gotchya a Dutch oven, ya gots ta get one. These little lovelies are a cook's dream. They're great for use on the stove top, in the oven, and even outside on the grill if you're crazy. They distribute heat much more evenly than other skillets. They're easy to clean (but only hand wash for these babies). Plus, they're kinda pretty.
You can grab one at Walmart or Amazon (the Lodge brand is great) for only about $30. My aunt and uncle gave me this diddy a few years ago when I hosted Thanksgiving for the first time. Let's just say this baby is a family heirloom now – Le Crueset is here to stay!
I've been playing with my new toy (camera), and I think I'm slowly getting the hang of this baby! I can't believe how much better the quality of pictures is with the actual camera v. my iPhone. The Bluetooth feature makes uploading + editing a piece 'o' cake, too.
We went over to Nana and Grandpa's house to celebrate the September birthdays in the family last Sunday. Corey had to sport his J.J. Watt jersey, and he must be their lucky charm because the Texans won!
Happy Birthday to us!
(notice that I'm 21 again)
---
Chicken with Cream of Mushroom + Worcestershire
2 boxes/cans cream of mushroom soup
2 large boneless, skinless chicken breasts
Freshly ground black pepper
Worcestershire sauce
Preheat oven to 350.
In a Dutch oven or oven-proof dish with a lid, make a layer using one box/can of cream of mushroom soup. Place chicken breasts on top and sprinkle generously with black pepper. Generously sprinkle Worcestershire sauce on top. Cover with remaining cream of mushroom, more black pepper, and more Worcestershire sauce.
Cover and bake at 350 for an hour or until chicken is cooked through.
Serve over white rice.
I hope you've enjoyed this Chicken with Cream of Mushroom + Worcestershire and Scenes from the Weekend post! If you did, check out these other similar ones.