Rule #136: Let Adrian do the work.
I sincerely have no idea why, but it's an imperative in our house that favorite appliances have names… names with alliteration to be exact. Therefore, I must explain that our Air Fryer's name is Adrian, thus the rule. This light and delicious Sweet and Savory Air Fryer Chicken is perfected by the ease of the ever wonderful Air Fryer. Just make the rub, coat it on your little chicken, and let Adrian, eh hem, I mean… your Air Fryer… do the work.
We have this Air Fryer by Bella, and I love it because of the large basket size. Some others work wonderfully, but you're limited by how much you can cook at one time because of the basket size. Again, just in case you forgot, his name is Adrian.
The seasoning for this chicken is so simple and full of sweet and savory flavors: 2 tbs. light brown sugar, 1 tsp. ground cumin, 1/2 tsp. Kosher salt, and 1/4 tsp. freshly ground black pepper.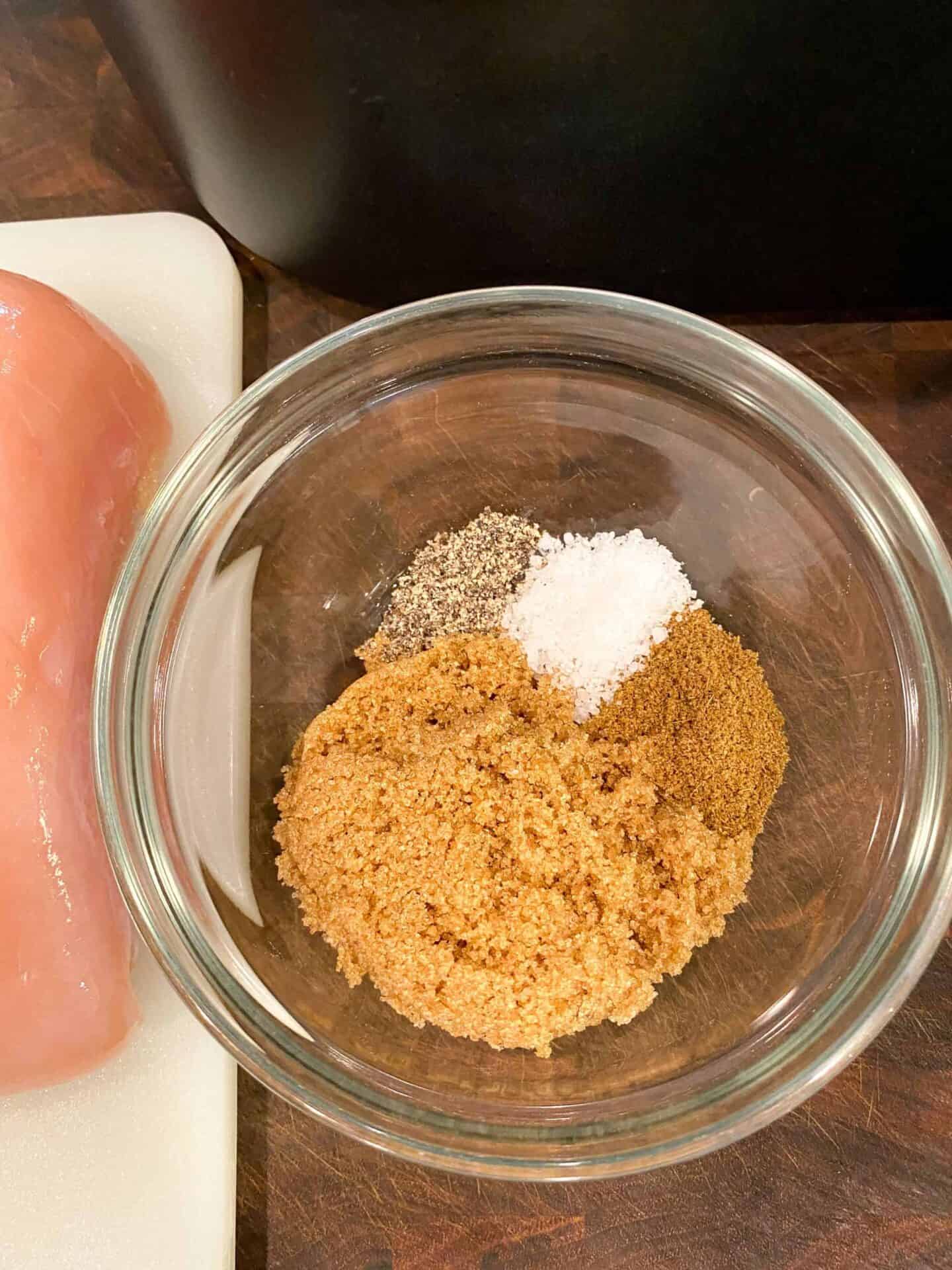 Whisk together the rub, then spread it all over your chicken breasts. I usually just do two for me and Jon Boy which leaves us with one Jon Boy sized portion and two Lilly sized portions. The leftovers make for a great, healthy lunch! Make sure to spray the bottom of your air fryer basket with cooking spray so your little chicks don't stick.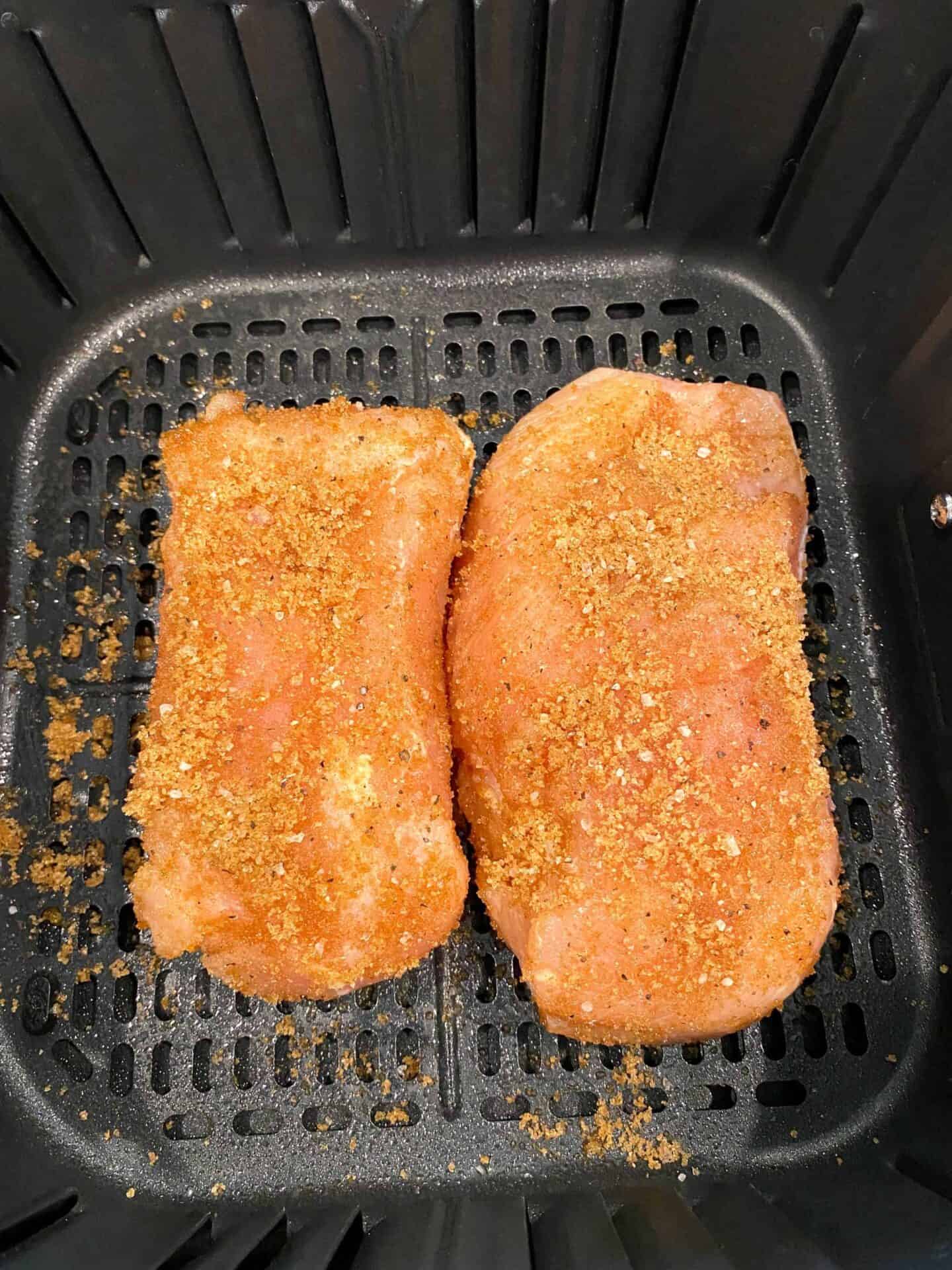 Again, we love this air fryer for the size of the basket! Plus, it comes with pre-programmed settings for things like bacon and veggies. I don't preheat the air fryer at all. You definitely can, but I like to stay on the lazy side of the street and skip that step. Cook the chicken at 360 for 20-25 minutes, until chicken is cooked through.
Just look at the golden, seasoned bit of poultry perfection. Adrian the Air Fryer truly is Amazing.
I like to serve ours with a side of guacamole – we buy the delicious pre-made stuff at H-E-B. Another great sauce would be to mix equal parts salsa and sour cream together.
Side Suggestions:
Cilantro Lime Cauliflower Rice
Roasted Shaved Brussels Sprouts
Gotta love a man (or appliance) that can cook, 'm I right?!
---
Sweet and Savory Air Fryer Chicken
2 tbs. light brown sugar
1 tsp. ground cumin
½ tsp. Kosher salt
¼ tsp. freshly ground black pepper
2 boneless, skinless chicken breasts
Chopped cilantro, for garnish
Guacamole, for serving
Sour cream and salsa, mixed together, for serving
Combine brown sugar, cumin, salt, and pepper in a small bowl. Spread rub all over both sides of the chicken. Spray the basket of your air fryer with nonstick spray, then place the chicken breasts in an even layer at the bottom.
Cook at 360 degrees for 25-30 minutes, until chicken is cooked through.
Garnish with cilantro and serve with guacamole and/or a mixture of sour cream and salsa.