Life Lately
Rule #238: Good food makes for good times.
Okay this Life Lately post is mostly about what we've been eating lately. What can I say? We love us some good grub. We had a great night out celebrating my eh hem… 21st… birthday last weekend! I may or may not have been celebrating being 21 for quite a few years now. Shhh. It's our little secret!
I had to take a shameless bathroom selfie. The bathroom itself was cuter than my house. Feather wallpaper? I die!
We started our fun Big Kids Night Out at Better Luck Tomorrow which was way too cool for us. We definitely felt like the 30 somethings from the suburbs like we were. The drinks were divine though! I had the Salty Cat. I felt like it fit my personality well for my Life Lately.
We also shared the cold Gulf shrimp appetizer! Delicious! Capers, cucumbers, and a spicy tomato puree. I first found out about this place in a Food & Wine magazine probably two years ago! It was Number Two on their list of best new restaurants, and I can see why! Such a fun and delicious place!
This place. THIS. PLACE. I'm still dreaming of it and hoping to relive it again soon. Maybe this weekend, Jon Boy? Pretty please? I've been a good girl! Field & Tides is hands down the BEST restaurant I've been to in Houston.
And this hunky dude is hands down my best date!
I of course had to start with a dirty martini (I like to call them "Martoonis" like Jon Boy's Grandpa Joe did). Swoon.
Then, to keep it low carb, we started with the Crab and Brie Fondue and their Pimento Cheese Fritters. DID YOU HEAR ME!? Pimento. Cheese. Fritters. This dish alone is the reason we came to this place. It caught my eye and for good reason! Perfectly battered balls of delicious, creamy Pimento cheese on top of a sweet-and-sour sauce. I can't even. Next time we go back, I'm wearing stretchy pants and ordering double.
Again, the bathroom was cuter than my entire house.
The decor was beautiful and simple: antler chandeliers, rustic tables, wooden piles for the bar with nods of industrial metal everywhere. And big bonus: the music wasn't too loud or too soft! They played all the good stuff, too – no elevator music, my friend!
Jon Boy had the Snapper for his entree. It was to die for.
I won the gold prize though (at least in my opinion, and since I'm the one writing this here blog, I win!). I had the Halibut and LET ME TELL YOU. Perfection. If you don't like fish because "it's too fishy…" this is your lifeblood. Flaky, dense halibut over a puree of leek and fennel with an orange-vanilla buerre blanc (aka a really yummy sauce).
We also shared the Crab Fried Rice (below) and Horseradish Mashed Potatoes (already in my belly by the time I snapped a pic).
This guy sure is a trooper! Field and Tides is a bit of a drive for us, and he got to hear my rendition of just about every song by Lizzo! After that tortuous drive, he deserved another beer. We stopped at our favorite dive bar and kept partying! At least until 10…
I can't explain or put into words how absolutely rewarding, magical, overwhelming, and beautiful it is to watch your kids' personalities develop. This little Brookie Cookie has such a bright little one. Seeing her and Corey interact together is really tugging at the ole ovaries. Not sure I could handle another round of Big Belly Baby Business though.
I'm so ready for fall weather, y'all. I can feel it in my bones. Anyone know a good Native American chant or voodoo situation we could use to conjure up some cooler temps? I'm all ears.
I've been doing my best to stay on top of the low carb (and some not) cooking lately. I have been using the freezer like it's going out of style, too, now that school is back in session. For this little meal, we had Roasted, Shaved Brussels Sprouts, Cauliflower Mash [took it from the freezer, thawed it, spread it in a thin layer, then baked it at 350 with lots of Parmesan on top for about 20 minutes], and Buffalo Chicken Meatballs.
Chicken in Wine Sauce is also a huge hit at our house! Leftovers for days, too!
Chicken and Dumplings was a much needed comfort food situation a couple of Saturdays ago. I needed those fluffy dumplings with that creamy chicken filling.
We also had a yummy Halloween Chili dinner with Cheesy Cornbread a bit ago! It's the perfect way to welcome fall and make all the tummies happy!
I'm working on developing a recipe for Pork Chops in a Creamy Mushroom Sauce. The first round was delicious, but not perfect. I'm excited to try it again soon! I love pork chops because they're cheap, lean, and great at soaking up good flavors. Oh, and shocking… this recipe has wine in it!
Again… we had the Roasted, Shaved Brussels Sprouts. They're a weekly staple at our house! They're easy to make because they come already shredded at our grocery store, HEB!
For our comfort food weekend, I made sure we had lots of French bread and good brie from Trader Joe's. I will never find anything that reminds me of my family more than a good hunk of bread and creamy, delicious brie. It always brings me back to big family dinners with my mom, daddy, and brother!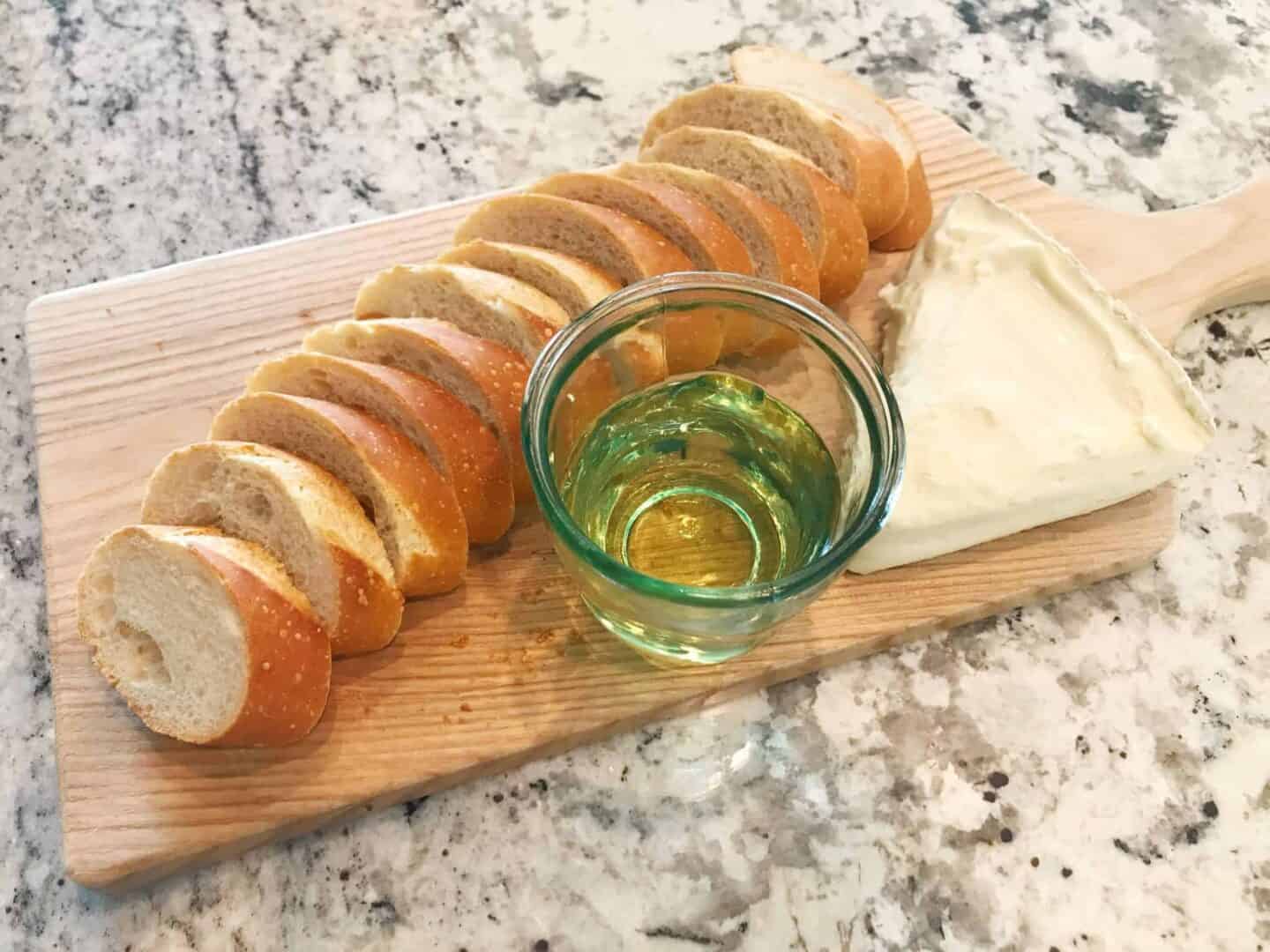 I've had some requests to share my low carb lunch ideas! It's hard to keep reinventing the wheel every day with healthy, easy, but still yummy lunches. Here's a quick roundup of a few lunches lately:
Tuna Salad Lettuce Wraps with TJ's Everything but the Bagel Seasoning | Sugar Snap Peas + Carrots | HEB's Ranch Dip | (217 calories and 27g protein)
Leftover Roasted Sweet Potato with Sriracha | Sugar Snap Peas + Carrots | HEB Ranch Dip | HEB Broccoli Salad | HEB Tarragon Chicken Salad | (327 calories and 12g protein)
Veggies | Trader Joe's Caramelized Onion Dip | HEB Broccoli Salad | HEB Tarragon Chicken Salad | (329 calories and 8g protein)
HEB recently started selling my favorite Marcona Almonds with Truffle Salt! They're a perfect happy hour snack that's full of protein and low in the carbs!
That's all for now! Happy Hump Day, y'al!