Rule #211: Cutting carbs does not mean cutting flavor.
Cauliflower mash is basically my low carb version of mashed potatoes. I know what you're thinking, "Enough with the cauliflower, lady!" And I don't blame you. BUT. I have to admit that I actually crave this stuff. The creamy ricotta, roasted garlic, zippy Greek yogurt, and of course, a little bit of butter, make this cauliflower mash the ultimate low carb substitute. You can make it up to 3 days in advance, heat 'er up, and serve it alongside your favorite protein!
BUT – a little about life lately before I dive into that yummy situation up there…
Now that Harvey has left the building, we're enjoying some pretty fantastic weather down here in Houston. It's actually feeling like fall around here: cool breeze, temps in the high 70's in the afternoon, and the ability to wear jeans outside without sweating. It's a pretty fantastic feeling.
My hibiscus flower bed is actually doing pretty well despite the crazy weather the past couple of weeks. I know they missed the sun, so now they're blooming like crazy. I'm still amazed at how resilient these little ladies are down here. Dallas just wasn't the greatest for these beauties.
Henny Penny is soakin' up some rays herself these days. And don't worry, she's still doing lots and lots of bubble time with the bubble machine. I swear she thinks we got it for her instead of for Corey.
---
Roasted Garlic + Ricotta Cauliflower Mash
All I can say is YUM! It eats like creamy mashed potatoes, but it goes down like light + low calorie cauliflower!
This is a recipe I adapted from my spirit animal, Chrissy Tiegen. It's from her cookbook, Cravings, which I HIGHLY recommend if you're looking for a great present for someone else (or for you). This super yummy low-carb side comes in at about 110 calories per serving for 3 servings.
I took out a few of the more cumbersome steps like making your own roasted garlic oil. This is very do-able for a weeknight side dish if you're up for it. It also keeps well in the fridge for a day or two if you want to make it then reheat it another night.
First, cut a head of garlic in half, wrap in foil, and bake at 400 for 30 minutes.
You can either boil 1 head of cauliflower florets for 10 minutes until they're fork tender, or you can take the easy way out. Microwave 2 bags of frozen cauliflower in steamamble bags (separately) until tender, usually about 6 minutes each.
Another easy option is to steam the cauliflower florets for 18-25 minutes, until fork tender.
Drain well, let cool, then throw in a food processor with 1/4 cup ricotta, 2 tbs. melted unsalted butter, some Greek yogurt, 1 tsp. Kosher salt, and 1/4 tsp. freshly ground black pepper.
Then, squeeze each garlic clove until the good, roasted garlicky goodness pops out. Get as much as you can, but don't sweat it if you can't get it all out. Discard the skins.
Blend 'er up until it looks like mashed potatoes. Taste and adjust seasonings as you need.
And enjoy that extra glass of wine you can now afford thanks to fewer calories + carbs.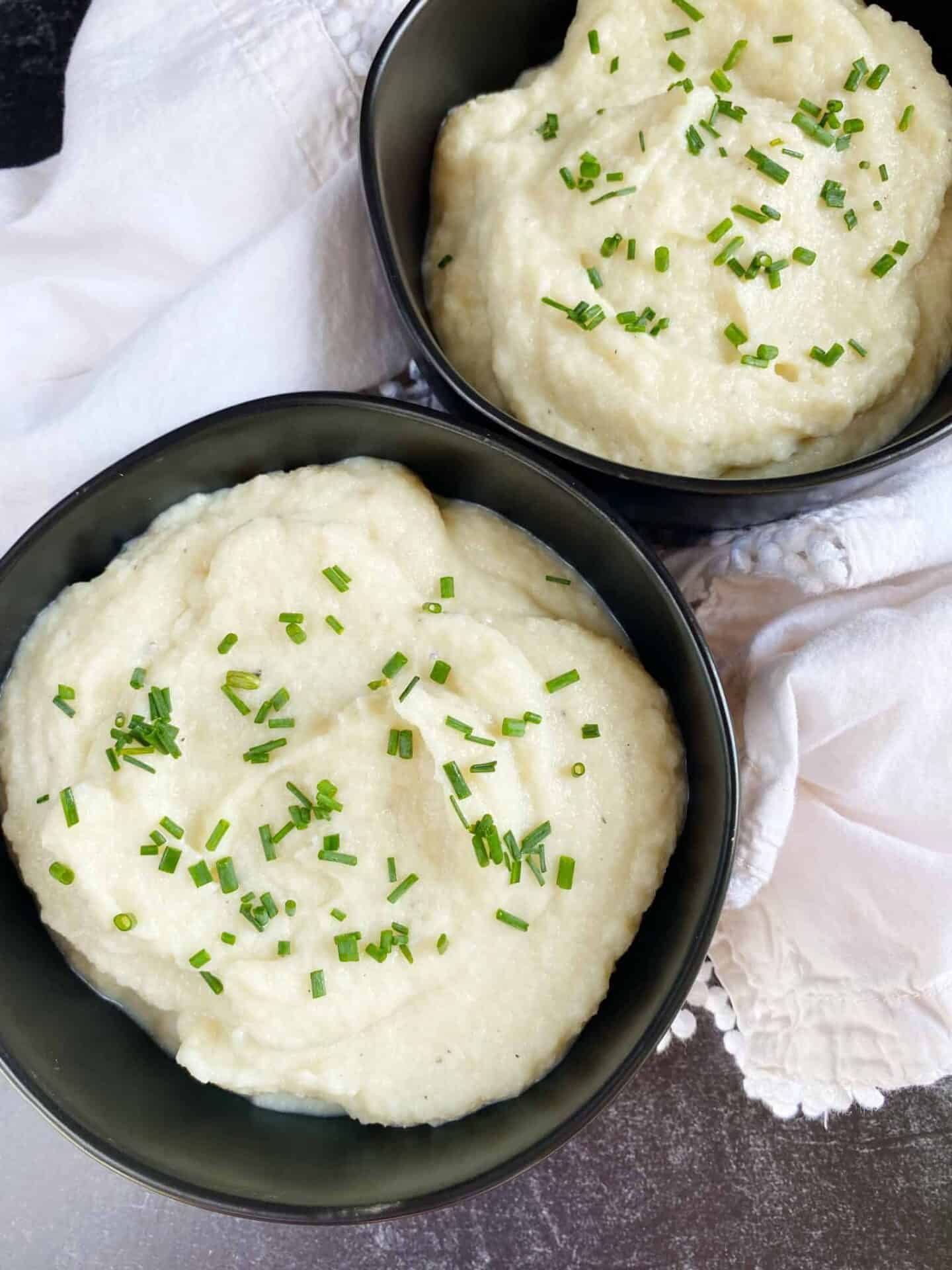 ---
Cauliflower Mash
1 whole head garlic
1 head cauliflower, cut into florets (or 2 bags steamable, frozen cauliflower)
1/4 cup ricotta cheese (whole milk)
2 tbs. unsalted butter, melted, cooled slightly
1/2 small (5.3-oz.) container plain Greek yogurt
1 tsp. Kosher salt
¼ tsp. freshly ground black pepper
Preheat the oven to 400.
Cut off the top half of the head of garlic. Wrap the cut garlic head in foil (whole). Place directly on baking rack and bake at 400 for 30 minutes. Allow to cool slightly.
Meanwhile, cook the cauliflower:
Option A) Steam the cauliflower florets for 18-25 minutes until fork tender.
Option B) Bring a large pot of heavily-salted water to a boil. Add in the cauliflower. Boil for 10 minutes or until fork tender. Drain and allow to cool slightly.
Option C) Cook the bags of cauliflower according to package directions – usually 6 minutes each.
In a food processor (be sure to allow the heat to vent if the cauliflower are still hot), blend together the cauliflower, ricotta, melted butter, Greek yogurt, and S&P. Squeeze in the roasted garlic cloves, discarding the skins. Blend until desired consistency is reached.
This recipe makes 3 good-sized servings at only 110 calories each!