Rule #197: Even when things are at their most hectic, find time to breathe.
It's been more than a hot minute since I did a little "Life Lately" post, and I've got **knocks on every piece of wood around** a few minutes to breathe and type out this little bit. Life has been full of major ups-and-downs lately. We've had a great time with fun distractions like Christmas traditions, a trip to the aquarium, and of course, lots of food! These past couple of months have also been filled with stress and anxiety beyond the norm of the holiday season. Here's a little round-up of our life on this little Friday Funday!
I'm beyond obsessed with this dress from The Brook Home & Gift! I wear it probably more than is fashionably acceptable, but I don't care. I'm in love with it, and I don't care who knows it. I had to document the hair + makeup + non-yoga-pants look while it lasted.
Another had-to-be-documented moment, but mostly because of these joggers from Athleta. I'm in love with them, too! They're comfy, slightly lined, and perfect for the "I want to look cute but also be incredibly comfortable" lifestyle I'm all about.
These little turkeys had a great time celebrating at their school. Every week, I feel like they get leaps and bounds older and cuter. Their school does a great job making each event so special. They send lots of pictures which means the world to me since we can't go inside to celebrate with them!
Jon Boy and I got to sneak out for our annual "Christmas Date" a bit early this year. With Covid numbers rising, we wanted to be sure we got out while it was a bit safer. We went to our favorite: El Tiempo!
Corey was very proud and excited to show his Daddy his Thanksgiving plate this year. They're both pretty awesome if you ask me! It's amazing to me how those little pieces of paper and crayon can mean so much to us as parents.
My mom and I were supposed to go to a Texas Aggie Football game the weekend before Thanksgiving, but it was postponed due to Covid. So, we made a small little trip out of it since we already booked our hotel. We got to visit Daddy and Barbara Bush at their final resting place. It was powerful and serene at the same time.
This quote embodies Number 41 perfectly.
We stayed at The George in College Station. It was absolutely gorgeous! So much fun decor everywhere you looked, including this Texas flag using old books. My librarian heart was very happy!
And their bar and steakhouse were phenomenal! Nothing like a little alone time with my Momma!
Corey's birthday is always during the week of Thanksgiving, so we try to have his party a bit earlier. This year, we did a small joint birthday party for him and Brooke in October. That meant we got to make his big day even more special with simple, fun stuff like making his own birthday breakfast!
He opted for Streusel Coffee Cake. He did a pretty darn good job if I do say so myself.
The big bummer is that Brookie ended up getting a cold, so we had to cancel the few plans we did have. Jon Boy and I were going to take Corey out to dinner just the three of us to celebrate. In this time of the 'Rona, we didn't want to take any chances, so we stayed home. I think Corey still had a great day based on the look on his face! His amazing buddies dropped off a biggo cupcake and other goodies to celebrate him!
Little man and I snuck out (all masked up) to do a little early Christmas shopping. He was quite a handsome little helper if you ask me. My dad used to joke that his name was Sir Tote-N-Pay. I think he would have gotten a kick out of Corey like this!
We went to my Momma's house for Thanksgiving this year, and it was amazing as usual! She's famous for her Roasted Brussels Sprouts and Butternut Squash with Pomegranate Molasses. I didn't get an after picture, but this before is a yummy reminder of that dish!
I took a poll on Instagram to see if anyone else grew up with roaster like this one for their turkey. I was very shocked to see that over 50% of folks did! Makes me happy to know we're not alone in the roasting game!
I also changed up how I do Green Bean Casserole this year. As you can see in the photo up there, I adapted it from Paula Deen's recipe. This year's was the best yet. I'm hoping to edit the recipe and post it soon!
My mom made this amazing frittata with herbs and smoked gouda cheese for breakfast the next morning. It was the perfectly light meal we needed after an indulgent Thanksgiving dinner.
Poor mister man here has a little hole in his ear drum. We had a follow up ENT appointment the week after Thanksgiving to check it out. He had ear tubes when he was younger because of pesky ear infections. One of the holes just won't heal. Luckily it's getting better, so as of now, we're just hoping it heals on its own!
Since the morning was kind of rough for homie, we decided to take him to the aquarium as a little treat.
Jon Boy had never been, so it was a good time for all of us! There were very few people there and everyone was in a mask. We felt very safe, and Corey had fun playing tour guide to both of us!
My perfect Saturday morning consists of exactly these things pictured below. I very rarely get to do an entire crossword, menu plan, and have a hot cup of coffee all in the same day. I did just that the other weekend, and I felt like a new person! It's amazing how busy things get and how easy it is to forget the things you used to enjoy before kiddos.
We're still loving and living outside in our patio. Christmas movies by the fire outside are pretty magical! We actually attempted s'mores this night, but had to back up because our skewers weren't quite long enough. Jon Boy's pyrotechnics are pretty strong!
One of my sweet friends sent the kiddos some cookies to paint from a wonderful company called Color My Cookie! Corey loved decorating them with the edible paint.
And the frosting, sprinkles, and cute accessories. He decorated all of them by himself, and Brooke thoroughly enjoyed eating them later after her nap! It's such a cute concept and perfect for a unique gift!
Speaking of sugar, it's Kevin McAllister Hair and Hot Chocolate Season! My favorite.
Our Buffalo Plaid babies enjoyed their Christmas parties at school on Wednesday. I can't believe it was Corey's last Christmas party at their preschool. This handsome little man is growing up far too fast for me!
I decided to join in on the buffalo plaid situation and threw on my little cardigan over my workout clothes. Made me feel like I was part of the Cool Kids Club. Corey's also feeling cool because he's figured out how to undo his carseat so he can hang out in the car while we're in car line. He's easy to please, and I'm here for it!
While our little crazy lady naps, Corey and I try to have some solo time. He's five thousand times a better builder and engineer than me, but I promised I'd help him build the fancy Lincoln Log house yesterday. My brain still hurts!
We got to trade skill sets: I helped him build and he helped me cook! We made Vodka Pasta for our family friends and a new recipe (still working on the name & post) for us! It was a messy, Italian, beautiful time. He even knows what garlic, olive oil, and San Marzano tomatoes are now. I'm a proud Mama!
I hope that when he comes home from college, he still lays in front of the tree like this. His love for Christmas makes my soul feel at peace. I've had a few folks ask where we got his Polar Express Train! It's from Amazon. I have to be honest, we've had to replace it a few times, but we absolutely love it!
A wonderful friend's dad built our herb garden for us a while back, and she's doing beautifully these days! My mother-in-law had given me the garden sticks a while ago. I'm so glad they're finally being put to use!
Annnnndddd… you know I can't get through a Life Lately-ish post without talking about food. Here's what we've been Eating Lately:
Slow Cooker Lentil Soup | A super easy, healthy lunch that's freezer friendly!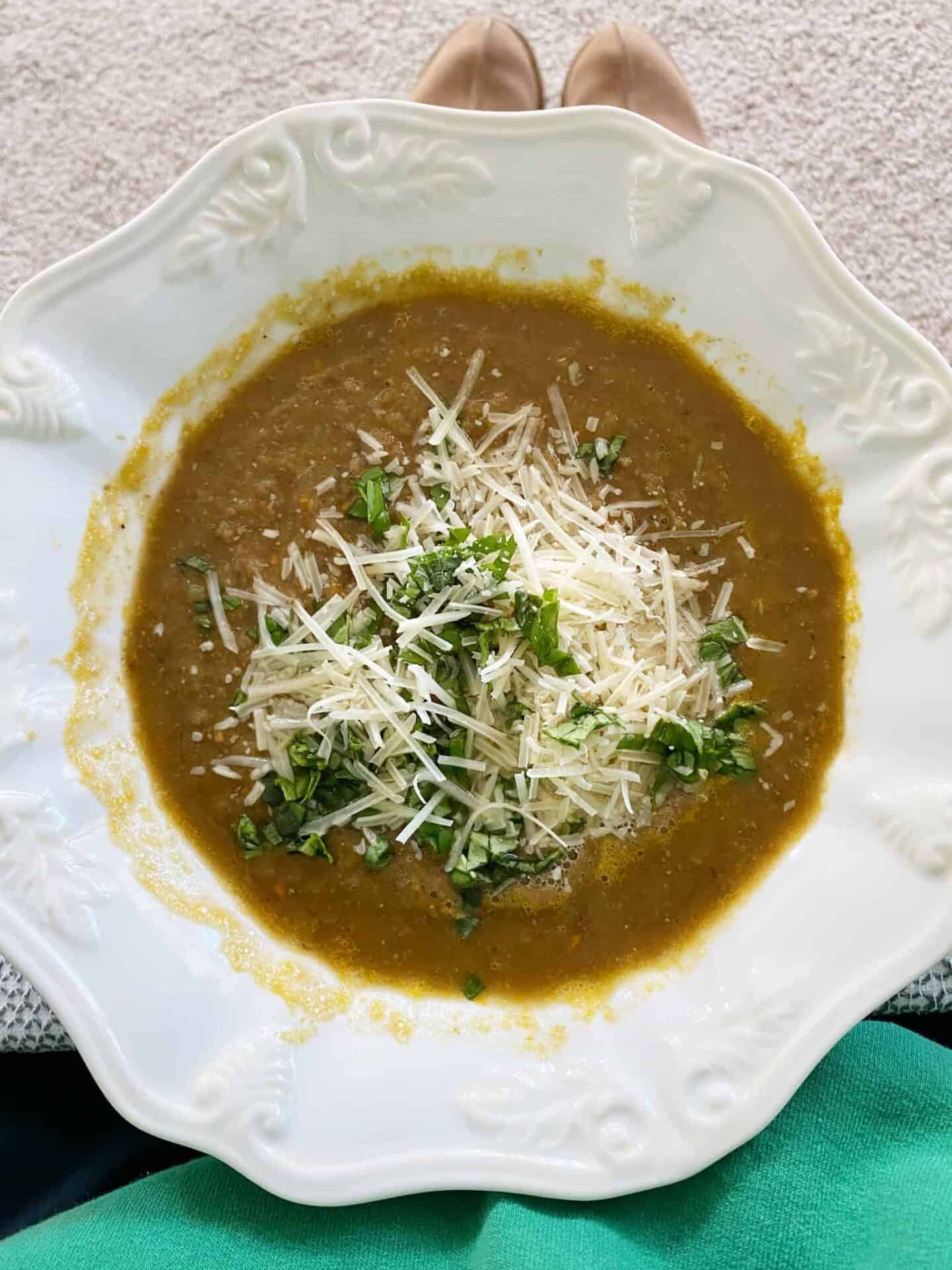 Lazy Pot Roast | This dinner has been on repeat almost every week since Thanksgiving.
Galiana's Texas Salad | This has been my go-to favorite lunch spot when I need something quick and delicious! Their salsa is my absolute favorite.
Cheesy Cheeseless Eggs | I don't get to eat breakfast with the kiddos very often, so these yummy eggs were a delicious treat to go with my little dates!
Meme's Famous Toffee | I won't be sharing this recipe, but I had the privilege of learning to make this amazing toffee with my sweet friend last week. It's absolutely delicious and perfect toffee! It's the one sweet in the world I cannot keep myself away from. I have zero restraint. And zero apologies! Being able to learn how to make it was sincerely a highlight of this year (thank you, Kim)!
Mediterranean Turkey Burgers | I'm working on updating this post, but the recipe for these burgers is the same. They're an easy, healthy lunch that last perfectly in the freezer. Most of the time, I grab on straight from the freezer and pop it in the microwave. It's a great lunch for this busy season!
Vodka Pasta | Just. Yes.
Chicken in Wine Sauce | This one is a hit with the WHOLE family!
Happy Weekend, y'all! I'm hoping to get a few more recipes posted soon as well as a round-up of our elves' antics this year! Happy Hanukkah, Merry Christmas, Happy Kwanzaa, and Happiest New Year in 2021!
I hope you've found something to love in this Friday Funday post!