Gender Neutral Baby Prep
Rule #184: Planning for a surprise means… lots of planning.
The most common response I get when I tell people we're waiting to find out the gender of Baby G #2 until he/she is born is, "Oh gosh. How could you do that? I'm just a planner. I've got to be prepared." And I TOTALLY understand where that's coming from. I used to think the same way before good ole Jon Boy rolled into my life. It was his wish that we wait to find out what our first was (obviously an adorable chunk of baby boy), so we continued the tradition with this second little nugget.
---
BUT. Even though we're waiting until D-Day (as in… delivery day) to find out if little nugget is a boy or a girl… we still have a lot of things to prepare ahead of time. We are in (as I said in my last post) BABY PREP MODE: DEFCON 1 around here which means we're cleaning all the feeding stuff, washing all the linens, building all of the toys + bassinets + gear, and all of that good jazz. I'll get more into that later in the post, but first I wanted to point out some positives of waiting to find out baby's gender:
You get a ton of diapers and wipes.
This was true both for our first pregnancy and this one. My sweet in-laws threw a diaper shower for us, and here's the overwhelming haul we got from that wonderful time:
This might as well be a pot-o-gold, y'all.
Also: not sure if this is common knowledge, but you can exchange diapers at Walmart as long as they sell that same brand/size/type for a different size. So, for example, we have a TON of size 1 diapers. If we need size 2 sooner, we can just take those size 1 boxes and exchange them for the size 2's. No receipt needed. Target does the same thing if the box of diapers has the Target 'barcode' on it. (You'll know because the barcode is obnoxiously large.)
There are so few true surprises in life.
Because Corey was a breech baby, we had to have a c-section. Not my first choice by any means, but, not knowing the gender made that experience even MORE worth it. It was also special because Jon Boy got to tell me, "IT'S A BOY!" while I was being put back together like Humpty Dumpty. I cried serious tears of joy – I knew all along that Corey was a boy. Not a doubt in my mind. This second one, however… I'm completely confused!
It makes for some interesting conversation.
I love hearing what people think Baby G #2 is… and I mean that very sincerely! It's so fun to hear why people think the way they do: how I'm carrying, my cravings, my pregnancy symptoms, etc. I've had some of the most intriguing and great get-to-know-you conversations with people all because they were guessing baby's gender. I've really enjoyed having all of these conversations with people who know me better than myself to complete strangers.
You get to be excited for baby just being a new, sweet little human.
I'm not sure if this is going to make any sense, but… I feel like if I were to find out the gender, I'd be so, so, SO focused on planning (and stressing) over the fact that baby is a boy or a girl that I'd miss out on just being excited about the baby being… well, a baby. Does that make sense to you? My personality is one that really latches on to something and runs with it. I'd have plans for that kid from minute one. We'd be measuring tutu's and football helmets before the kid could lift his/her head up. For me, waiting to find out kind of keeps me grounded. I focus on the necessities instead (feeding, bathing, sleeping, playing, etc.). I hope you're gettin' my drift here.
---
Okay… now for the BUT HOW DO YOU DO IT, LADY? part of the show. Keep in mind this is our second kiddo, so we've already got a lot of "baby gear" that's good for both boy and girl. I'll be doing another Best Baby Buys Post soon, but here's the one I made in the past.
Here's what we do to for our gender neutral baby prep:
Make sure all baby gear is ready to go (diapers, car seat, sleeping arrangements, bottles clean, hospital bags packed, etc.) All the same stuff you'd prepare if you knew baby's gender.
This is where you go into BABY PREP MODE: DEFCON 1.
I'm super pumped about our little bottle set up this go around. This was something I used in my classroom for pens, stamps, stickers, and all that goodness. I cleaned it out and now it's where we'll store clean, ready-to-use bottle parts.
---
Get your Pinterest on (or Babylist or Amazon or all of the above – like me).
Pinterest is my ja-yum, y'all. It's a great way to visually get your nursery board working based on your theme. I post everything from crib sheets to decor to clothing (for BOTH genders). Check out my Baby Pinterest Board here.
We also have a registry with Babylist where I've added some cute clothing for Baby G #2 (if she's a girl) and for big brother Corey. There are also a few more things like crib sheets and all that goodness. Babylist is a great tool because if folks want to order something for the new baby after delivery, they have a whole bunch of cute things to choose from! Check out our Babylist Registry here.
Our Amazon Registry is for the basics: diapers, bathing, swaddling, and feeding. We also added some books to the registry because Corey's books are all very well-loved. I thought Baby G #2 deserved his/her own set of books to love on. Check out our Amazon Registry here.
---
Make the nursery decor transition easy if this is your second.
I'll also give y'all a little sneak peak of the nursery options if we have a baby girl. We're going to go with a Tribal Nursery Theme with the colors navy blue + coral + gold. The wall in the nursery is already navy because of Corey's theme (it was a Nautical Nursery). This works perfectly because we won't have to repaint the wall if we have a baby girl! I'd definitely suggest picking an accent wall color that works for both boy + girl nursery themes. The same goes for the decor – we can easily switch out all of the 'nautical' items with the new theme if needed.
We've gone ahead and gotten baby's crib ready with a gender neutral crib sheet (here's a cute one + here's another cute one), a couple of lovies – although we call them 'stuffies' in our house, and a special blanket made by Nana. We registered for this crib wedge that elevates baby's head to help with reflux + congestion. Corey had absolutely awful reflux, so I'm hoping this helps this time around.
I also have to stop and brag on Jon Boy for a second. He spent Sunday afternoon painting + mounting this little cover for the camera cord. The stark white cord really stood out against such a dark color. Plus, this way, hopefully little fingers are less inclined to play with the cord!
Here are the links to things I'm looking at for baby girl's nursery (if we need it). I've posted these on my Pinterest board, too, but I wanted to let y'all see the line up if you'd like here:
closet dividers: option 1 | option 2 | option 3
custom name sign: for a boy | for a girl | another one for a girl
**we didn't have a name sign for Corey, but I wanted to add a little something to the nursery this time, even if it's a boy**
changing pad option 1 | changing pad option 2
crib sheets: option 1 | option 2 | option 3 | option 4
dream catcher option 1 | dream catcher option 2
monthly milestone stickers: option 1 | option 2 | option 3
---
Keep your receipts.
There are a few items that I've bought already if we have a girl that I'll just return if needed. I purchased all of them within the past 90 days, so I'll just keep my receipts handy and ready-to-go! This is a great thing for a friend or family member to do if they're just itching to help but can't think of what to do.
Also – totally upset about the footed sleeper you can see in the pic up there… I have no idea what happened in the washer. Obvi not the greatest quality… but it'll do for a few rounds of spit up, am I right?
I've also purchased a few wall decor pieces that I've kept receipts for that are ready to return or ready to hang depending on baby's gender!
---
Get gender neutral onesies that have some personality.
This is where you can really have some fun. Our friends + family have all gotten us so many cute, gender neutral onsies that I could do an entire post about those alone. You can make the outfit more feminine with a little bow, too, so keep that in mind.
Hugs $5 – College Is Expensive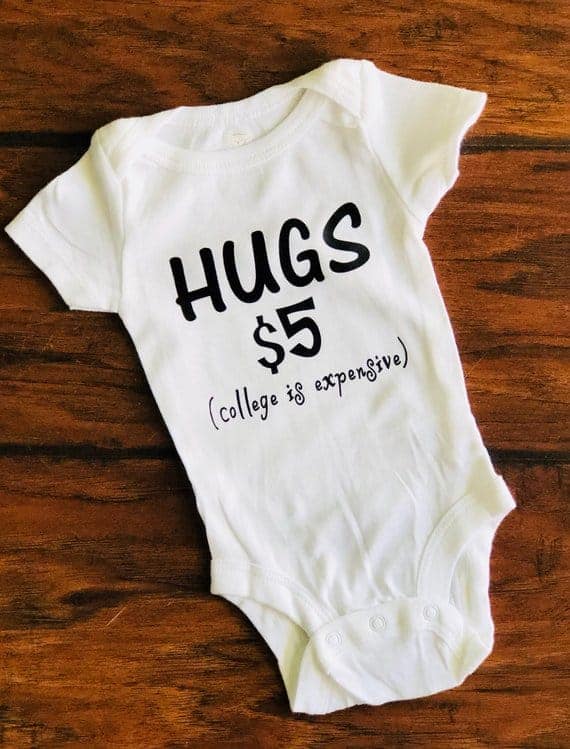 "I put my babe up on my hip" "When she dips I dip we dip" Mommy & Me Set (more colors available)
---
Splurge on the "going home" outfit.
The one thing I would recommend buying that's gender specific would be the "going home" outfits. When we were pregnant the first time, I picked out two adorable outfits that had a lot of personality. It's just one outfit, and if we end up having another boy, I can always keep the girl outfit for another baby or give it to someone special!
This was supposed to be Corey's going home outfit, but unfortunately, the Etsy shop I ordered from took a bit longer than I liked. PLUS – he came 3 weeks early which we weren't expecting. It's all good though. Big Man wore this the day he was baptized (although it didn't quite fit as well as it would have if he'd worn it home from the hospital). Will Baby G #2 wear this?
Or will Baby G #2 be arriving home in this little number? I absolutely love this stinkin' outfit. If we have another boy, I may make Penny wear the bow + leg warmers. I have no shame in my outfit game.
---
Organize the heck out of your life.
Again, this goes for gender neutral baby prep if this is your second (or third or fourth or… holy smokes that's a lot already). My amazing sister-in-law came over earlier this year, and we spent HOURS going through Corey's clothes. We put them in bins based on size + gender, and she labeled them with her awesome teacher handwriting.
We also labeled bins with things like FEEDING for bottles + breast pump items.
I actually keep this 3T bin very easy-to-access so that I can throw Corey's recently "they ain't gonna fit anymore" items into the bin. It makes for a much easier storage situation than having to find a place to put them, then move them to the bin once I have a "free" moment. I definitely learned my lesson after organizing allllll of those clothes that day: keep it organized from the beginning.
I organized the baby's dresser with gender neutral clothes, too. We have some newborn items + 0-3 month items ready-to-go whether baby favors blue or pink. Corey wasn't in newborn clothing for more than maybe 5 days, and I'm thinking his sibling will be the same way. I wanted to have easy access to socks, mittens, swaddles, blankets, and bibs, too, so they're all washed and ready in baby's dresser, too.
I found these adjustable drawer organizers when we had Corey, and they are wonderful! You fold the onesie up so you can see the 'design', then you stick it in the organizer facing upright. These are all 0-3 month, gender neutral onesies with a few sleepers, too. Here are some that don't have a 'tray' but still get the job done.
I used these drawers for Corey's clothes (shorts pictured below) up until I booted him out of the nursery this past weekend.
a few of our blankets + swaddles – the bibs are in a bin that's just the same as the one pictured here
plain white onesies, a pair of booties, and pacifiers
In addition to onesies, I've gone ahead and put in the few pairs of newborn pants + sleepers here that we have.
---
Buy some fun gear for older sibling + godparents.
Just because you don't know baby's gender doesn't mean you can't buy gender-specific for other special folks!
I'm going to get Corey another Big Brother Shirt (this fool keeps outgrowing all of the other ones):
And here are a few gifts I've been thinking of for Baby G #2's sweet godparents:
---
So that's all folks! That's how we prep for our gender neutral baby situation. I hope that answers some of the questions y'all have had or gives you some fun ideas for all things baby. It's a fun + exciting time, but it sure does take some prep work.
Our hospital bags are all packed (well, at least mine + the baby's are), and we're ready to go! Just a few more weeks before we find out whether baby is a boy or a girl! Either way, we're so excited to meet our little nugget and get this Family of Four life started.
Update: We had a GIRL! Click here to see her finished nursery!