Rule #252: Food is a love language.
Food is absolutely a love language, y'all. If I cook for you, ya know I think you're purty special. We've been doing a lot of cooking lately with The Rona 2020 making things a little different. We're really trying to enjoy these end-of-summer days with seasonal foods that make our hearts and bellies oh-so-happy. I've rounded up a list of what we've been Eating Lately and linked up their recipes, too!
This Peach, Serrano, and Burrata Salad from The Daley Plate is sincerely my favorite 2020 summer recipe! My aunt sent it to me and said I HAD to make it, and danged she was right (as always). We served ours with Tomato Pie and Cedar Plank Grilled Salmon (printable recipe below).
Peach, Serrano Pepper, and Burrata Salad | Tomato Pie
We even were able to christen our new back patio table with a delicious breakfast one lazy Sunday morning: roasted bacon, delicious cantaloupe, and a spin on Bobby Flay's Egg-in-a-Hole Benedict with Roasted Tomato Garlic Hollandaise.
Again, this salad. It's got all the right flavors: sweet, salty, spicy, savory, and oh-so-herbalicious (that's a flavor, right)? Seriously. Go make it now!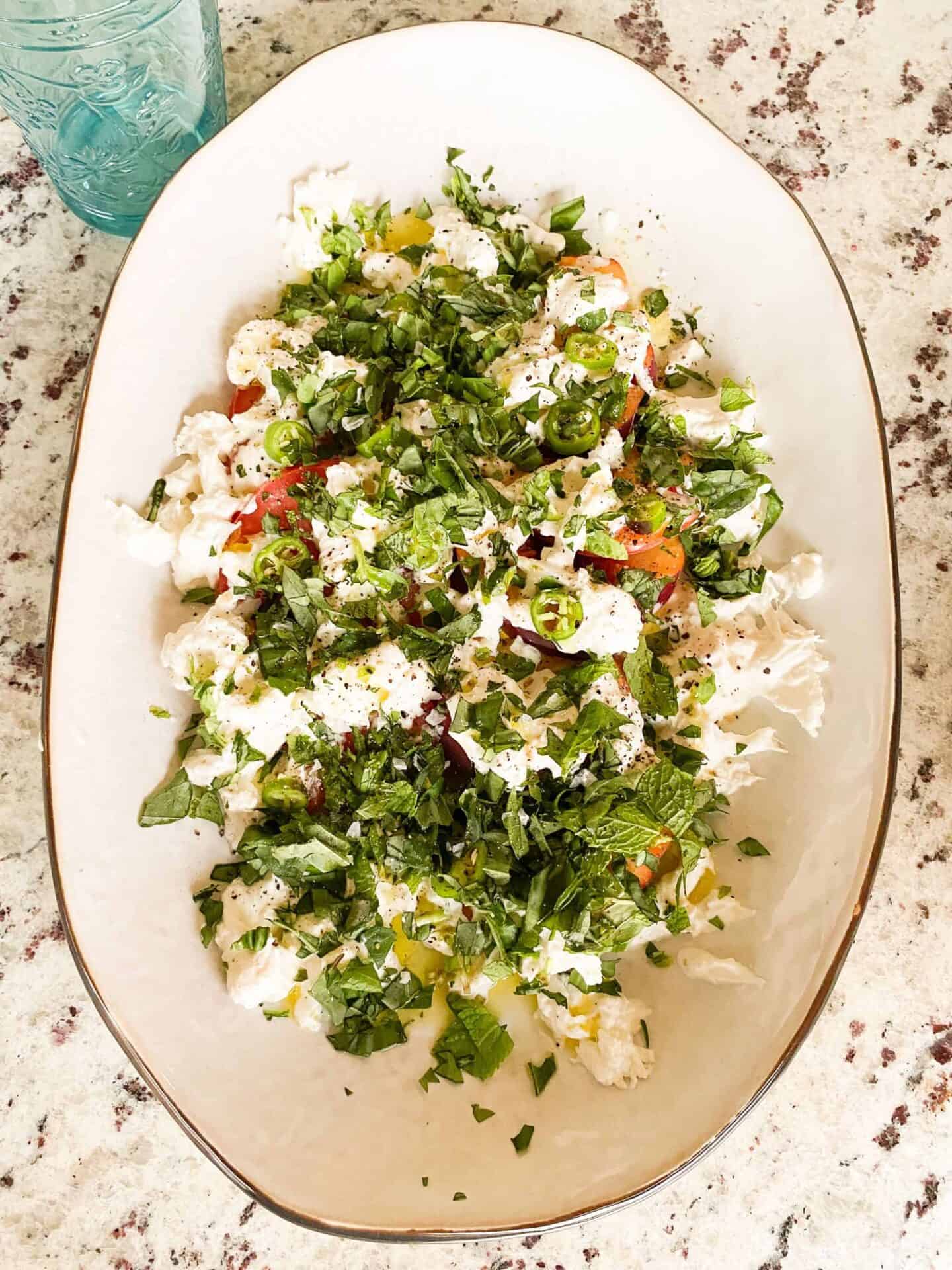 Jon Boy has really perfected his Grilling Game this year with his new outdoor kitchen. In my opinion (and yes, I'm totally biased), his steaks are better than any restaurant's. We love to have ours with Trader Joe's Cauliflower Gnocchi cooked in the Air Fryer: Toss cauli gnocchi in some olive oil, salt, and pepper. Roast at 380 for 10 minutes, toss the basket to loosen the gnocchi, and cook another 3-5, depending on how crunchy you like it. We had ours with, shocking, the Salad of the Summer 2020 and some roasted asparagus with Caesar dressing.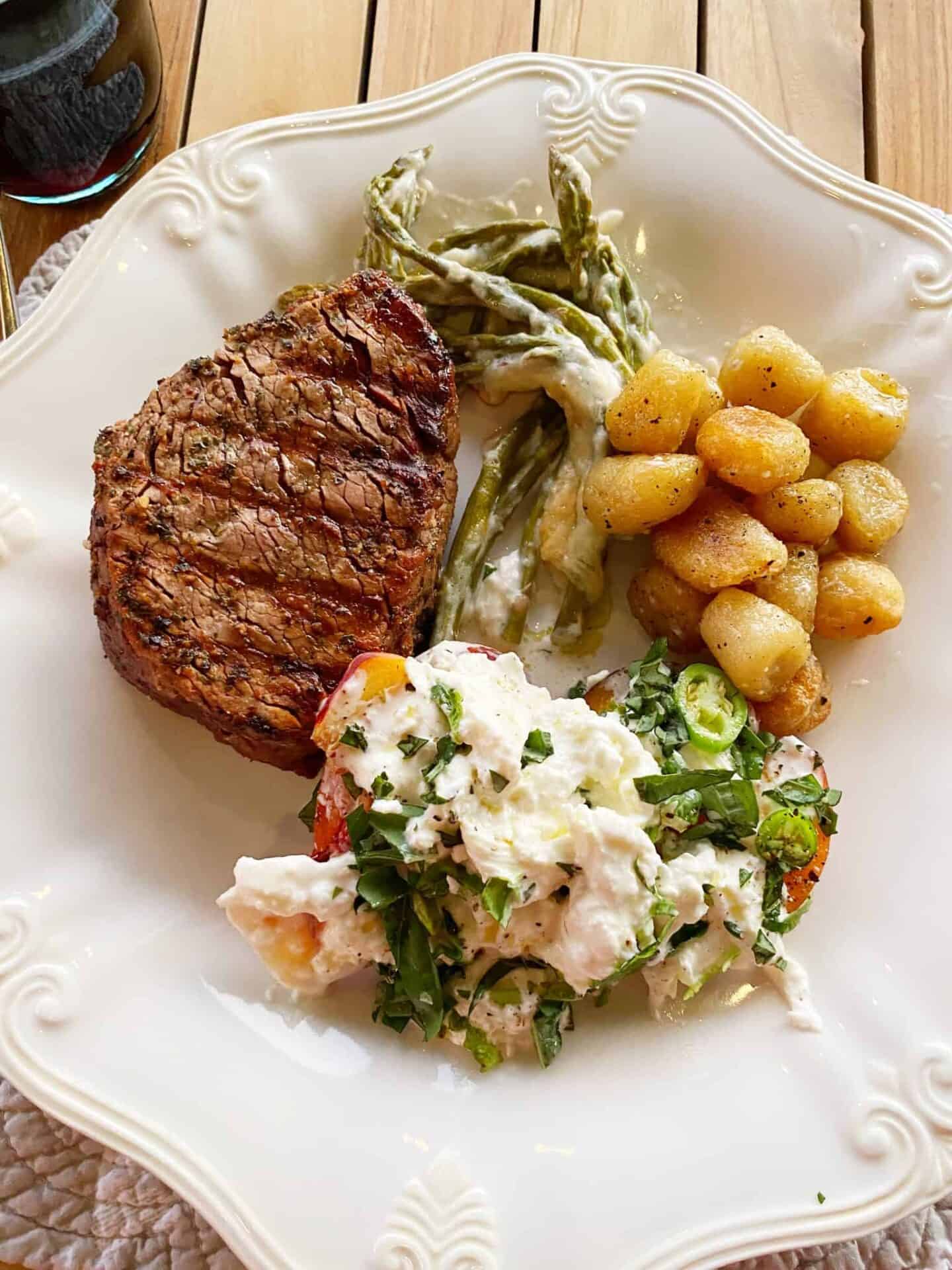 My all-time favorite summer dish is always this Tomato Pie. I normally only make it about 3 times a year, but with Covid, I've made it almost once a week this summer! It's a labor of love, but so, so worth it. I mean, we've all got the extra time on our hands, right?
This Beef and Potato Curry has looooong been a staple in our house! It's a perfect cold weather food, but we had a craving for it in August. So, I cranked the AC down to 68 and made this bowl of delicious comfort food. You can serve it over rice, but we just like ours as it is!
We like to keep things light on the weeknights, so we opt for dishes like this Cauliflower Parmesan. It's basically a spoof on Chicken Parmesan. It's super easy, and I promise you'll never even know the chicken was even missing! We serve it alongside Roasted, Shaved Brussels Sprouts or Trader Joe's Cauliflower Gnocchi (you remember that gem from above?).
I tried to ring in fall a little early with this dinner full of comfort food flavors (I'm really pushing harrrrrrrd for pumpkin season… I know). We had the always amazing Barefoot Contessa's Engagement Chicken, Cheesy Polenta, and this amazing Kale and Romaine Caesar Salad with Roasted Chickpeas (recipe coming soon to the blog).
The added texture of the roasted chickpeas with the kale and romaine really sends this salad outtaaaa herrrrreeee like a homerun off of Altuve (as my son would say). The trick is to "cook" the kale before you eat it by squeezing lemon juice and olive oil over top and massaging it gently. Let is sit for 10 minutes until it wilts slightly. That will take out that huge CRUNCH you normally get with kale. I plan on posting a finalized recipe SOON, y'all.
We've been loving our Air Fryer, Adrian (yes, I name everything… and it's gotta have alliteration). Our favorite recently has been Air Fryer Parmesan Zucchini (printable recipe below). It's a great low carb side dish for crazy weeknights!
I recently went to a perfect girls' night where we shared an amazing Charcuterie Box from Bliss Box and Boards. It was nothing short of phenomenal!
Everything was gorgeous and paired perfectly with the next bite. We shared wine and this charcuterie box and lived our best lady lives! Perfect addition to this Eating Lately post!
I'm working on a Healthy and Easy Lunches post right now, but I can't go much longer without SCREAMING about how good Trader Joe's Cauliflower Thins are. They're a low carb substitute for bread, and they taste amazing. I have mine for an easy lunch with roasted bacon, deli turkey, a little Dijon and mayo, and some lettuce.
Go getchya some! And will you also drop some off at my door? K, thanks!
This Creamy Slow Cooker Butternut Squash Soup is coming soon to, you guessed it, ze blog. I love the creamy texture of the soup paired with some salty bacon and crunchy pepitas on top. It's super low calorie and low carb, too, making it a filling, guilt-free lunch!
And finally, I've gotta share two great Trader Joe's dips: Avocado Tzatziki… had to add to this Eating Lately post.
… and Everything but the Bagel Greek Yogurt Dip. I have both of mine with veggies alongside whatever my "main" is for lunches. So yummy!
I hope your recent days and weeks and months have been filled with good food, good laughs, and good times despite this insane year that calls itself 2020. Cheers to September and the beginning of my FAVORITE season (just in case you didn't know): IT'S FALL, Y'ALL! I hope y'all loved this Eating Lately post as much as I did writing it!