The Chew did it again! This coconut rice was immediately a must-try the second I saw Michael Symon whip it together. I've tried a few other recipes for this side, but they ended up wayyyyyy too coconuty or were way too difficult. This one is PERFECT!
The lime zest takes this over.the.edge y'all. It's amazing what a little bit of zippy zest can do to an already fabulous dish. It's the little things that make the most difference!
If the spice of the jalapeño kind of freaks you out, no fear. Just leave it out. Ain't nothing wrong with that. You could also, if you're like me, add more heat by just chopping up the whole jalapeño instead of the half. Either way, the world is your oyster (or at least this rice dish is).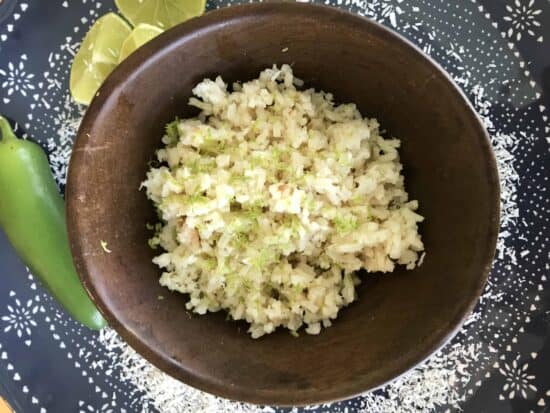 Now this recipe makes a HUGE batch of rice. Like. HUUUUUUUGE (you totally read it like him, didn't you?) This is perfect as a crowd pleasing side dish. It also will last for up to a week in the fridge if you want to repurpose it for multiple meals (like we did). Ideas for dinner to pair with this lovely side:
Slow Cooker Caribbean Pork | Grilled Salmon | Mediterranean Turkey Burgers | Roasted Chicken with Goat Cheese + Lemon
Now, I'm not a big over-the-top coconut fan. This recipe is fabulous because you get just a hint of the sweet coconut without it overpowering the dish.
---
Zesty Coconut Rice
1 tbs. unsalted butter
1/4 cup EVOO
1/2 yellow onion, diced
2 garlic cloves, minced
1 tbs. ginger, grated
1/2 jalapeño, seeded, membranes removed, diced (more or less based on your tastes)
1 pinch ground nutmeg
1/2 cup unsweetened, dried coconut
2 cups basmati rice
1 cup unsweetened coconut milk
3-4 cups chicken stock
Zest of 1 lime
In a large nonstick skillet or Dutch oven, heat butter and EVOO over medium-high heat until butter melts. Sauté onion for 5 minutes, until tender. Add garlic, ginger, jalapeño, and nutmeg; sauté an additional 2 minutes. Add dried coconut and rice; cook 2 minutes, stirring occasionally.
Add coconut milk and 3 cups chicken stock, stir to combine. Bring to a boil, then reduce heat to low. Cover and simmer, stirring only a few times with a fork, until rice is tender (about 20 minutes). If rice is still not cooked through, add more chicken stock, stir gently, cover, and cook until rice is done.
Stir in lime zest before serving.