Rule #71: Ain't no party like a southwest party 'cuz a southwest party don't stop.
Please tell me you know what song I'm referencing here. It's a nice little shoutout to Coolio circa the 90's. This Southwestern Corn Dip is worth the little twist in lyrics here my friends. It's cool, creamy, zippy, and ridiculously easy to make (and can be made ahead of time). It's the perfect party appetizer – even if you're not in the southwest. Or a fan of Coolio.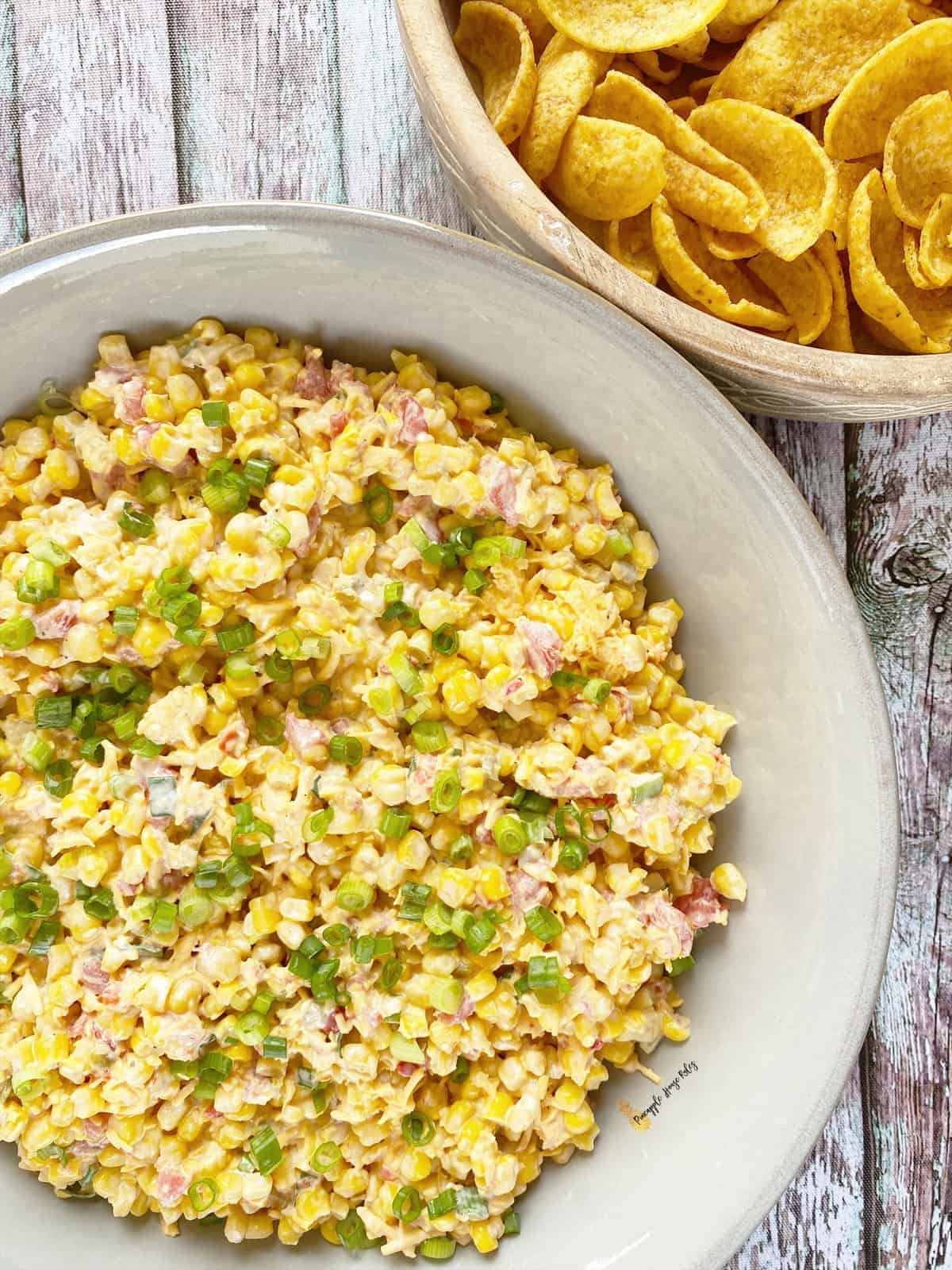 My sweet friend made this the last time we went to her house. Jon Boy and I may or may not have literally stolen the entire bowl as we were leaving. We're great house guests. But, it was that good! She served it with Fritos, so I had to keep up with tradition. I think it would also be great with tortilla chips or carrot chips if you're going low carb.
First, finely shred an 8-oz. block of sharp cheddar (or just buy the already finely shredded stuff).
Then, add in 4 11-oz. cans of Mexicorn or Southwestern Corn. Basically, you want the corn with the bell peppers in it. Make sure to drain it. Then add in a can of drained Rotel, too.
Now throw in some chopped green onions.
This recipe calls for 1/2 tsp. of Trader Joe's Chili Lime Seasoning, but if you don't have that, just add a dash of chili powder, a pinch more salt, and a little more lime juice to the dish.
Now add in 1/2 cup each of mayo and sour cream. Add some salt, pepper, garlic powder, and lime juice and give 'er a stir. Cover and chill in the fridge for at least 1 hour so the flavors can blend together. You could make this up to a day ahead of time, too.
Garnish with more green onions if you'd like and serve with Fritos, tortilla chips, or even veggies!
---
Southwestern Corn Dip
8 oz. sharp cheddar, finely shredded
4 11-oz. cans Southwestern corn (or Mexicorn), drained
1 can Rotel, drained (we like original spice, but go with what you like)
½ cup sour cream
½ cup mayonnaise
4 green onions, chopped
½ tsp. garlic powder
½ tsp. Kosher salt
¼ tsp. freshly ground black pepper
½ tsp. Trader Joe's chile lime seasoning
Juice of 1 small lime (about 2 tbs.)
Mix all ingredients together in a large bowl. Cover and chill in the refrigerator for at least 1 hour and up to 1 day ahead. Garnish with more chopped green onions, if desired. Serve with Fritos or tortilla chips.