Nordstrom Anniversary Sale 2020: The Women's Edit
Rule 306: Christmas shopping can never start too early (for you and others)!
I've browsed and clicked and searched the Nordstrom Anniversary Sale 2020! I've rounded up my favorite finds for Women today here on the ole blog for y'all. I kept it short and sweet with just the links, prices, pics, and a few little opinions here and there.
I've got a post teed up for beauty finds, and I'm working on one for kids and the fellas. The best part about this year's Anniversary Sale is that you can browse the sale ahead of time and save your favorites to your WishList! Click and save away, my friends!
---
FYI: Early access to purchase items through the sale is based on your Nordy Cardmember status:
Icons: 8/4-18
Ambassadors: 8/7-18
Influencers: 8/10-18
Insiders: 8/13-18
Everyone: 8/19-30
---
Women's Clothing
Love these shirts! I have a few already. I'd love to have more to layer with cardis (a few good ones below).
Crewneck Pullover (4 colors) | $40
Chiffon Camisole (2 colors) | $35
I bought this cami in white last year and love it!
Cozy Knit Top (5 colors) | $39
Tie Neck Shirt | $40
Cozy Twist Front Pullover (6 colors) | $29
I bought this pullover in red last year and love it!
Pleated Sleeve Sweatshirt (2 colors) | $25
Bishop Sleeve Sweater (5 colors) | $35
It also comes in camo! I can't choose which I like better!
Stripe Crewneck Sweater | $40
Easy Drop Shoulder Dress (5 colors) | $25
Women's Dresses
Belted Short Sleeve Dress | $52
Pleated Mixed Media Dress (2 colors) | $90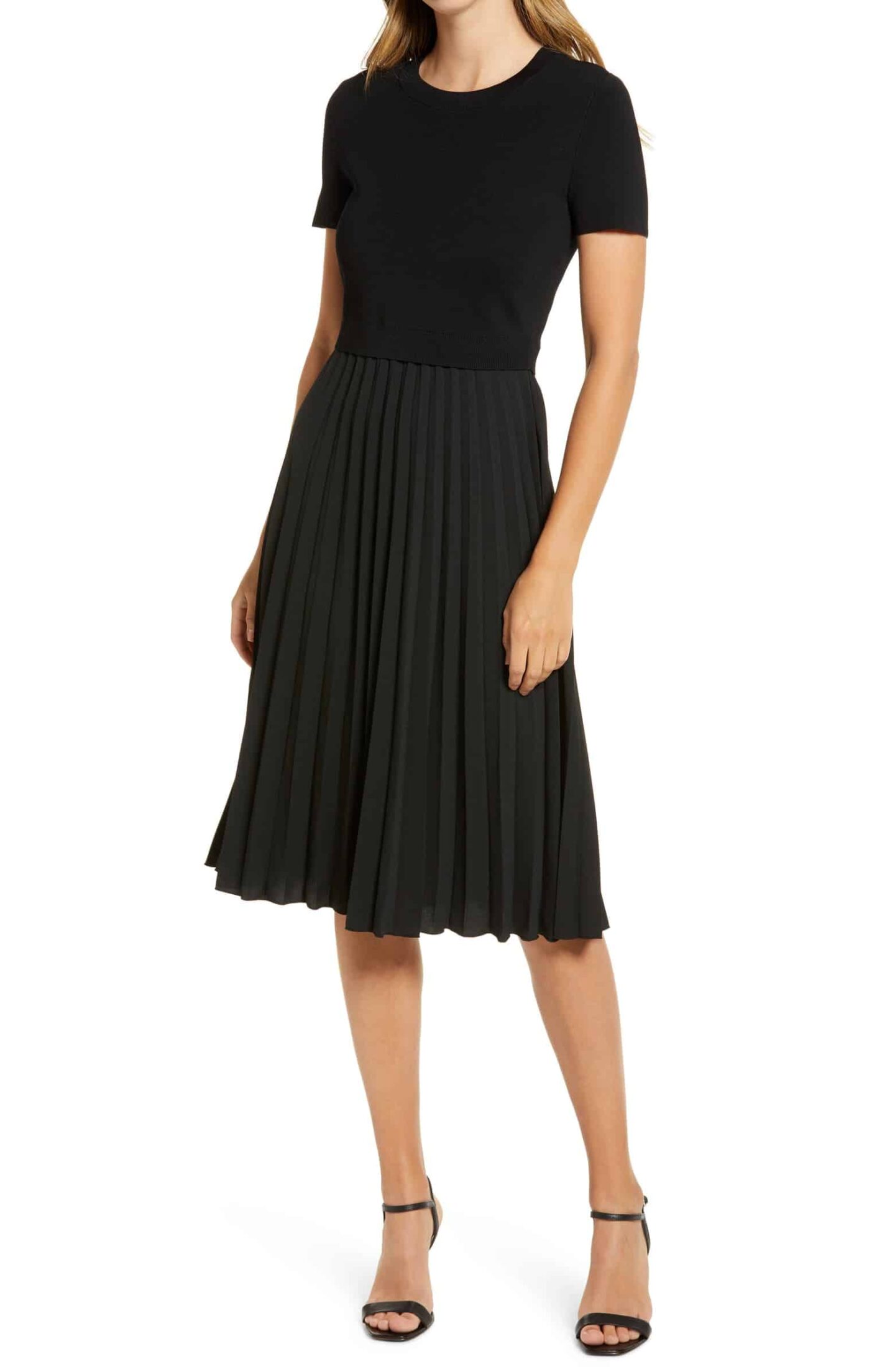 Asymmetrical Drape Midi Dress | $82
Teired Chiffon Midi Dress | $77
Floral Long Sleeve Tiered Midi Dress | $100
Leopard Print Smocked Long Sleeve Dress | $59
Women's Pants
High Waist Ankle Skinny Jeans | $59
SPANX Faux Leather Leggings | $65
I love these leggings in the fall and winter with a long tunic or sassy top.
Beyond Yoga Camo Print Jogger Pants | $60
Women's Jackets and Cardis
Leith Long Cardigan (8 colors)| $40
Open Duster Cardigan (3 colors) | $59
Barefoot Dreams Leopard Cardigan | $80
Patagonia Fleece Vest (2 colors) | $70
Cascade Collar Wool and Cashmere Coat (2 colors) | $300
Reversible Bomber Jacket | $100
Womens' PJ's and Intimates
Cozy Pajama Set | $30
True & Co. Racerback Bralette (2 colors) | $34
I absolutely LOVE True & Co. bras. They're great quality, super comfortable, and super affordable with the Nordstrom Anniversary Sale going on! Check them out if you haven't already!
Natori Underwire Bra | $43
Natori is my favorite brand of everyday bras. I usually stock up on new ones during the sale.
Natoria Feather Bra (5 colors) | $40
Nike Dri-Fit Racerback Sports Bra (3 colors) | $28
My fave sports bras are part of the sale this year, too! I plan to ask for a couple for (early) Christmas gifts.
Women's Accessories
Quay Sunglasses | $36
Leather Pouch Clutch with Rainbow Stripes | $40
Gorjana Gold Palm Pendant Necklace | $36
Gorjana is one of my favorite brands of jewelry. My favorite detail about their necklaces is that they're all adjustable in length! They're perfect for layering!
Fringe Hoop Earrings | $20
Set of 2 Cubic Zirconia Stud Earrings | $40
2 Carat Cubic Zirconia Earrings | $27
I bought these during the sale last year, and I wear them every day!
Gorjana Power Bracelet (21 colors) | $28
Reversible Leather Belt (gold/black) | $38
This is 100% on my Christmas Wish List. I love that it's reversible and sassy!
Wool Fedora | $39
Women's Shoes
Vince Camuto Block Heel Bootie (5 colors) | $100
Forever Chain Pointed Toe Mule (5 colors) | $50
Another "on my Christmas List" item!
High Top Slip-On Sneaker (4 colors) | $50
Hunter Leopard Print Short Rainboots | $99
Happy Hunting, y'all!