Rule #337: Everyone deserves a little happy this year.
This gift guide is for the kids and the family! There are a ton of price and age ranges so everyone can get a little something. I've tried to include things that would make all kinds of kiddos happy (plus a lot of busy toys to keep the parents happy).
Chevy Silverado Ride-On Truck | $399
This bad boy had been a hot ticket this year! It's so flashy and fun. Black Friday sales will be INSANE for ride on toys, so if you're thinking of getting one… now is the time! We got Corey's for almost $200 off on Black Friday!
24 Piece American Girl Doll Clothes and Accessories | $24
This set includes 10 full outfits! It's a great deal with great reviews.
Magnetic Sketch Pad | $17
Both of our kids love their magnetic sketch pad! It's great to help them learn fine motor skills and hand control.
Bluetooth Hoverboard | $129
This was a big ticket on kiddos' Santa lists this year (so I'm told). I honestly thought these things were nuts a few years ago when they came out, but they're still a flashy toy!
Stomp Rockets Dueling Set | $20
Our sweet friends gave this to Corey for his birthday, and it's his absolute favorite outside toy! It's stood up well to all of the kiddo abuse, too.
Now is the time for LEGOS! And y'all… they're the gift that keep on giving. Kids will be off on their own building their sets and their brains while the parents get a little moment of zen. WIN. WIN.
Mini Drone for Kids and Beginners | $24
Corey and Jon still love playing with their mini drone around our house and in the yard. This one is highly rated and a great price!
Deluxe Archery Set | $40
I love any outdoor toy that keeps the kids busy, and this one fits the bill!
Nintendo Switch Lite | $199
I feel like these have become the hot toy of the season this year! I've heard tons of kiddos asking Santa for this one. There is also a 3-in-1 Bundle available for the Nintendo Switch. Target also has a lot of Nintendo Switch Games on sale right now!
Superhero Dress Up Set | $15
You can never go wrong with superhero dress up! Especially at that price!
Hockey Goal & 2 Stick Set | $30
Outdoor toys that keep the kids active are always a good choice! This street hockey set is no exception.
Nightball Light Up Soccer Ball | $20
I love that this ball stays lit up at night so kids can keep getting tuckered out on their own.
Aqua Magic Doodle Mat | $13
Brookie got a mat similar to this earlier this year during major quarantine time, and she LOVES it! It's perfect because it's not messy, but it keeps her happy and busy.
Swimming Pool Basketball Hoop Set | $34
For those of you folks with pools, this is a no brainer! Keep 'em busy in the pool!
Spider Man Web Launcher | $10
Corey is obsessed with Spider man these days, and this is a great toy for a great price for him!
Fine Motor Tool Set | $8
Sensory toys are my JAM these days! I love this price, too.
Math Cubes | $15
These building math cubes are genius for kids to continue their STEM learning! We had these in schools when I was teaching a million years ago.
Triple Layer Party Cake Toy | $15
This cake play set is just precious!
Ninja Tree Climbers | $43 (comes with 12 rocks and 6 straps)
Want to tire out those kids?! Gotchya covered.
National Geographic Gemstone Dig Kit | $15
We bought a set like this for Corey. I want his brain and his hands to work! He'll love it! There are a bunch of other National Geographic Sets on sale, too!
Osmo Kits (30% off right now)
Since COVID hit, we've been an Osmo family! Everything is on sale right now, so it's the time to stock up! The games are engaging, on-level, and perfect for kids of all ages.
Kids Walkie Talkies | $22 (5 colors)
You can't go wrong with walkie talkies for the kiddos!
Friends LEGO Set | $48
Is this for the kids, or for us?! Either way. I'm loving it.
Hot Wheels Garage | $120 (80% off right now!)
This is Corey's DREAM toy! He's loving Hot Wheels (so is Brooke honestly), and this set is amazing!
Bath Bombs for Kids with Toys Inside | $30 for 12
I'm all for keeping kids happy and entertained in the bath! The longer they soak, the cleaner they are, yes? These bath bombs are so fun!
Melissa and Doug Pizza Shop Set | $35
Our kids love their play kitchen, and this would be a super fun addition!
Melissa & Doug Flip Fish Toy | $12
I love this sensory toy for the very tiny humans. So cute!
Fat Brain Toys Squigz | $20
More sensory toys FTW! Our friends had this set and they LOVED it!
Frozen 2 Cruiser | $60
Santa is bringing this flashy thing to our sassy girl. It's adjustable, so it will grow with her! There is also a PJ Masks version.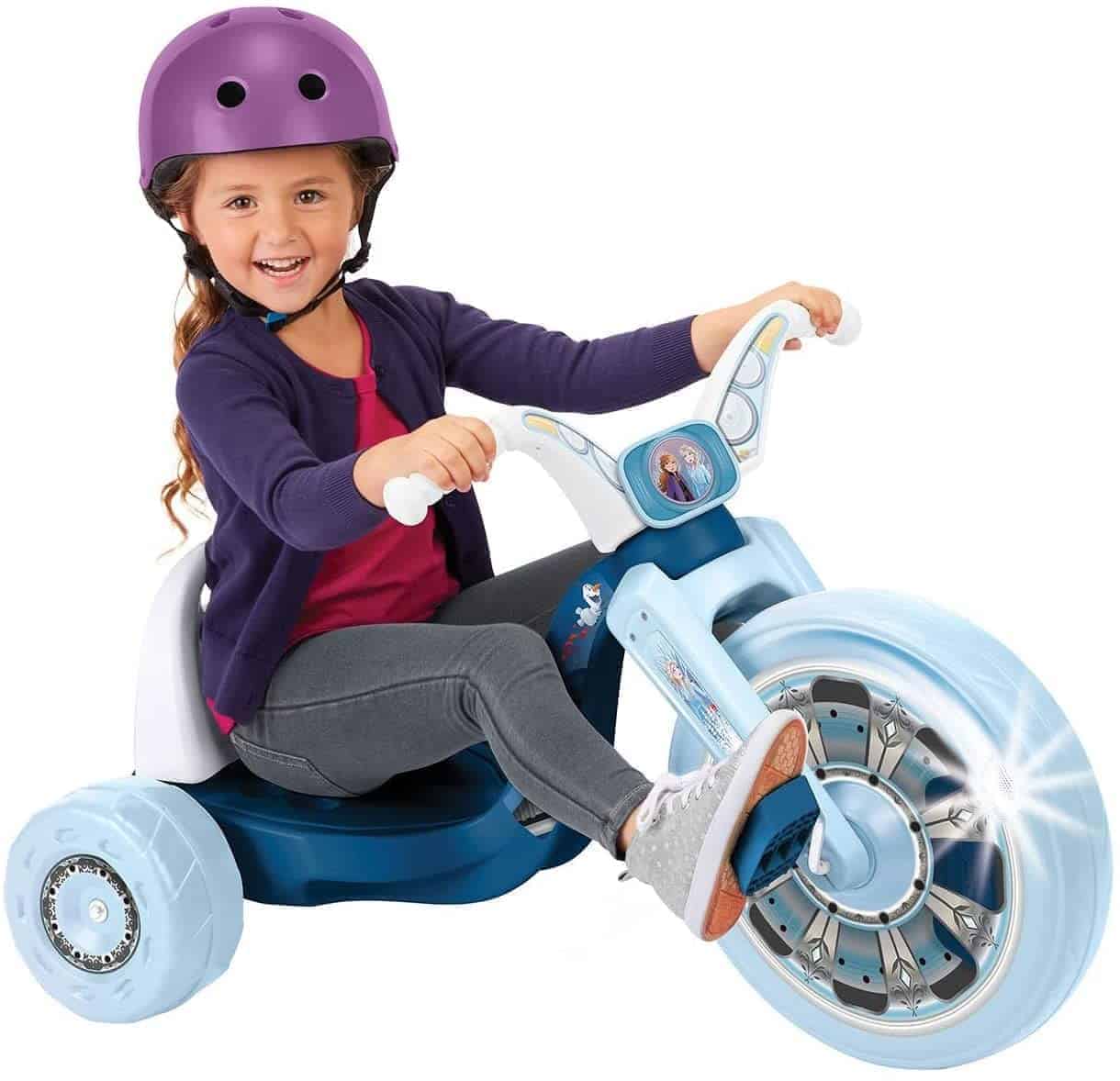 NERF Gun Elite 2.0 | $21
NERF guns are fun across the board: all ages, genders, etc., etc. love being able to shoot a NERF gun!
Critter Capture Set | $16
Perfect for the moms with very… eh hem… experimental kids.
Disney Princess Play Suitcase Set | $32
Brookie loves this line of toys! They're sassy, flashy, and perfect for the princess-loving kiddos!
V Tech Kids Camera | $25
Corey asked Santa for this little guy! It's a great kids' camera.
We have a few of these types of books (Pixar, Princess, etc.) The kids love them! There are a ton of other easy-to-read 5 Minute Story Books, too.
Best Bubble Machine | $23
We LOVE this bubble machine! Our kids (and the dog) use this thing HARD. We usually buy a new one for Christmas to give the old one a much needed retirement. Most bubble machines break after 3 months in our house.
Pickle Ornament | $15
We bought this to go with the book The Christmas Pickle. Jon's grandparents always had a Christmas Pickle Ornament on their tree, and the first of the grandkids to find it got a prize. I thought it would be fun to keep that tradition going!
Beach 500 Piece Puzzle | $25
We are a big puzzle family. This one is beautiful and perfect for 2020 when most of us were beach deprived!
122 Piece Play Food Set | $20
You can't go wrong with play food y'all. The more, the merrier in my food blogging opinion. It's an easy win.
Pet Bandana | $19
Okay – just a little something for the fur babies!
These are so fun! We are definitely putting these in the kids' stockings.
Cubic Race Track | $28
I love this compact little car set. So cute and full of tactile fun!
Slime Making Kit | $24
Slime is always a win! Plus it glows in the dark!
Target has all games on sale right now for up to 50% off! You can even sort the games by age range to get the right gift for your fave kiddos. Jenga is only $7 right now!
Target also has buy one get one 50% off on select toys like these:
Fisher Price Little People toys are included in the buy one get one 50% off sale!
This Paw Patrol Watch is also part of the sale | $15
Be sure to also check out my Stocking Stuffers Post for more ideas! Happy Shopping, y'all! I hope you found some gift ideas in this Gift Guide: Kids and Family post!