I remember feeling completely at a loss when I found out my friends were pregnant. I wanted to get them a little, "Ahhtta girl!" kind of gift, but I had no idea what would be helpful to the preggos. Now that I'm pregnant myself, I have quite a list compiled.
Here are some recommendations if you're looking to buy something for your preggo friends:
These babies not only make you feel "slimmer" (as if that's possible during pregnancy), but they really help to support that growing belly. Plus, when you're wearing a dress and you're bigger than you've ever been, it's nice to feel "tucked-in" under there. I absolutely live in mine and have since I was about 3 months pregnant.
---
The Belly Band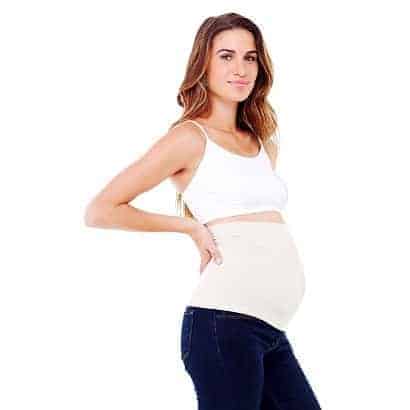 This little magical beauty allows the new mom to wear her pre-pregnancy pants and shorts even through the super big belly phase. The band just fits over your button and zipper area and you can wear your pants like normal. I borrowed a Small/Medium but eventually had to get a Medium/Large by month 6 of my pregnancy. Some of my friends have been able to wear the smaller size their entire pregnancy though. It just depends on your "little" bundle of joy and how he/she fits in your beautiful body.
---
Pedicure Gift Cards
This one seems like it's just a no-brainer. But, until you've tried bending over to paint those little piggies with a bowling ball in your way… you just don't appreciate it as much. The best part of the pedicure is hands down the massage. Even just a little loving goes a loooooong way when your toesies are screaming for some attention.
---
I don't even care how ugly they are, shoes during pregnancy have to be comfortable. I've worn this pair of shoes for the past two months because they're literally the only things I can have on my feet without screaming at the end of the day. I can wear a cute pair of wedges to church, but that's it. And by "wear to church" I mean literally they're on my feet on the way to church, in church, and back home. If there's any stopping or walking in between, I've got these bad Croc boys on.
---
Pregnancy Books
It's always nice to give your buddies a book to help them get a jumpstart on Parenting 101. Nothing and no one can prepare you for a baby, but at least you'll have the facade of preparedness when you read a couple of these guys. Your preggo will appreciate your willingness to help!
Here are two of my faves:
Baby Bargains
(make sure to order the latest edition – they're published every year)
---
I can't even lie. These you need to have even when you're not pregnant. The biggest key is to NOT get the ones that only rise up just a little. You want the whole enchilada – the ones that cover that beautiful baby bump. It will make her feel so, so comfortable and supported. These puppies are a lifesaver in the summer because she will feel cool, comfortable, and won't have to worry about feeling self conscious in shorty-shorts.
Get yourself a pair, too.
---
Maternity Tanks/Camis
Another item to buy for yourself while you're shopping for preggo. You can wear these guys with leggings even when you're not pregnant. The camis are so comfortable and will cover preggo's elastic when she's sporting those maternity skinnies. The great thing about these is she can also wear her regular tops over/with them and feel normal. It's tough for a preggo when she's wearing the straight-up maternity clothes that make her feel maternal and all she wants to feel is somewhat attractive and normal.
My favorite are these. I've bought five of them in different colors because I love the length!