Rule #278: The Bird takes center stage on Turkey Day.
This juicy little number is the ultimate Thanksgiving Turkey recipe! With a dry brine the night before and a few gems in the turkey, you've got a delicious bird in no time and with minimal effort!
We normally try to buy a fresh turkey, but if they aren't available, we just go for the ole frozen Butterball kind! The rule of thumb is to ensure that you thaw the turkey completely before the Big Day. For a 12-14 lb. turkey, you should put the bird in the fridge on Monday to make sure it's thawed by Wednesday to brine.
The dry brine begins with lemon zest, orange zest, light brown sugar, and Kosher salt. The citrus adds a delicious flavor to the turkey!
Next, toast some black peppercorns, pink peppercorns, white peppercorns, coriander seeds, and bay leaves in a small skillet over medium-high heat. You want to toast them until fragrant (about 2 minutes).
Remove the peppercorns from the heat and place them in a large Ziploc bag and beat with a rolling pin or bottom of a skillet until crushed. You can also use a Spice Grinder (like the one below) to easily grind everything to a powder.
The smell of this amazing spice mix is unreal! I wish I could give you a scratch-and-sniff sample here.
Next, combine the citrus mixture with the spice mixture.
Then, spread it all over and inside the turkey (make sure you've discarded the giblets and insides of the turkey). Leave it uncovered in the fridge for 6-7 hours to brine.
After 6-7 hours, remove the turkey from the fridge and rinse with cold water inside and out. Pat everything dry with paper towel.
Stuff the inside of your turkey with a yellow onion cut into wedges, a head of garlic cut in half, and 6 sprigs each of sage, rosemary, and thyme. Don't even worry about peeling the onion or garlic. Just throw it all in there!
She's stuffed and ready to become delicious.
Using your hands, rub some room temperature butter under the skin of the bird and then all over the outside. This will give the turkey's skin a delicious, golden-brown color.
Now that your bird is all buttery, tie her legs together with kitchen twine to hold everything in place. Put the bird in a roasting pan with a rack or in a large Dutch oven with a rack. We use a Turkey Roaster like this one to cook our Thanksgiving Turkey without using our oven, leaving room for the sides and desserts! You can still use the oven though.
Pour 4 cups (1 quart) chicken stock around the bottom of the pan. This will keep your turkey nice and moist and will also become your gravy later.
Cook the bird at 425 (either in the oven or a roaster) for 2 1/2 – 3 hours, basting at least every 30 minutes. Basting so frequently will help keep the bird nice and tender and juicy.
Cook the turkey until the internal temperature in the thickest part of the thigh reaches 165.
Look at this golden-brown, beautiful Thanksgiving Turkey!
Ain't she a beauty? Remove the turkey from the roaster using the rack, cover with foil, and let rest at least 30 minutes before carving.
Meanwhile, make the gravy by placing the roasting pan or Dutch oven over medium-high heat on the stove. Sprinkle 1/4 cup flour into the juices from the pan, and whisk until combined. Repeat with another 1/4 cup of flour, whisking to combine.
Season with some freshly ground black pepper, and simmer until thickened, continue whisking.
When you carve your turkey, be sure to grab all the juicy white meat and tender dark meat so everyone gets a taste of both!
After dinner is done, make sure to freeze or refrigerate your leftover turkey! There are a ton of great ways to use it later on. See below for some leftover turkey recipe ideas!
Suggested Sides: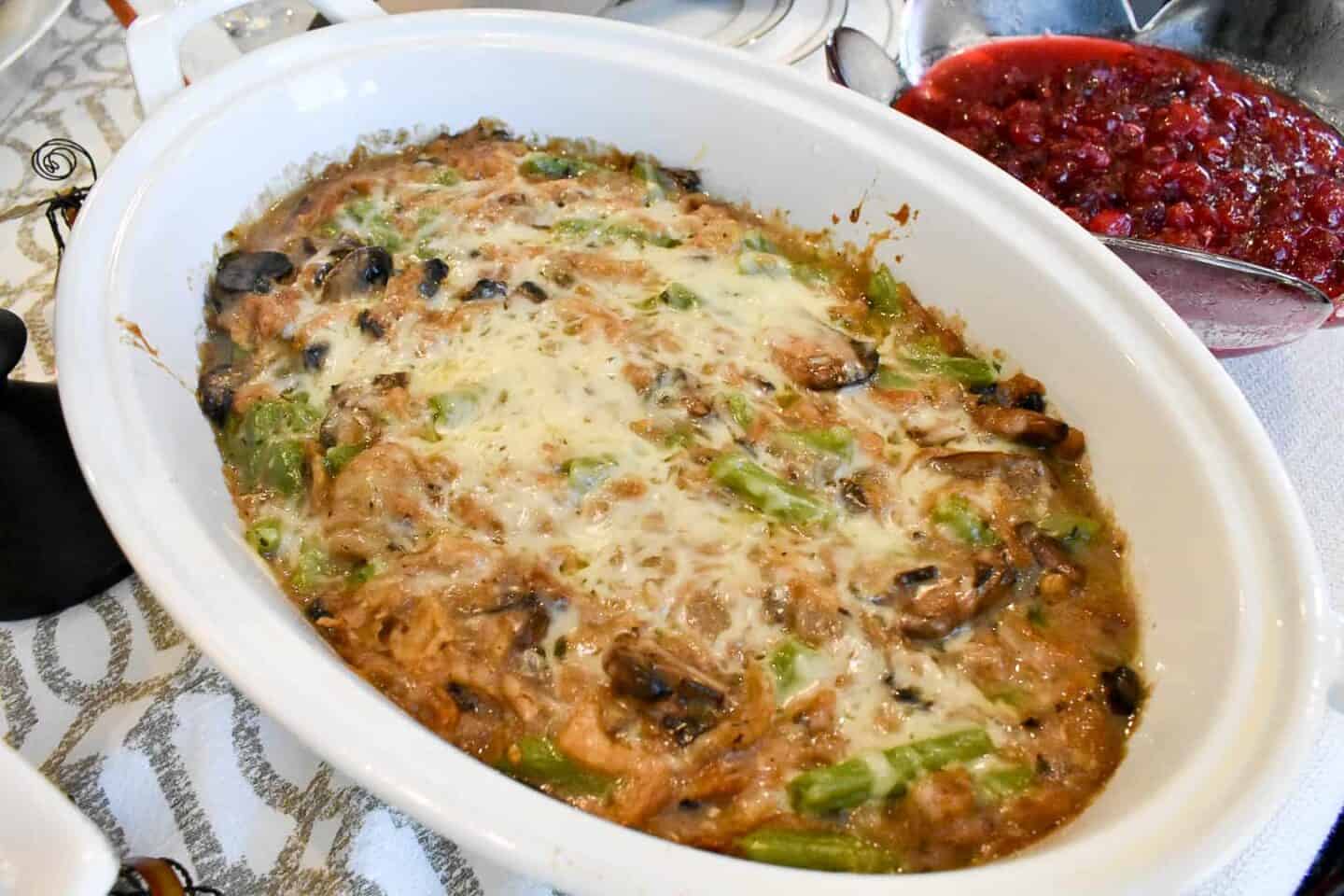 ---
Thanksgiving Turkey
This Thanksgiving Turkey recipe is an easy, delicious way to make the star of Thanksgiving Dinner a real show-stopper! A citrus and peppercorn dry brine is the real game changer!
Ingredients
Citrus and Peppercorn Dry Brine
2

tbs.

black peppercorns

1

tbs.

pink peppercorns

2

tsp.

white peppercorns

2

tsp.

coriander seeds

6

bay leaves

½

cup

Kosher salt

2

tbs.

light brown sugar

¼

cup

lemon zest

zest of about 4 small lemons

2

tbs.

orange zest

zest of 1 large navel orange
Turkey, Filling, and Gravy
12-14

lb.

turkey

giblets and neck discarded

1

yellow onion

cut into 2" chunks

1

head of garlic

halved through the equator

6

sprigs each of fresh rosemary

thyme, and sage

½

cup

unsalted butter

1 stick, room temperature

4

cups

1 quart chicken stock

½

cup

all-purpose flour

¼

tsp.

freshly ground black pepper
Instructions
Dry Brine
Toast black, pink, and white peppercorns, coriander seeds, and bay leaves in a skillet over medium-high heat until fragrant (about 2 minutes). Let cool, then crush in a bag using a rolling pin or heavy skillet (or grind in a spice grinder). Mix with salt, sugar, lemon zest, and orange zest.*

Rub dry brine all over turkey; chill uncovered, 6–7 hours.
Turkey
Preheat oven to 425. Rinse the brine off the turkey under cold water and pat dry with paper towel. Place breast side up on a rack set inside a large roasting pan or Dutch oven. Stuff turkey with onion, garlic, and herbs.

Gently loosen the skin from the turkey. Rub butter under the skin and all over the outside of the turkey as well. Tie the legs together with kitchen twine, pour stock around the turkey into the pan, cover, and roast turkey 30 minutes. Reduce oven temp to 300 and roast turkey for about 2½ – 3 hours (until a thermometer inserted into the thick part of the thigh registers 165). Be sure to baste turkey with juices every 30 minutes.

Transfer turkey to a platter and tent with foil. Allow to rest at least 30 minutes before carving.
Gravy
Place the roasting pan or Dutch oven on the stove over medium-high heat. Sprinkle flour, ¼ cup a time, into the juices in the pan. Stir with a whisk until no lumps remain, and add remaining ¼ cup flour and ¼ tsp. freshly ground black pepper.
Notes
*DO AHEAD: Dry brine can be made 3 days ahead. Cover and chill.
Nutrition
Serving:
1
g
Calories:
778
kcal
Carbohydrates:
12
g
Protein:
101
g
Fat:
35
g
Saturated Fat:
12
g
Polyunsaturated Fat:
7
g
Monounsaturated Fat:
11
g
Trans Fat:
1
g
Cholesterol:
349
mg
Sodium:
5341
mg
Potassium:
1166
mg
Fiber:
2
g
Sugar:
4
g
Vitamin A:
513
IU
Vitamin C:
5
mg
Calcium:
84
mg
Iron:
5
mg
Nutritional information is provided as a courtesy only and should be construed as an estimate rather than a guarantee. Ingredients can vary, and Pineapple House Rules makes no guarantees to the accuracy of this information.