I have an equation for you: easy + delicious + healthy (+ cheap). I'm not so great with math, but I do know those things added together equals a happy Lilly.
I may have mentioned once or twice that I love the show,
The Chew
. Clinton Kelly made something similar to these a while back, and they're now an official staple in the Gorman household. We usually serve it with a combo of two of the following: black beans, Mexican street corn, a roasted sweet potato, or a simple salad
[
click here for a link to CK's recipe
]
We had some leftover rice in the fridge, so I threw that in the mixture to add some texture and filling. I also used some chicken I had previously cooked in the slow-cooker. I just threw in about 5 large boneless, skinless chicken breasts with a carton of chicken stock. I cooked them on low for 8 hours until they were tender, and then I shredded them. I separated them into 3 freezable containers, threw 2 in the fridge, and kept 1 for this recipe. You can definitely use a rotisserie chicken, too.
I used this 2% Fage Greek yogurt, but feel free to use your favorite. You could also substitute sour cream if you don't have Greek yogurt.
My favorite thing about them is that I can make a huge batch of the stuffing and freeze what we don't need. Score! Dinner for another evening, ah thank you. I can also make them during nap time earlier in the day, so that during the evening, I'm not juggling cooking with "Mama" and the "let's not play with that" game.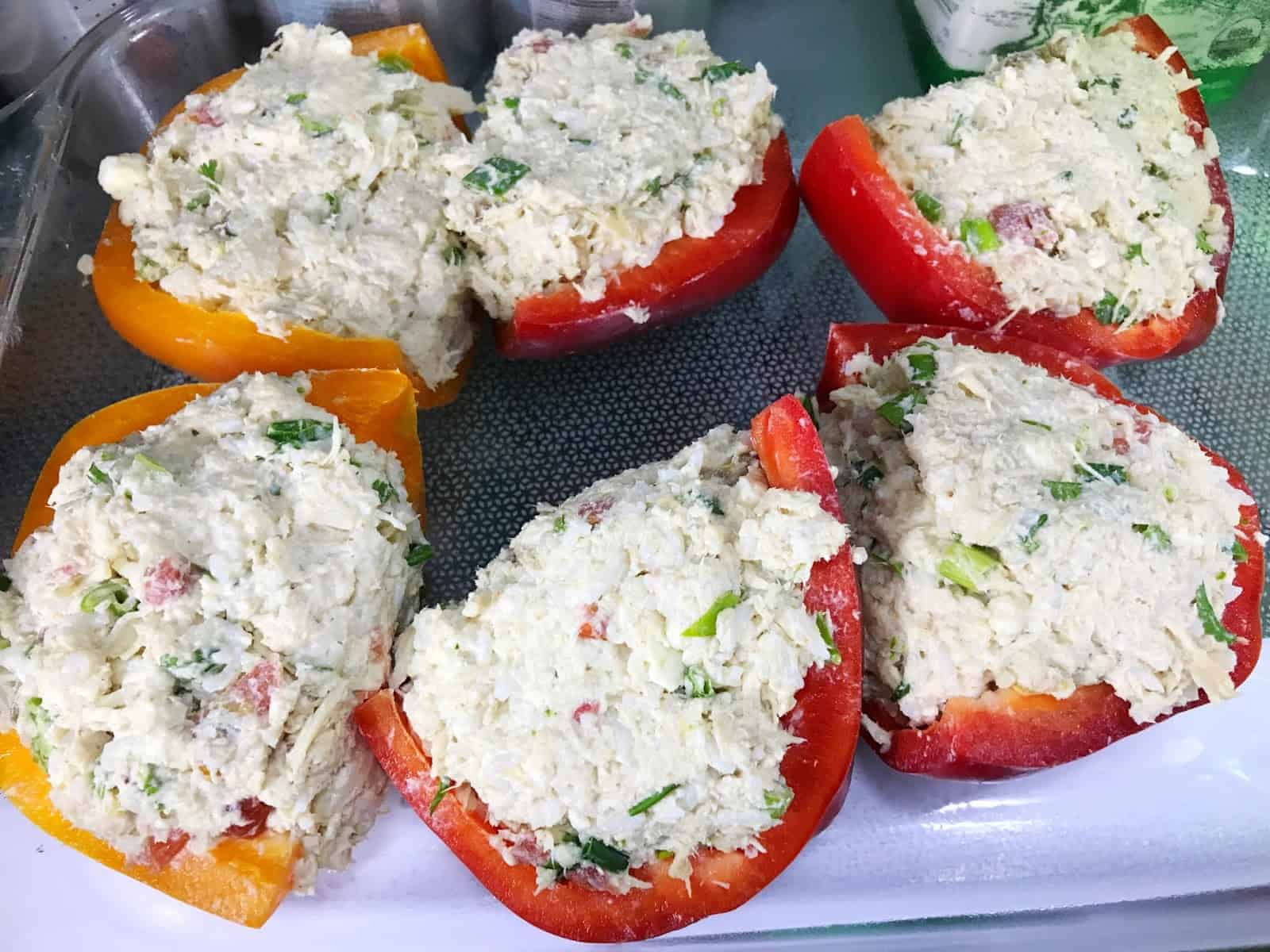 I'm kind of in love with Cotija cheese. If you've never had it, it's basically the Mexican version of Feta cheese. It's salty, crumbly, and sooo delicious in any kind of Mexican food you've got rollin' in your house.
These are SUPER healthy, so you can have 2 stuffed bell pepper halves and be stuffed yourself without feeling guilty. You can also adapt these to your tastes. If you don't like heat, take out the cayenne and substitute diced tomatoes for the Rotel. If you don't like Cotija (or just don't have any), use cheddar or Monterey Jack. If you don't have rice, leave it out. I bet you could even be so crazy as to substitute some cooked quinoa for the rice if you wanted.
---
Tex-Mex Stuffed Peppers
3 bell peppers
3/4 cup cooked white rice
12 oz.
cooked chicken breast, chopped
(see above)
1/2 tsp. ground oregano
3/4 tsp. cumin
1/4 tsp. cayenne pepper
Zest of 1 lime
1/2 10-oz. can Rotel (plus a splash of the juice)
7 oz. container plain Greek yogurt
2 green onions, chopped
1 tbs. cilantro leaves, chopped
2 oz. crumbled cotija*, shredded cheddar, or shredded Monterey Jack cheese
Kosher salt, to tastePreheat the oven to 375.Cut the tops off the bell peppers and discard the inside core, membranes, and seeds. Remove the stem from the tops and dice the pepper tops to use as garnish later. Cut the bottoms of the peppers in half lengthwise and lay on a 13×9 Pyrex pan coated with cooking spray.In a large bowl, mix together the rice, chicken, spices, lime zest, Rotel (plus splash of the juice), Greek yogurt, green onions, cilantro, and cheese. Season to taste with salt. Stuff each pepper half with the chicken mixture and place back in the 13×9 pan, cut-side up.
Bake at 375 until mixture is cooked through and peppers are tender but not soft (about 20 minutes).
Garnish with desired toppings.
Possible toppings
Crushed tortilla chips
Pico de gallo
Cilantro leaves
Sliced avocado
Diced tomatoes
Diced bell peppers
Diced green onions
Shredded cheese
Lime wedges
Salsa
Jalapeño slices
Green chilies, chopped
Make Ahead: You can make the stuffing ahead of time and keep in the fridge until you're ready to cook the peppers, up to two days ahead. You can also stuff the peppers the day you're going to cook them, leave them in the fridge in the Pyrex pan, and then pop them straight into the oven when you're ready.
To Freeze: If you don't use all the stuffing, simply freeze the remaining mixture in a Ziploc or freezable tupperware. Thaw the night before, and cook in the peppers as above.