Rule #264: Instant gratification is a beautiful thing.
There are very few things in life (especially as an adult) that yield instant gratification. When it comes to Teak Furniture Care, you get that PAT-ON-THE-BACK-BABY vibe right away! This was definitely a labor of love, and I wanted to share the tricks I used to it's easier on others in the future!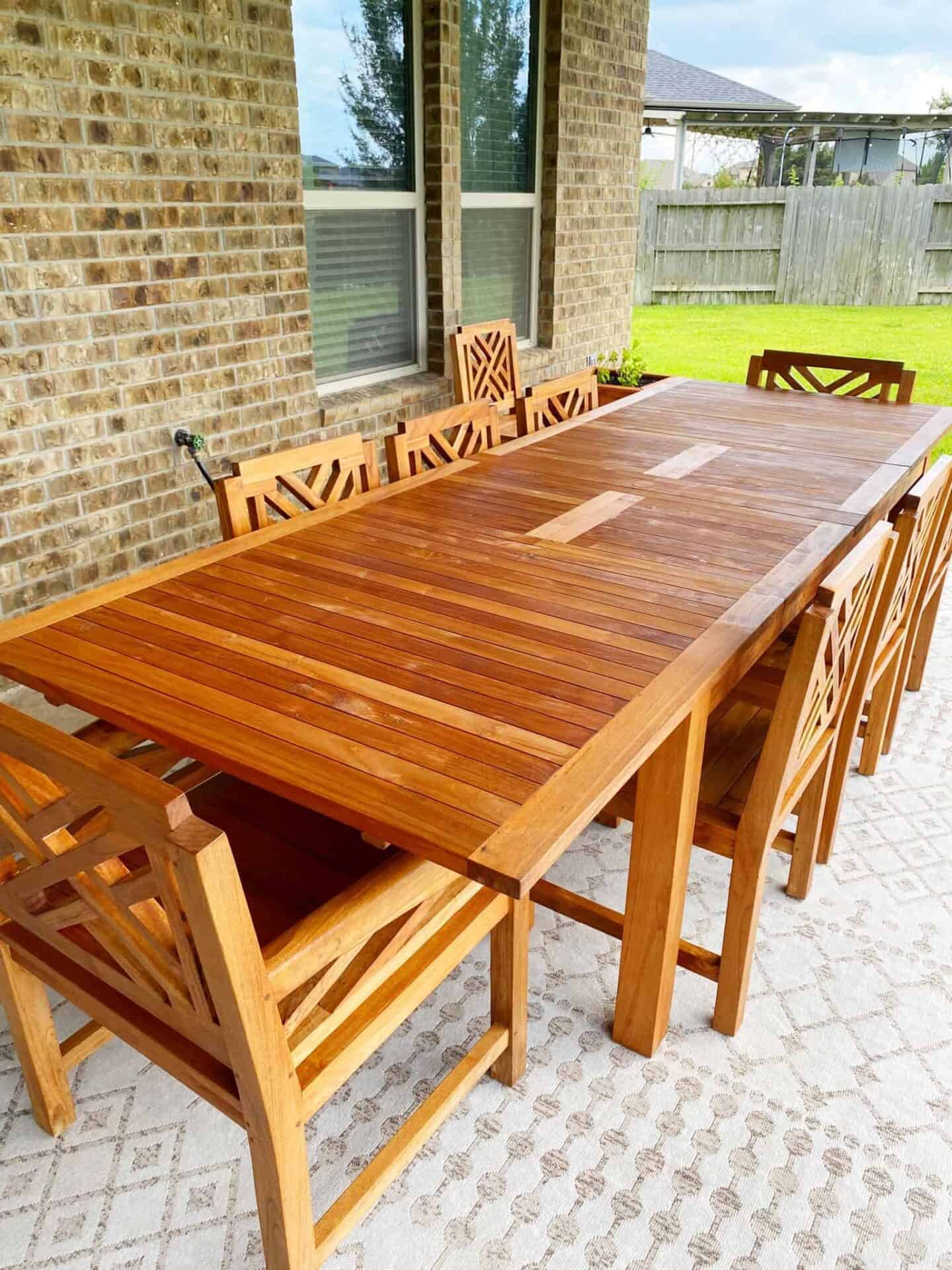 We've had our outdoor teak furniture for just over a year now, and it's held up very well! It was very damaged, however, during the rough winter snowstorm earlier this year in Texas. The cold temps, precipitation, and various critters who made a home in and around the furniture really did their damage collectively.
There were terrible water stains everywhere, and all the previous teak finish and oil was long gone.
You can see even some spots of black… I'm assuming mold? Not sure. Either way… we're about to give these babies a total makeover. And ignore the sidekick in the background there. She was management for the day.
Bye-Bye-Bye icky-looking wood!
I used this Teak Cleaner and this Teak Oil to bring out the natural beauty of our outdoor dining set. I used a heavy duty scrub brush like this one, but went VERY light on the wood. You don't need to press down as hard as you might think to get the gunk out. The cleaner does the job just fine.
Here's how you executive Operation: Teak Furniture Care. First, spray down all your furniture with a hose, getting off any freestanding gunk or ick or other unsightly bit.
This cleaner was the highest rated that I found, so I went with it! I ended up needing 2 of this size bottle to clean all of our dining set and barstools. Just dump some of the cleaner onto the chair and scrub, scrub, scrub with your brush! Again, not too hard. Just enough to get the bits of yucky off.
And definitely wear some gloves to save that manicure, my friends.
Once your furniture is cleaned, let it dry completely. Look at what a difference that one round of cleaning made!
All of the water spots were gone as well as the unknown black spots.
Now, we take the teak furniture from clean to glowing! (Clean: Left; Glowing: Right). Your furniture is now deliciously clean but awfully thirsty. So, we need to give it a solid glug or two of teak oil.
I used 5 quarts of this Teak Oil to get 3 good coats of oil onto all of our dining chairs, table, and barstools. The wood really soaks in the oil once it's cleaned, so the extra coats were definitely needed. This is another option of teak oil we purchased in case we needed more.
I just dumped the oil directly on the chairs and rubbed it in with an old washcloth (you'll want to throw away your washcloths you use after this, be warned). I preferred the washcloth so that I could reach in all the nooks and crannies to really get the chairs oiled all over.
And VOILA! Just 3 coats later (let them dry in between), and we're back to how she looked the day we got her (if not better).
Look at that beautiful teak wood view.
We chose teak for our outdoor furniture because of its durability and beauty. Now that we know how to care for it, I'm in love with it even more! We store our cushions in a bin nearby so they stay nice and clean, too. They can, however, be thrown in the washer with the rest of the laundry. That makes a world of difference!
Now we are ready to make even more memories around this gorgeous piece of wood!
[show_shopthepost_widget id="4555255″]