We had such a great weekend. It was filled with good food, good people, [good drinks], and good times! It was a great change from the chaos of the past few weeks. I even had time to try a selfie. You can see how enthused Penny was about my attempts…
</d]]><![CDATA[iv>
 It started Thursday with a fun BBQ get-together catered by
Goode Company BBQ
 [holy bacon-wrapped quail bites + prime rib sliders]. Jon and I even got to sneak in a little happy hour beforehand. We were both thinking, "So this is how the other half lives: no high chairs, no having to scarf down food before 6, and actually sitting at the bar." It was fantastic.
On Friday, we went to the open gym time (11-1) at
K2 Academy
. This kid was pretty hilarious. He loved bouncing the hula-hoops and playing with the giant basketball. He also is the most careful child you'll ever see. It took him no less than 20 seconds to squat, sneak his feet out, carefully cross the 2″ divide between mats, then successfully arrive on the other side and raise his hands in the air like an Olympian. Friggin' adorable.
My mom came in for a visit, and we got to enjoy the gorgeous weather together.
After a little mani/pedi (+mimosa) and shopping, we ventured up to
Fielding's Local Kitchen + Bar
in the Woodlands. It's been on my list of restaurants to try for a while now, and I'm sooooo glad we went. It's located in
Creekside Park Village Green
which, to us, seemed like a little piece of Colorado in the middle of South Texas. It was gorgeous! They have a little green area in the middle of the complex for folks to lounge, have a beer, and let their kids play.
I started with the Whiskey + Bacon Bloody Mary, and she did not disappoint. Yummo!
My mom kept it classy with a little Prosecco + Grapefruit Juice.
The goat cheese appetizer was on point… I def forgot to take a before pic because we were starving.
The chopped cobb salad was perfect for lunch. It was light, but filling with a savory vinaigrette. Mom had the escarole salad with butternut squash, and it was equally yummified. I'd love to try the beet & feta salad next time!
After our yummy lunch, we went home to take a nap and gear up for our next outing. We've heard great things about
The Frio
in Cypress. It's all local-based food highlighting the best parts of Texas, and their cocktail/beer/wine menu is top notch. It's a perfect place for kids (no matter their age) because it features corn hole, giant Jenga, and a huge outdoor space for kids to run around while the older folks enjoy bevs and grub.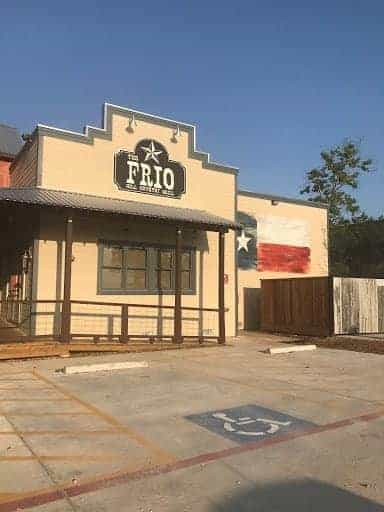 We started with the queso blanco and two kinds of salsa (#becauseTexas).
Big Bend Botana is the name on the menu.
I had a whiskey drink, but for the life of me can't remember the name. Our waiter was also a bartender, and he recommended it. I'm so glad he did! I'll be ordering it every time… if I can remember the name…
It's good to have my Momma in town.
These two. Swoon.
BBQ Shrimp + Grits (fabulous) with green chile grits (also fabulous)
Jon's burger was a whole pile of delicious: a fried egg, onions, brisket, and beef.
They have a great space for kids of all ages to run around and have fun while enjoying the yummy food + drinks.
I can't wait until we get to go back!
For now, I'll be on a 12 day juice cleanse with serious some serious cardio to boot.
Or not.