Rule #163: Spying a pup in (almost) every pic is the selfie version of Where's Waldo.
Penny the Golden Retriever makes everything prettier. I can't deny that. It must be a rule. Good thing she's in most of these "selfie" shots, yes? Is it really a selfie if there's a dog photo bomber? These outfits are mostly a little casual with some color… that's how I like to live my life. There are items in all price ranges and styles. I hope you find some goodies you can jive with!
I'm digging this Vintage 1986 tee. Nothing like a good commemorative t-shirt to remind you of the big birthday you have this year! Those UGG sneakers are legit SO COMFORTABLE, too!
Headband | T-Shirt | Cardigan (similar) | Necklace (similar) | Shoes
I'm digging the comfy-but-still-kinda-cute mom vibe right now. I love this top from last year with some comfy jeans and those comfy shoes.
Top (similar ones linked) | Necklace | Watch Band | Jeans | Shoes
This dress was a real find on Amazon! It will be perfect as a transition piece in the spring. I'm wearing a medium. I also love that sassy ring that's a steal for $14!
I spy a pup photo bomber! Penny was getting in on the selfie action, and I think she adds quite a nice accessory. She's not for sale though. Sorry! I'm LOVING this comfy t-shirt and the ringer style around the neckline and sleeves.
T-Shirt | Jeans | Shoes | Necklace | Pup
I can't even with this graphic tee. I think it raises my "cool" factor by at least 2 percentage points, yes?
T-Shirt | Ring | Jeans | Watch Band
I love that it can be layered with other pieces like this number from The Brook Home & Gift.
Or you can throw on a cardi and call it a day!
Hi. My name is Lilly, and I have no idea how to take selfies that face the right way so you can actually read the words on my shirt. My age is showing, I think. Anyways… I love me some Jim Croce, y'all. So, when I saw this t-shirt, it had to be mine. I am wearing a medium.
Here's an angle where you can actually read the words. Good gravy, I'm terrible at selfies. Where's Penny's opposable thumbs when you need 'em?
I've been looking for athletic-ish tops that are good quality to wear around town with jeans or leggings. This one is perfect! It's a great length (i.e. covers the business in leggings), and the neck line is cute, too! I'm wearing a medium.
Top | Jeans | Shoes | Necklace
I like that it doesn't billow out in the front, too! Much more flattering when those tops come back to your body instead of flapping around like a tent in the wind.
GASP! It's almost swimmie season, y'all. Well, TBH, here in Texas, a lot of folks are swimming already in their heated pools. Ours is an inflatable, and for some reason, the heating option wasn't offered to us. How rude, right? I digress. This swimmie is super comfortable and flattering! The price is pretty lovely, too. I'm wearing a large.
Gotta love a good, comfy (very lightweight) sweatshirt that screams, "I grew up in the 90's!" I'm wearing a medium. Also: can you spot the Penny?
Smoochies for the sweetest pup! Although really I think she was just trying to get up close and personal with these comfy pj's. I couldn't pass up the blush leopard print. The price is sahh good, too! I'm wearing a medium. But, sorry Penny, they don't come in pup sizes.
Here's a close up of that adorable gem of a ring.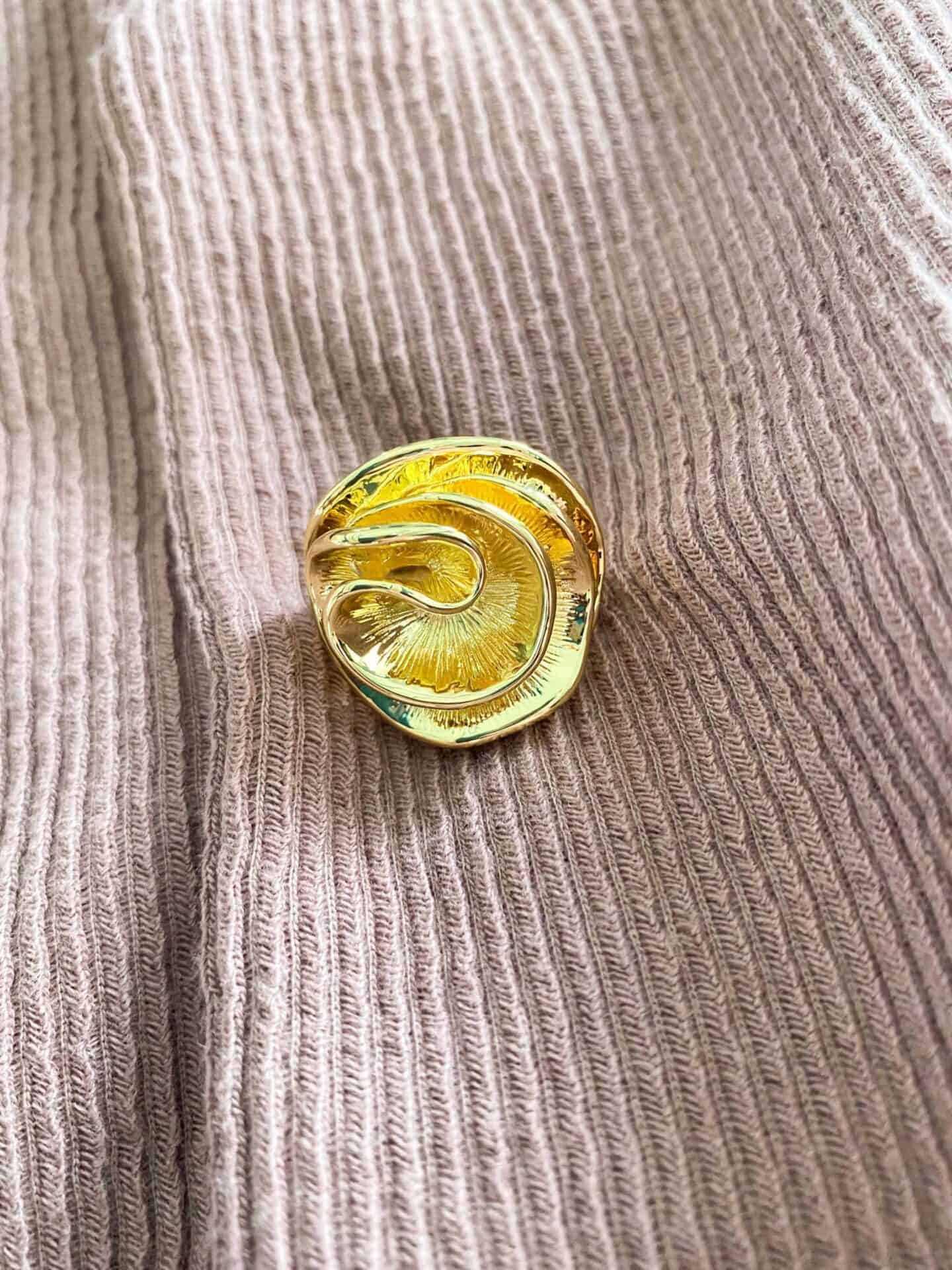 Cheers to the weekend, y'all! I hope it's full of comfort and photo-bombing dogs.
I hope you found something to love in this Favorite Fashion Finds: The January Edit!