Christmas this year was pretty special. It was the first one in our new home and the first one where we had a [at least to some point] little man who got excited about Santa!
See – told you he was excited!
We definitely have a stocking for each of our doggies. Don't judge. They're part of the fam, too. I'm thinking we'll need stocking holders next year though! The push pins didn't hold for too long.
I also decided that since next year little man will most likely have an even bigger understanding of Christmasy things (like Santa and the Elf on the Shelf) that we should have a little fun with the Elf ourselves. So, I did a Naughty Elf on the Shelf a few times for Jon. I had a little too much fun.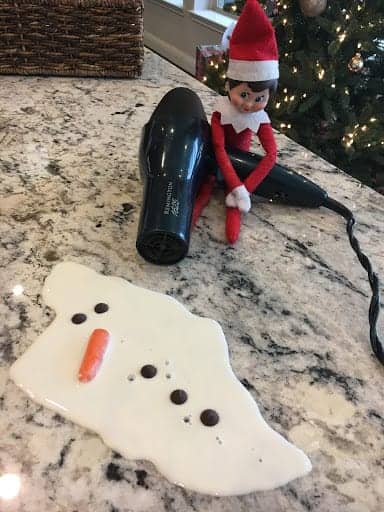 Like… too much fun…
Okay — enough of the Eli the Naughty Elf. He had a great Christmas season as you can tell. Until next year, crazy man.
We had a blast with all of our family! Corey had fun ripping up all the wrapping paper and banging all of the musical instruments he got. He definitely didn't get his rhythm from his mama.
On Christmas Eve, I made a full-on turkey dinner for my mom and Jon. Turkey, to be fair, doesn't photograph well. But, I was proud because it was the first year I actually carved the bird myself and then kept the breast whole, sliced them, and plated them all fancy-like. I think I'll consider myself a grown-up now.
On Christmas morning, I made one of Bobby Flay's awesome brunch recipes.
Click here for the recipe
. It was super easy and not so time-consuming so we were able to enjoy some mimosas, hang in our pj's, and play with all our new gifts. It was delicious, too, which always helps!
I also roasted some bacon (because Christmas, okay?). I just rubbed it with some light brown sugar, tossed it in a 400 degree oven for about 20 minutes. The house smelled AMAZING!
I'll end on a somewhat serious note. My Daddy gave me this fantastic poem after we watched Maya Angelou perform it live on TV at the lighting of the national Christmas tree in 2005. It was a memory I'll never forget. I read the poem a few times every year and it reminds me of the joy of the season. The hope that comes with Christ's birth is the absolute reason for the season. I'd highly recommend this as a staple in your home. The poem is short, but its message will resonate with you all season (and year for that matter).