Day 3 was a busy, busy, busy and FUN day in Charleston! We started the day by running [cough* I walked *cough] on the Arthur Ravenel Jr. Bridge near our hotel. Jon actually ran the whole 2 1/2 miles one-way and walked back with me the rest. Let's just say I got to the highest point, took my pictures, and headed on back.
It was definitely worth this view though.
We tried some fantastic coffee after we got back from our run. It was right next to the hotel, and it turns out, they actually have a few Revelator Coffees in Texas. They even sell it in Whole Foods! Guess where I'm going when we get back! This coffee was smooth and not overpowering at all.
After we showered and checked out of the hotel, we walked around near the Waterfront Park for a bit. We didn't last too long walking around because it was HOT, HOT, HOT!
I loooooved this fountain! So indicative of Charleston's history and beauty.
After we had walked around [and sweated our butts off], we went by the Old City Jail really quickly to get a glimpse of the haunted place our tour guide told us about.
It's said that the average life expectancy in this jail/asylum/workhouse was only 3 months. Horrible conditions contributed to this figure, but it's sad nonetheless. Lots of residents have said they hear voices and see flickering lights event to this day. They do have night tours of the jail, but I'm way too much of a chicken for all that mess. We would've done the day tour, but we just ran out of time.
See how these doors are painted blue? It's that Haint Blue I was talking about yesterday. Superstition says that it will keep the evil spirits away that live in the jail [which btw is just across the street].
We traveled out to Boone Hall Plantation after leaving Downtown Charleston. It was on the way to Sullivan's Island, which is where we're staying now, so it worked out perfectly to stop in for a couple of hours.
The most poignant part of the plantation for us was the slave history portion of the tour. It's a self-guided tour in which you walk in-and-out of nine different slave houses. They depict different pieces of the slaves' lives back in the day. I was struck by a few things:
These homes are actually some of the NICEST slave homes that were in existence. Can you imagine? This tiny little place being the best of the best.
2. The tour guides went on-and-on about reminding us that if it weren't for these slaves, the plantation wouldn't be what it is today.
[mixed emotions about that]
3. I wondered how many hundreds [or thousands?] of people lived and died working this plantation [and all the others] for their masters. It was very much like walking through a Holocaust museum, to me anyways. It was really tough to say the least.
4. I'm glad we went, but it definitely surprised both of us how emotional we felt. I'm not sure I'd be up for visiting another plantation again. I think what hit the nail on the head for me was walking the plantation house and seeing a receipt for goods purchased in town. At the top of the list was a line item for a "Negro Girl" listed at $995.
We ended up not being able to get on the tour that goes around the [still working] entire plantation, but it was so hot, we were kind of okay with that. The house tour was beautiful though, and we saw so many gorgeous artifacts dating back to the 1700's. Pretty cool to see that.
After walking around so much in the heat, we decided it was time for some gooooooooooood [and I mean GOOD] food and some refreshing cocktails. So, we went for the restaurant that was at the TOP of my list: The Obstinate Daughter.
Buenos Melones: tequila + keylime + cantaloupe + peach + pineapple
Jon Boy had the Low Tide Tura'Lu Irish Red Ale
The decor in this place was so cute! Beachy yet modern and not in an annoying way. It was very welcoming, too.
Low Country Shrimp Roll + Geechie Frites [basically polenta french fries – salty, crunchy, freaking yummy]
Peel + Eat Shrimp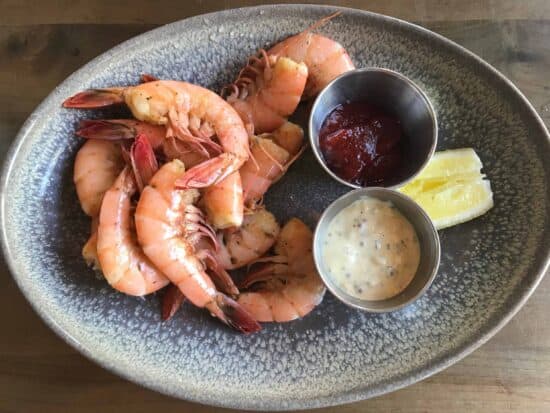 Here's the story of the Obstinate Daughter + the cartoon mentioned in the story
The King's Honey: vodka + St. Germain + honey basil soda + lemon
Genuinely, and I don't say this lightly or easily, the BEST thing I've ever put into my gluttonous mouth. I can't even. I'm going to have dreams about this for YEARS.
Ricotta Gnocchi + Short Rib Ragu + Horseradish + Pine Nut Gremolata
The waitress suggested a fantastic wine to go with the gnocchi, too. I had the Grechetto Arnaldo-Caprai "Grecante" 2012. And no, I can't pronounce it and wouldn't have remembered it if I hadn't taken a picture of the menu. But I do plan on trying to find it in Texas, my friend. This wine was smooth, buttery, and mineral-based. And I drank it in 5 minutes flat. Sorry, not sorry.
Once we were stuffed, we went to our final destination: The Wild Dunes Resort at the Isle of Palms.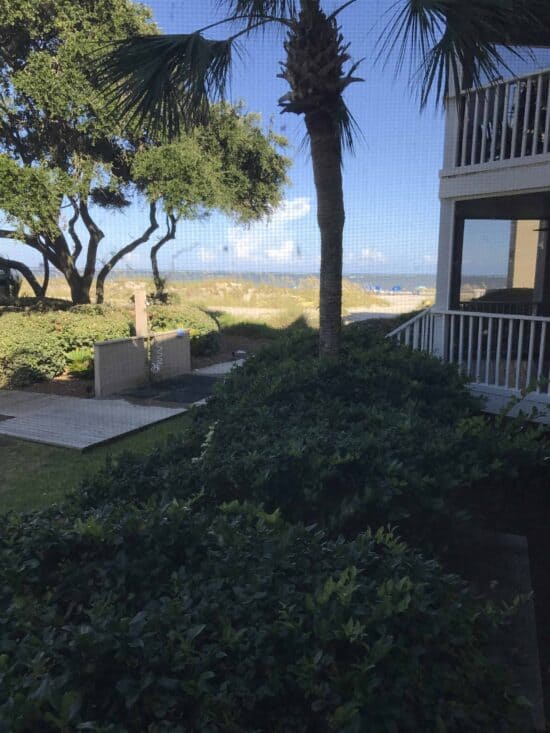 We're literally a 30 second walk to the beach, but not facing directly into any sun. It's got a screened-in porch, kitchen, living room, and all the comfiness and privacy we wanted!
Hello, you sexy thing, you.
Cheers to another great day!